TEDI LAND GETS NEW BAALE
By Mcanthony Onuoha
Following the death of the Baale of Tedi Land, High Chief Mukaila Atanda Kareem few weeks ago, another Baale has been crowned to take over the ancestral stool.
High Chief Muka Komalofe Bajulaiye Abuje, was on Friday, the 11th of August, 2023, coronated as the new Baale of Tedi Land by Olojo of Ojo, Oba Ganibu Rufai Adeife 1.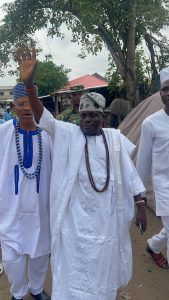 Tedi Land is one of the oldest communities in Ojo Local Government Council; less than 10 minutes drive to Ojo- Barracks, 20 minutes drive to Alaba International Market and less than 1km to Tradefair Shopping Complex.
Tedi has a large concentration of business people as residents, traders in Alaba International, Tradefair Shopping Complex (ASPAMDA), Article Market, Festac and Navy Town, it also has direct access to the sea.
Speaking with newsmen after his coronation, the new Baale of Tedi Land, Chief Muka Bajulaiye described his ascension to the ancestral stool as the will of God, he expressed gratitude to the good people of Tedi Land, and to everyone who graced his coronation.
High Chief Muka Bajulaiye described Tedi Land as one of the most peaceful places to live in Lagos in terms of security and intertribal coexistence, he went ahead and advised those with the intention to destabilize the peace and harmony which Tedi is known for to have a rethink, urging them to join hands with the peace loving people of Tedi and bring development to the area. According to him, the first Baale of Tedi Land was crowned by Olojo of Ojo, and he reigned for 35 years.
On security, the new Baale assured the people of Tedi that he would always collaborate with security agencies, especially the Police, in making sure the area remains peaceful, he urged residents to always provide information about unscrupulous elements saying that such information, when made available to him or the police could forestall planned criminal invasion.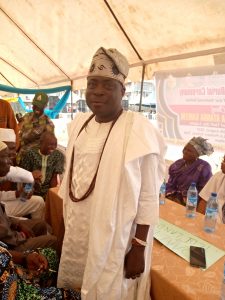 On Tedi- Muwo road, the Baale appealed to Lagos State Governor, His Excellency, Babajide Sanwo- Olu , to come to their aid, he said that Tedi-Muwo was very critical not only to residents but also to motorists as it remained the only alternative route to Alakija- Maza- Maza to Mile 2 through Old Ojo Road for those coming from Badagri, Ajangbadi, Okokomaiko, Ojo Alaba and Iyana- Iba axis. " We urge the Lagos State Governor to come to our aid by urgently approving the construction of Tedi-Muwo road".
Speaking on the personality of High Chief Muka Komalofe Bajulaiye Abuje, a security personnel, Mr. Olusola Ladiga, eulogized the new Baale as he expressed gratitude to God Almighty for giving Tedi Land a "good man" as traditional ruler. In his words, "l am an Ekiti man, since l came to Tedi, l can tell you that l have never seen High Chief Muka Bajulaiye forment trouble, he is an easy going man who stands for justice and fairness, highly detribalised, the way he relates with a Yoruba is the same way he relates with an Igbo or Hausa, they call him 'Ilufemiloye' , he was chosen by the people. Any one that cries to meet him must come out smiling, that is who the new Baale is. His fatherly disposition is worthy of emulation, if it doesn't rub off on anyone close to him know that the person is naturally insensitive. You can sample people's opinions about him, the Igbo Community, the Hausa Community and every Tedi resident, can attest to his large heartedness, we are very grateful to God Almighty for giving us a man of understanding like High Chief Muka as Baale of Tedi Land, l am strongly in support of his headship likewise any other person here present, we pray God Almighty to grant him long life, more wisdom and prosperity."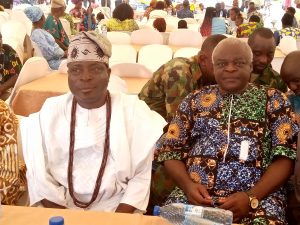 Still on his personality, Prince Adeniyi Erinle, a Civil Engineer who is also a friend and colleague to the new Baale, described him as a lover of peace, in his words, "l have known High Chief Muka Bajulaiye for a very long time, he is a good friend and colleague, we are both Civil Engineers, and we have worked together for years, l can tell you that the Baale is a lover of peace, he always stands for justice and fairness, he does not discriminate against any one, he sees every body as one, l have been doing things with him for the past 35 years and have not recorded any wrong doing against him, that is why l love him as a friend.
We work together, have a lot in common but we rarely misunderstand each other. His love for mankind is there for everyone to see, you can not visit him without seeing people sorround his table, he is always in the midst of people. Honestly speaking, his ascension to the stool was predestined and we give God the glory that it is today, a reality."
Another resident, Elder Mutiu Bello, described High Chief Muka as a responsible and responsive leader, saying that he has every quality of a good leader, "people love him so much, Igbo, Hausa, Yoruba, name them, everyone loves him because he stands for fairness and equity. He will sustain the peace and harmony we have been enjoying in Tedi Land over the years."
Attesting to his goodness, another resident of Tedi Land, Chief Boniface Okoye, said, "good wine knows no bush, the new Baale, High Chief Muka is a good wine, and you know how people cherish good wine. I have lived in Tedi Land for many years, and l have met with people from different places even in my area of business, l can confidently tell you that his kind is very rare. Highly detribalised, very hospitable, he treats everyone like a brother, and that has endeared him to a lot of people. His coronation was well attended by people, family, friends, professional colleagues and well wishers, all sacrificed their time and came to show solidarity."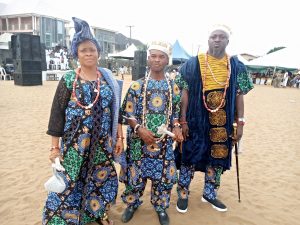 High Chief Muka has contributed to the development of Tedi. And wherever there is truth is where l stands, l thank God for Almighty for giving us a good man as Baale of Tedi Land," Chief Okoye said.
The Iyaloja of Tedi Land, Chief Mrs. Wasilat Waidi, on behalf of market men and women in Tedi Town, expressed gratitude to All mighty Allah for the life of High Chief Muka Komalofe Bajulaiye Abuje, in her words, "High Chief Muka who has replaced our late Baale, High Chief Mukaila Atanda Kareem, is a good choice, he is highly responsible, very humble and accommodating, l urge Tedi residents to give him every support he needs to sustain the peace and unity we have in Tedi. I strongly believe that the new Baale will continue in the right path. l pray Almighty Allah to give him more wisdom, long life and prosperity".
Similarly, the Chairman of Isoko Community in Tedi Land, Rev. Dr. Isaac Atalakpa, commented on the personality of High Chief Muka Bajulaiye. " I have lived in Tedi Land for 26 years, and High Chief Muka is someone l have known for the past 23 years, we have been so close ever since. He is a man l can vouch for, he is accommodating, very humble and peace loving, l can say that he is one of the best men l have come in contact with. He stops anywhere he sees me to exchange pleasantries. The Isoko Community here holds him in high esteem. Anytime we have an issue he stands to make sure justice is done. We, the Isoko Community in Tedi Land, which l am the Chairman, recognize High Chief Muka Komalofe Bajulaiye Abuje as the paramount leader of Tedi Land. It was a right decision taken by the Ruling Council, he is a man that will sustain the peace we enjoy in Tedi. Tedi population is over 2 million if well enumerated and today, we have a man that is kind, a man who does not discriminate, I see more humility in him now that he is the Baale, l strongly believe that his ascension to the ancestral stool is the will of God Almighty."
The final burial ceremony of the late Baale of Tedi Land, High Chief Mukaila Atanda Kareem, was held on Saturday 12th of August, 2023, the colourful event was attended by traditional rulers, clan heads, community leaders and people from different walks of life.