ISTDAL IMO DAY CARNIVAL 2022, A HUGE SUCCESS — Chief Chris Ekeocha
By Mcanthony Onuoha
UDO N'ALA IMO was the theme of this year's Imo Day Cultural Carnival that was held on Saturday 19th of November, 2022, at the prestigious Police Training College, Ikeja, Lagos.
LEFT- RIGHT -IMO STATE LIAISON OFFICER, LAGOS, DR. PATRICK UZOMA, PRESIDENT ISTDAL, HIGH CHIEF CHRIS EKEOCHA AND HIS WIFE, LOLO ANGELA EKEOCHA.
The event which was chaired by High Chief Micheal  Onuoha, Akukwesiri 1 Umunakara, attracted myriad of lmo Indigenes living in Lagos as they trooped-in in their numbers to be part of the historic event.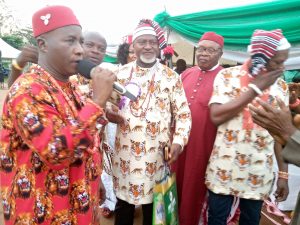 Respective communities proudly displayed their rich cultural heritages as Ndi Nze na Ozo, Royal fathers and Community heads graced the occasion  in their colourful traditional attires, flaunting their staves of authority, titles and insignia to the admiration of all.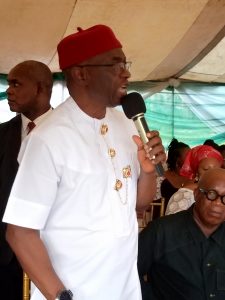 IMO STATE DEPUTY GOVERNOR, PROF. PLACID NJOKU.
The Imo State Governor, Dist. Sen. Hope Uzodinma, was ably represented by his Deputy, Prof. Placid Njoku who stormed the venue accompanied by his entourage , also present was the Honourable Speaker, Imo State House of Assembly, Rt. Hon. Barr. Emeka Nduka, High Chief Micheal Onuoha, Akukwesiri 1 Umunakara, Chairman of the event, High Chief Dr. Felix Chidi Idiga, PhD., Nkwachikwere Ndi- Orlu, was Special Guest of Honour, while the Royal Father of the day was HRM Eze E.C.Okere, Chairman, Imo State Council of Traditional Rulers. Others were HRM. Eze Dr. Cletus Ilomuanya CON, Obi of Obinugwu, Chairman, Imo State Council of Elders, Imo State Commissioner for Justice and Attorney General, Mr. C.O.C. Akolisa, Eze Sylvester Oriaku, Eze Ndigbo Coker, Aguda, High Chief Sunday Ossai, President, Ohaneze Ndigbo, Lagos State, Dr. Uche Ohia, Imo State Commissioner For Culture and Tourism and Dr. Patrick Uzoma, Imo State Liaison Officer, Lagos were the Chief Hosts. President of ISTDAL, Women Wing, Lolo Carol Chika- Mmonu and the Chairman, Imo Day Committee, Hon. Chima Davis Ukwandu ( Ugo abata n'obi) and many others were also at the event.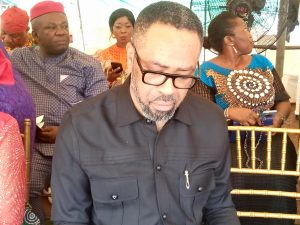 HIGH CHIEF MICHAEL ONUOHA, AKUKWESIRI 1 OF UMUNAKARA ,  CHAIRMAN OF THE OCCASION
Imo Day Carnival is a yearly event proudly organized by Imo State Towns Development Association Lagos ( ISTDAL), according to its President, Chief Chris Ekeocha (Ugodimma), "the event is one of the unifying factors of Imo Indigenes in Lagos. Imo Carnival each year, marks the end of that year's activities at ISTDAL, it brings lmolites together to display their cultural heritage and we also use the occasion to honour some of our illustrious sons and daughters who are touching lives positively via their enterprise."
The Imo State Deputy Governor, Prof. Placid Njoku during his speech, applauded the organizers of the event and urged Imo indigenes in Lagos to always remember home. He stated that peace and quiet have returned to Imo State as he assured those who would like to visit home during Christmas of safety saying that Imo State Government under the leadership of Sen. Hope Uzodinma is on top of the situation. The Deputy Governor who promised a peaceful Christmas Celebration said that their administration would not relent in its efforts towards repositioning Imo for greater glory.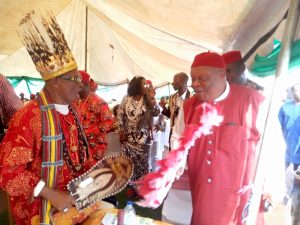 The event which was slightly distorted by a brief heavy rain kicked off in earnest with cultural dances, march past and other activities that added glamour to the event. According to ISTDAL President, " the event went very well despite the brief heavy down pour, the rain nearly disrupted the event, we were not able to carry out all activities mapped out for the day because of time, but we thank God all the invited guests graced the occasion."
" The major challenge we face every year is funding, it is not easy to organize event of this magnitude, the planning committee sacrifice their time and resources, writing letters and meeting our patriotic sons and daughters soliciting fund for the annual event and thank God we were able to do it. We sincerely want to thank our Governor , His Excellency, Dist. Sen. Hope Uzodinma, for his support, we also thank the Deputy Governor of Imo State, Prof. Placid Njoku for his fatherly love, l strongly believe that next year's event will be better organized".
" Our theme this year is UDO N'ALA IMO, and l believe with the effort of our Governor and his Deputy, peace will return fully to Imo State. We appeal to our Governor to create employment opportunities for the youths and also find a way to empower them because most of the young men fomenting troubles are the idle ones , we hope and pray that Imo State will experience lasting peace once again."
"I want to also thank members of the organizing committee for their selflessness, l am very proud of them. I also thank ISTDAL, Women's Wing, for their support, the Lagos State Governor, His Excellency, Babajide Sanwo- Olu, the Imo State Liason Officer, Dr. Patrick Uzoma, and everyone that contributed in one way or the other to the success of the 2022 edition of Imo Day Cultural Carnival, may God Almighty bless them all", Chief Ekeocha stated .