Compt. Comfort Senas Ukpanah Assumes Duty As CAC Enugu/Anambra/Ebonyi Area Command
…Vows To Transform The Command For Greater Efficiency
By Chinonye Anyatonwu
Nigeria Customs Service Enugu/Anambra/Ebonyi Area Command had a change of baton of it's leadership following the resumption of a new Area Controller, who assumed office as Customs Area Controller on Friday 15th September, 2023.
The new Area Controller, Comptroller Comfort Senas Ukpanah, took over from Comptroller AM Adegbite who was re-deployed to Edo/Delta Area Command.
In his opening remarks prior to the handover, Comptroller Adegbite gave a brief profile of the Commands antecedents, highlighting several areas of achievements and challenges. Comptroller AM Adegbite specifically dwelt on the area of Revenue Generation and stated that though the Command is landlocked, they have been able to collect over Seventeen Billion Naira from January to date. While showering encomiums on Officers/Men of the Command for their support during his tour of duty, he called on them to redouble their support to the new Controller who he described as a core professional and highly disciplined officer. The outgoing Controller thanked the stakeholders too that graced the occasion and craved their support for the new administration.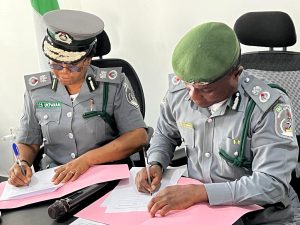 In her response, the new Customs Area Controller Comfort Senas Ukpanah appreciated the outgoing Controller for his leadership qualities which resulted in the achievements recorded.
The new Customs Area Controller, Comptroller Comfort Senas Ukpanah, while addressing other Senior Officers in the Command enumerated her agenda towards changing the paradigm for better efficiency. She firstly commended the appointment of the Ag. Comptroller General of Customs, Bashir Adewale Adeniyi MFR, dsm, Fnipr, psc(+) describing it as well deserved.
Consequently, the CAC charged officers/men of the Command to gear up for the task ahead – the task of transforming the Command through her core cardinal programs which will center on; Discipline/Code of conduct,
Revenue Collection, Facilitation of legitimate trade, Inter-Agency Collaboration and synergy as well as Stakeholder Engagement, stating that her attention would be centered on the aforementioned.
She charged all Senior Officers to redouble their efforts in all areas of the Commands operation to enable the Command meet and surpass it's Revenue targets. The CAC drew their attention to the key performance indicator (KPI) which is Revenue and charged officers to ensure that areas of Revenue leakages are identified and plugged especially now that the Federal Government relies so much on Customs for GDP growth.
The new Controller also spoke on the need for training and retraining to enable officers be at par with latest operational developments in the service especially in the areas of ICT in view of the imminent full automation of Customs processes and procedures. She also spoke on the need for Senior Officers to mentor the junior ones in line with the theme of the last World Customs day for posterity sake.
Comptroller Comfort Senas Ukpanah hails from Mbio-Oku Ikot odung, Ikono Local Government Area of Akwa-Ibom State, Nigeria.
She had her early education at the Government Primary School Atu in Calabar, Cross River State. Then proceeded to Immaculate Conception Girls Secondary School Itak, Ikono, Akwa-Ibom State, where she represented the school at the National Secondary School Science Quiz in 1982 at Lagos, winning several awards and medals.
A graduate of Chemistry from the University of Calabar, Comptroller Comfort Senas Ukpanah had her national Youth Service Corps with the Nigeria National Petroleum Corporation (NNPC) refinery at Ekpan, Warri, Delta State in 1984.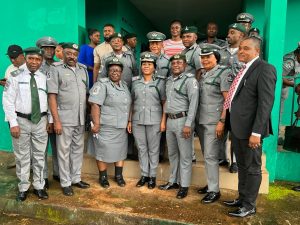 She enlisted into Nigeria Customs Service as a cadet officer in 1990 and had her basic training at the Nigeria Customs Service Training College, Ikeja 1991. Comptroller Comfort Senas Ukpanah has served at various Commands including but not limited to the following viz:
Kirikiri Lighter Terminal,
Federal Capital Territory Command
Tariff and Trade Department
Murtala Mohammed Airport Command, and
Murtala Mohammed International Airport Command.
She rose through the ranks and became a full Comptroller in 2022 and was posted to the Nigeria Customs Service, Zone 'A' Headquarters as Comptroller Special Duties, an assignment with a schedule directly under the office of ACG/Zonal Cordinator. And following the recent reshuffle of Customs Area Controllers, Comptroller Comfort Senas Ukpanah was redeployed to Enugu/Anambra/Ebonyi Area Command as Customs Area Controller.
It is instructive to note that Comptroller Comfort Ukpanah has always demonstrated enough capacity and panache in her tour of duty, especially on the core areas of Customs Operations. An expert in Valuation/Classification, Comptroller Comfort Senas Ukpanah has attended various professional courses both within and outside the country such includes World Customs Organization organized courses, Risk Management, Cargo Profiling, Leadership, Corporate Governance, Modernization among others.