THE YOGA QUEEN, LINDA NGOZI UBOCHI: HER AMAZING PASSION FOR THE ART; AND SERIES OF JAW-DROPPING STUNTS
By Mcanthony Onuoha
She has become a brand as far as body art is concerned. From Nnorie Town, in Ngor Okpala Local Government Area of Imo State.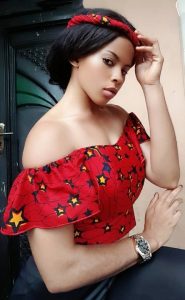 Yoga Queen, Linda Ngozi Ubochi, aka Yogielei, has carved an enviable niche for herself in the art of Yoga, a roundly difficult body art originated from India, and practiced across the world.
Delectable Linda has proven beyond reasonable doubts that mastering an extremely tasking arts like Yoga, Takwaendo, kick boxing and karate, and becoming perfect in them is never an exclusive reserve for the male folk. The Queen did not only master the art but laces the practice with captivating
charm that could mesmerize every spectator as well as inspire a youthful person into taking up the art as a career.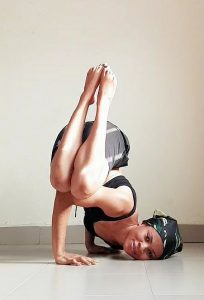 Queen Linda Ngozi Ubochi, the current FACE OF THE PRESTIGE BLENDED MAGAZINE, describes Yoga as an "essential art of spiritual discipline, based on an extremely subtle science, which focuses on bringing harmony between the mind and the body. It is an art and science of healthy living.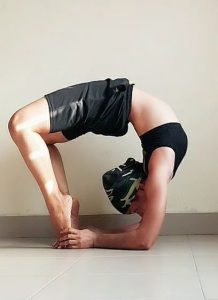 Linda says that "the word 'Yoga,' is derived from the Sanskrit root 'Yuj', meaning ' to join' or 'to yoke' or 'to unite'. It originated from India and recently practiced in almost all parts of the world".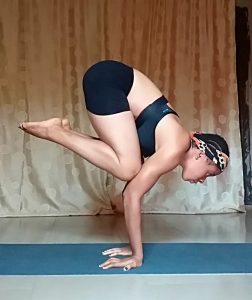 According to the Yoga Queen, " many people practice Yoga for different reasons and that's why the branches of Yoga is there to clarify the practice better."
"Yoga improves posture; increases flexibility; builds muscle strength; boosts metabolism; helps in lowering blood sugar; increases blood flow; keeps diseases at bay; increases self-esteem; improves lung function as well as makes you sleep better."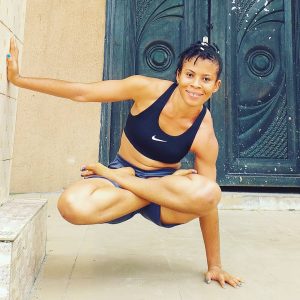 " It was developed as a practice to unite the mind and the body. There are many branches of Yoga. All Yoga styles can help balance your body, mind and spirit,but is achieved in various ways. No matter which type you choose, Yoga is a great way to stretch and strengthen your body, focus your mind, and relax your spirit."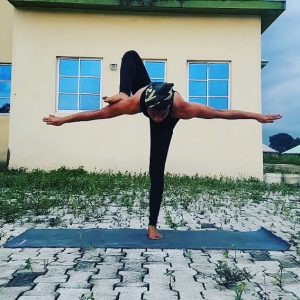 " As a Nigerian girl, l had no clue of what the practice was about, not until my final years in school. But personally, l love creativity and artistic performances."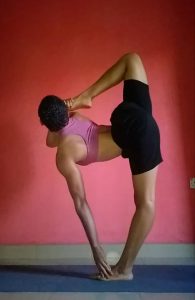 "When l realized l was a bit flexible, l believed l could actually try out the basics especially whenever l saw some cute and awesome advanced poses online or photos. So many imaginations but l never knew l could do them perfectly someday. My inspiration majorly comes from the Yoga photos and videos l come across."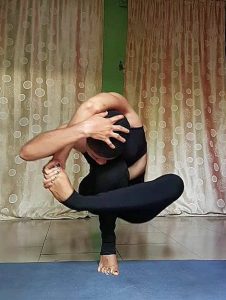 "Like the saying goes, "strenght is built by constant practice", l found out that parts of body actually feel good when we discipline them in the right manner. Consistency and zeal to be better makes my practice so easy and wonderful even though my goal is not perfection. But am actually happy for my progress".
" I actually have no Yoga coach but l must acknowledge Mr. Ayomi Tsalu, who was my Ballet Teacher, though it was short a termed coaching because of the Covid-19 pandemic. He believed in me and that made me want to prove him right all the time. At least, the first move that made me develope more interest in Yoga was my first side split in life, it was actually an assignment which l worked overnight to achieve with the help of a good YouTube tutorial. But l must recommend few individuals that l so much admire their practice; Phaphassorn Nuyoung(Yoga diary);Kimterpstra Yoga; Yoga Raj; Cat Shanti and Stella-Sophie Rymarz. Those are the few l enjoy their mode of practice."
"It is not easy for self coaching, but l enjoy it because l learn from mistakes l have made while practicing".
Queen Linda says the art of Yoga has made her to start viewing things in more broader and flexible perspective, and makes her to find strength in her weaknesses as well. "I am a better version of me, and my thoughts are full of positive vibes. I now refuse to settle for less. I realized that the happiness l searched outside is found right inside me."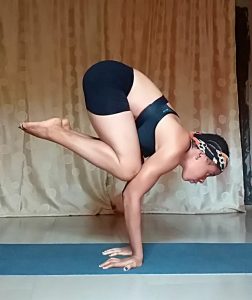 " I enjoy full concentration having time for self, time for right coordination of the mind and body. Flexible body and core strength, younger, brighter and shiny physical and mental looks; patience; perseverance;self trust and open mind to learn from others."
" I always have that sense of satisfaction at the end of my Yoga session, l am always happy."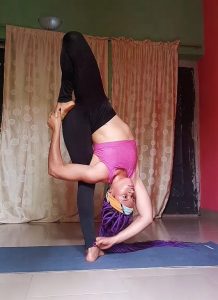 "The only thing l will advise here is to avoid things that could make you gain weight because excess weight gives room for lazy body and mind. Eat good food because you need energy to work with. Eat more of fiber, nuts, fruits and vegetables, proteins and moderate intake of your carbohydrates. Avoid junks, drink enough water and avoid alcohol as well."
DATE OF BIRTH: 08/05/1994
SCHOOLS ATTENDED: Central School Egbelu- Umuhu; Enyiogugu Secondary School, Aboh Mbaise; and Federal Polytechnic Nakede, Owerri.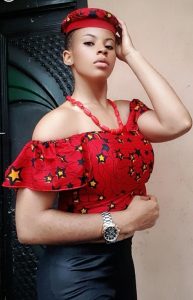 PROFESSION/CAREER: Fashion Designing/ Yoga Model
LANGUAGES SPOKEN: English and lgbo
HOBBIES: Reading, Traveling, Yoga, Dancing, Meeting new friends.
FAVOURITE COLOUR: Pink
FAVOURITE FOOD: Goat meat, jollof rice and moi-moi
FAVOURITE ATTIRE: Corporate(English)
FAVOURITE AUTOMOBILE COMPANY: Toyota
TURN ON: Cool body massage or a soft kiss on the earlobe
TURN OFF: Bad breath
OTHER SKILLS: Bead making, interior and exterior decor, hair styling.
BEST MOMENTS: Spending holiday with family, A walk at the beach as well as meeting friends.
RELIGION: Christianity
ROLE MODELS: BVM and my Mom
MARITAL STATUS: Single
DREAM MAN:God fearing, caring and easy going guy.
FUTURE ASPIRATION: Fashionista,Yoga and Fitness specialist.
EMAIL ADDRESS: lindangozi8@gmail.com
FACEBOOK ID: Rosie lei ng
INSTAGRAM HANDLE:@yogilei&@rosieleifashions
PHONE NUMBER:+2348064242894