ANCHOR UNIVERSITY LAGOS MATRICULATES 2021/2022 SESSION IN GRAND STYLE
* As Prof.S.O.Bandele takes over as new Vice- Chancellor
By Mcanthony Onuoha
ANCHOR UNIVERSITY LAGOS, on Saturday the 7th of May, 2022, held its 6th matriculation ceremony for 2021/2022 session as well as the investiture of its 2nd Vice – Chancellor.
THE VICE- CHANCELLOR OF ANCHOR UNIVERSITY LAGOS -(AUL), PROF. S.O. BANDELE
The ceremony which was graced by members of the academia, parents and guardians of the matriculants was very well organized and successful.
Some personalities from the academia extolled the virtues of Anchor University and also eulogized the Proprietor, Pastor W.F. Kumuyi, as he was described as an outstanding achiever who has roundly impacted lives.
Meanwhile the new Vice Chancellor, Prof.S.O. Bandele, in his address of welcome titled Three Months of Rapid Response, assured parents of safety of their wards while promising to assiduously work in collaboration with the management team to speedily push the University to an enviable height.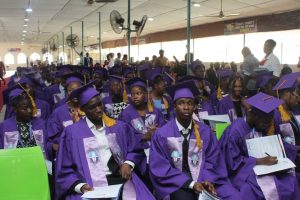 In his words, " today's programme is unique because it includes the investiture of the 2nd Vice-Chancellor of this great University, my humble self. AUL is not just one of the Universities in Nigeria, it is the University of first mention when it comes to holistic Excellence, Competence, Courage and Future Builders. It is a University built on the impeccable legacy of our founding father, Pastor (Dr.) William Folorunsho Kumuyi. The name is ANCHOR UNIVERSITY LAGOS (AUL). Our Anchor is Christ, our Anthem is Excellence, our Attitude is Friendliness, our Address is Holiness, our Admonition is Hardwork, our Answer to all questions is in the Holy Word of God".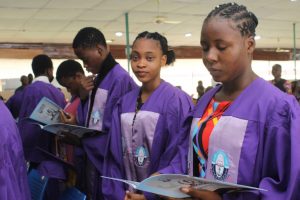 " I want to assure parents and this great audience , that as a 6- year old child, AUL is on course. Be assured that our students will get the best from this University. Mine is a clear mandate to move the University from the present stature to a new horizon of progress and prosperity, it is to build on the Triple E- Enrollment, Enrichment and Engagement".
However, Over 300 students in different faculties were matriculated. The installation of the new Vice- Chancellor designate, Prof. S.O.Bandele, was done by the Pro- Chancellor and Chairman of Council, Prof. S.T. Odi- Owei .