NAGAFF, APAPA CHAPTER, NOW HAS A NEW CHAIRMAN
By Mcanthony ONUOHA
Following the resignation of Fwdr. Ndubuisi Uzoegbo, as Chairman, Apapa Chapter of National Association of Government Approved Freight Forwarders- NAGAFF, a committed member of the group has confidently stepped forward to fill the vacuum.
The Vice Chairman of the Chapter, Fwdr. Eze Uchendu, was on Wednesday, the 13th of October, 2021, presented with a letter validating him as the Chapter Chairman by the Founder of NAGAFF, Dr.Boniface Okechukwu Aniebonam, at NAGAFF Headquarters, Apapa, Lagos.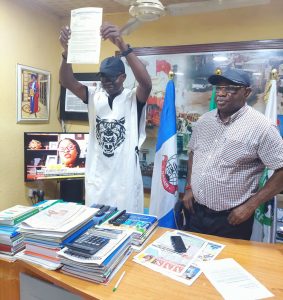 FWDR. EZE UCHENDU BRANDISHING HIS VALIDATION LETTER AS CHAIRMAN, APAPA CHAPTER OF NAGAFF, WITH HIM IS THE FOUNDER, DR.BONIFACE ANIEBONAM.
In the letter signed by the Chairman, Board of Trustees of the Association, Fwdr.Chidiebere Enalama, the new Chairman was tasked to diligently carry out his leadership responsibilities while upholding the professional ethics and values of the Association.
On receiving the letter, the Founder of NAGAFF, Dr Boniface Aniebonam, reminded Fwdr.Eze Uchendu of the onerous tasks ahead of him, while urging him to courageously take up the leadership of the chapter and shun complacency. Dr. Aniebonam bluntly told the new Chairman that leadership styles are different, and what people target as leaders also varies.; saying that while some see  mere occupation of office as achievements, some skillfully and optimally utilize the rare opportunity to leave lasting legacies. He further charged him to role up his sleeves and prove his leadership mettle.
In his words, the NAGAFF BoT Chairman, Fwdr. Chidiebere Enalama, described Eze Uchendu as a man of courage, saying that he is among those who has the interest of the Association at heart, " Eze Uchendu is a mover, he is courageous, he is a dedicated member of NAGAFF, and having him take up the leadership of the Chapter is indeed a good development".
In his acceptance speech, Uchendu promised to make a positive difference as Chairman of the chapter. He further assured that he would stake everything to provide quality leadership at the Chapter, and urged his team to give him the needed support.
However, celebration greeted the validation of Eze Uchendu as the new Chapter Chairman. Freight Forwarders were seen joyously trooping into his office on Wednesday, to congratulate him. Fwdr. Eze Uchendu has served as Vice Chairman of the chapter for more than eight years .