OHANAEZE NDIGBO, AMUWO ODOFIN UNVEILS IGBO EZUE
By Mcanthony Onuoha
It was indeed celebration of rich Igbo culture and traditional values as Ohaneze Ndigbo, Amuwo Odofin converged yesterday, the 15th of September, 2023, amidst funfair to intensify the Igbo flame.
The event which held at The Motel, Trade Fare Complex, Amuwo Odofin, with the theme: OMENALA NA ODINALA IGBO GA ADIRIRI, was endorsed and chaired by HRH, Eze Sunday Ojukwu ( Ezeudo 11), Eze Ndigbo of Amuwo Odofin, LGA, Lagos State.
CHIEF CHIKWADO LAWRENCE EZEUNARA, CHAIRMAN, OHANEZE NDIGBO, AMUWO ODOFIN LGA .
The event  was graced by Igbo Sons and Daughters who added a lot of glamour to it by appearing in their native attires decorated with beads of different colours and clutching traditional insignia of various titles.
Ndi Nze na Ozo, traditional title holders, Umu Ada, and members of the Igbo Community, Amuwo Odofin, attended in their numbers.
The Chairman of Ohaneze Ndigbo, Amuwo Odofin, Chief Chikwado Lawrence Ezeunara(Ogbuefi), was in his best of moods to welcome Ndigbo to the occasion. In his welcome address, he expressed delight to see an impressive turn up despite the short notice. He said that 'Igbo Ezue' being a noble initiative of Ohaneze Ndigbo, was an important vehicle that would drive and showcase the Igbo culture and traditional values. Chief Ezeunara assured the Igbo Community that the programme would be frequently held at different locations within Amuwo Odofin as it targets to bring Igbo Indigenes together as one people.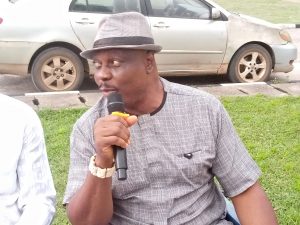 HRH,  EZE SUNDAY OJUKWU(EZEUDO 11), EZE NDIGBO OF AMUWO ODOFIN.
In his words, "l am delighted to welcome all of you to this very important event, it is a moment worthy of celebration. Today, we are unveiling a very essential unit of the big structure, Igbo Ezue is a very crucial initiative of Ohanaeze Ndigbo, Amuwo Odofin, it is a vehicle that will drive and showcase the Igbo culture and traditional values. It is our pet project and we will ensure it succeeds. Everyone is expected to get involved in this project. We would want people living within Amuwo Odofin to volunteer to host Igbo Ezue in their communities. Once we get any notification regarding that, we shall collaborate with the person to ensure its success. Igbo Ezue has come to Stay."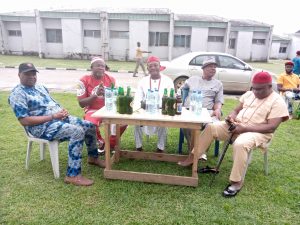 In his speech, HRH, Eze Sunday Ojukwu(Ezeudo 11), Eze Ndigbo of Amuwo Odofin, described the initiative as noble. He expressed satisfaction over the turn up, saying that it was very impressive and encouraging.
The Royal Father stressed the need for Ndigbo to hold dearly their customs and tradition irrespective of their state or country of residence. He commended the Chairman of Ohaneze Ndigbo Amuwo Odofin, and his team for the wonderful initiative and called on members of the Igbo community, Amuwo Odofin, to come out enmass and identify with the Apex Umbrella body of Ndigbo.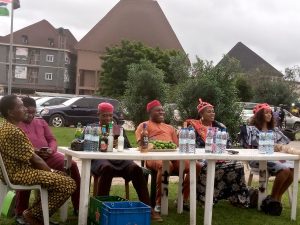 Assorted native delicacies like Ukwa, Akidi, Akpu, Abacha, etc, were served at the event by Ohaneze Ndigbo Women, whose turn out was very remarkable.
Ogene traditional dancers and Ada Igbo Entertainment added glamour to the occasion. Ada Igbo Entertainment promised to collaborate with Ohaneze Ndigbo in using the IGBO EZUE platform to promote Igbo language and culture. She advised Ndigbo not to abandon the Igbo language, culture and tradition for Western culture and borrowed lifestyles.
Programmes like Igbo riddles and jokes, dishing out of Oja tunes by Ogbu Oja and interludes of native Igbo songs formed part of the evening entertainment.
CHIEF MRS. HOPE EZE, WOMEN LEADER OHANEZE  NDIGBO, AMUWO ODOFIN.
In his closing remarks, the Chairman, Chief Chikwado Lawrence Ezeunara, thanked everyone who honoured the invitation and assured them of his commitments to the unity and progress of Ohaneze Ndigbo, Amuwo Odofin. He encouraged every Igbo indigene who resides within Amuwo Odofin to support and be part of IGBO EZUE Initiative. He further stressed the importance of upholding the custom and tradition of Ndigbo, advising them not to jettison their identity.