SHUAIBU TAKES OVER LEADERSHIP AS  CONTROLLER,  IDIROKO COMMAND
…Seeks Collaboration Of Border Communities
By Chinonye Anyatonwu
Deputy Comptroller Ahmadu Bello Shuaibu has taking over the mantle of leadership from Compt. Bamidele Makinde as the new controller of Ogun 1 Area Command.
The new Area Controller charged officers and men of the command to double their efforts and make spectacular seizures since the command is more into enforcement.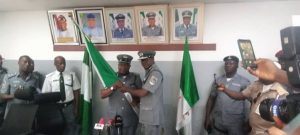 In his words: "We must make spectacular seizures to proof that we are an enforcement command. Be as it may, we must facilitate genuine trade, intensify anti-smuggling, facilitation of trade and revenue generation which is our core duty shall not be neglected."
He also promised to continue and sustain the performance tempo of his predecessor.
The new controller of Ogun 1 Customs command who himself is an anti-smuggling czar, stated that he was not surprised by the impeccable performance of his predecessor, considering the fact that, he is an articulate and result oriented leader.
DC Shuaibu was the former head of the CGC Strike Force where he made exploits before he was redeployed to other higher assignments.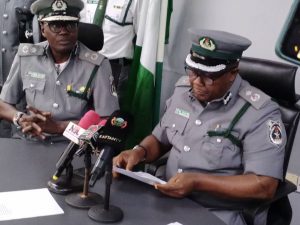 He expressed his appreciation to Comptroller Makinde for garnering support for his administration and wishing him well in his new endeavour.
Describing himself as a team player who believes so much in team work, he urged all officers and men of Ogun 1 Area Command to work as a team, adhere strictly to the rules of engagement and discharge their duty in conformity with the Nigeria Customs Service Act 2023.
He assured the business community and critical stakeholders, that the new administration will operate an open door policy, and strengthen the existing relationship with the Command.
He however, sounded a note of warning to smugglers and their accomplice, saying that their nefarious activities will not be condoned, and anyone caught in the act, shall be brought to book.
He is ready to descend heavily on unrepentant smugglers as he did when he held sway as head of the now disbanded CGC Strike Force.
Earlier in his handing over speech, Comptroller Makinde congratulated DC Shuaibu on his well deserved posting and wished him a successful tenure.
Giving account of his stewardship as the Area Controller of the Command, in line with the mandate of revenue generation, suppression of smuggling and trade facilitation, he disclosed that from the inception of his tenure in office (9th of February, 2022) to date, which is about 17 months, the Command recorded some laudable achievements.
According to him, during this period, the command generated a total sum of N225,009,835.50 as revenue.
"Interestingly, out of the revenue target of N136,532,168.22 set for the Command for the year 2023, we have generated the sum of N127,122,058.00 which is about 91% of the target, 3 months and some days to the end of the year," he noted.
Makinde further said that within the 17 months in office, the command also recorded about 1,479 seizures comprising 1,245 rounds of live Ammunition, 72,989 bags of foreign parboiled Rice of 50kg each (which is an equivalent of 122 Trucks load), 907 bales & 236 sacks of second hand clothing, 394 sacks & 2,678 wraps of Cannabis Sativa and 655,400 litres of Premium Motor Spirit (an equivalent of 20 Tankers load), among others, with Duty Paid Value (DPV) of N6,604,107,655.92.
"It is worthy of note, that my tour of duty witnessed a significant increase in revenue generation and an improved anti-smuggling performance. The successes recorded would have been haphazard, if not for the support of NCS Headquarters, concerted efforts of our gallants Officers and Men, and robust synergy with our critical stakeholders," he stated.
He called on officers to redouble their effort and give the incoming administration maximum support and cooperation to sustain the performance tempo of the command.
Additionally, he solicited the unflinching support of the critical stakeholders for the new Area Controller.