OBINNA AUSTIN OBIDILE, MD/CEO, SEA&AIR DIAMOND LOGISTICS NIG. LIMITED
HE ventured into the Maritime industry in 2004. A graduate of Business Administration and an Advocate of Trade Facilitation.
While in school Obinna Austin Obidile, the MD/CEO of Sea & Air Diamond Logistics Nigeria Limited and Public Relations Officer, Maritime Integrity Initiative (MII) already had his eyes on international trade, partly involved in business and that later informed his decision to take up freight forwarding as a profession.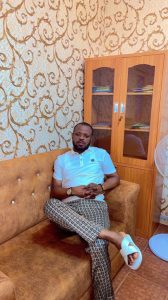 He started working with Late Mr. Damian Obieli. M.D. Jamidas Agencies Nigeria Limited. Seeing his potentials as one with unique business skills and insatiable appetite for knowledge, he was drafted as a Field Operator and subsequently, Assistant Field Operator from where he acquired deep knowledge of the industry.
When asked about the journey so far he said", l will always be grateful to God Almighty for granting me the grace to be in the land of the living, many have gone. And l can say that there has been a very appreciable improvement ever since l ventured into the Maritime industry. The field has been favourable and l can proudly say that l have no regrets whatsoever being here as a freight forwarder."
"There are enormous challenges one faces as a Clearing Agent on daily basis, what is needed to surmount them is patience and tenacity. Here, you must know that your integrity is at stake, you must be a person of integrity for you to be a freight forwarder. My late Boss inspired me so much, he was a man who never compromised his integrity, a man of strong character, very principled. For someone to entrust you with goods worth millions of Naira has everything to do with integrity, you must not be of questionable character if you really want to be successful in this field. I have always lived up to expectation since l came into the field."
GROWING UP:
"I came from a humble background, we are seven from our parents, three males and four females. Our parents managed to see all of us through school and today, l give God the glory, we are all responsible men and women, doing very well in different fields. And my happiness today is that my children are not having the same experience l had growing up, it was tough then but today my children are privileged to have and enjoy those things l did not enjoy growing up and l return the glory to God Almighty."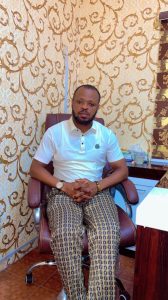 " I partnered with a close friend years back to run a company but overtime, we started having disagreement due to integrity issues, l discovered that he was not being honest to me so opted out and registered a private company, SEA&AIR DIAMOND LOGISTICS NIG. LIMITED, secured Customs licence and today, the company is doing very well. Presently, it has fifteen staff in its employ. We operate at Sea ports, Airports and Border Stations."
" SEA & AIR DIAMOND LOGISTICS NIG. LIMITED is Customs Licensed Agency, we are into Clearing and Forwarding, Shipping Consultancy, Door to Door Cargo Delivery, Airlines Ticketing ( Local and International) as well as DTI, Café, etc."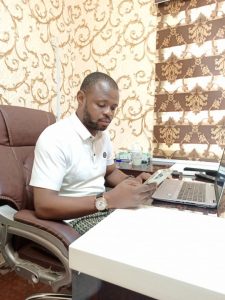 ON MARITIME INDUSTRY: l can tell you that l have been an advocate of trade facilitation and Ease of Doing Business (EoB), presently, l am the Public Relations Officer (PRO) of Maritime Integrity Initiative (MII), an association that operates within the Maritime Sector, the industry has continued to evolve, the Nigeria Customs has evolved overtime, from IDR to CRI to RAR, PAAR and to NICIS 1& 2 which is Single Window and will continue to explore new technologies for system upgrade."
" However, l can not say l am an accomplished freight forwarder yet, l still have aspiration to get to the position of leadership where l hope to make greater impact. When it is time, l will make my intention known to the Maritime Community."
" SEA & AIR DIAMOND LOGISTICS NIG LIMITED will be great in five years time, by the grace of God it will grow to become a global company, l am working hard towards achieving that feat."
ADVICE FOR THE YOUTHS : They must not compromise their integrity no matter what, they must not circumvent trade rules. Those of them in the industry must desist from things that depreciate their personalities, some agents come to work in the morning smelling alcohol and they go in to meet officers for their jobs, some dress shabbily to work knowing full well that one is addressed the way he is dressed. All l have to say in summary is that integrity makes way for success.
"As for Association leaders, l advise them to always speak in one voice, there should be no division among them, ANLCA, NAGAFF ,ARFFN, NCMDLCA, APFFLON, NAFFAC, all should always speak in one voice, that is the only way to keep Government Agencies, Shipping Companies and Terminal Operators in check, there should be unity of purpose".
RELAXATION: "Weekends and public holidays provide ample opportunity for me to bond with my family or hang out with friends, I belong to many clubs but once l have the opportunity to relax l maximize the time for quality relaxation."
"I have no intention to leave the country in the nearest future, l am already established here, l can only visit and come back to manage my business".
FAVOURITE FOOD: As an Igbo man l like swallow, if you present me with varieties of food l go for swallow preferably with bitter leaf soup, that's my favourite.
FAVOURITE COLOUR: I like white, it is a symbol of purity.
FAVOURITE ATTIRE: Native
FAVOURITE AUTO COMPANY : I like any car that can serve the purpose, l am not obsessed with cars but l like Toyota and Mazda.
HOBBY: l play snooker game.