PERSONALITY :
MEET THE FOUNDER OF VISION VIBES INC. USA, DR. REGINALD NWANKWO
He is in a class by himself, a quintessential Preacher and Public speaker whose philosophy of life is not only inspired by how much academic knowledge he has acquired overtime, but also by responsible and responsive parenting based on splendid family values.
Dr. Reginald Ugochukwu Nwankwo Joseph is an illustrious son of Nnorie in Ngor Okpala Local Government Area of Imo State.
The Houston, Texas based Adjunct Professor, Preacher, teacher cum public speaker holds a BSc. degree in Psychology, MSc. degree in Human Services, and PhD in Psychology/Mental Policy & Practice. He is the Lead Pastor of Fountain of Faith Ministries, Houston, Texas and Founder, Vision Vibes Inc. USA.
By sheer dint of hard work and insatiable appetite for knowledge, Dr. Reginald U. Nwankwo has carved an enviable niche for himself; his uncommon proficiency in mentoring people to self-actualization and passionately guiding individuals of low self-esteem to becoming revered professionals and authorities in their own rights is one of the many capabilities of this rare gem of very orchestrated abilities with a blend of celebrated maturity .
Indeed, the prize of greatness is responsibility, Dr. Nwankwo has proven beyond reasonable doubts that whatever anyone sets out to achieve in life, nothing hinders him except himself. And Robert Schuller rightly said that, "the only place where the dream of a man becomes impossible is in his own thinking. Dr. Nwankwo was already "westernized" even before he left the shores of Nigeria for the United States of America.
The Founder of Vision Vibes Inc. USA, told the Prestige Blended Magazine that he got saved in 1998 after losing everything in a failed attempt to travel to United States of America.
"At a point, l decided to forget traveling abroad but use the rest of my life to serve God and the Church where l was attending then. Having taken that decision, l got married and the union produced my two lovely sons, Fortune and Fortress, both of them are in the University here in the United States".
"While l was still in Nigeria, believing God,I was made an assistant Pastor at one of the branches of the Church in Lagos. In the course of time, God's favour located me and l traveled to London in 2003. In 2004, l applied for visa to visit the United States again and it was granted."
" I visited the US and spent some months and came back to Nigeria, specifically, Lagos. In 2005 l finally relocated to where l helped some Churches in different cities before finally residing in Houston to pioneer Fountain of Faith Ministries, Houston, Texas."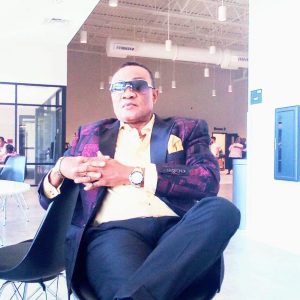 Ask Dr. Reginald Ugochukwu Nwankwo what his philosophy of life is and he tells you, "Never give up on anything you cannot go a day without thinking about" .
He says his best moment is each time he mounts the podium preaching to a congregation or imparting knowledge to others.
ADVISE FOR YOUNG PEOPLE:
"To every young person, I would advise you to avoid three deadly pies of the devil; Pride, Ingratitude and Envy. And trust in God. You must eschew evil and patiently wait for your time. In God's time He will surely locate you. And above all, whenever circumstances of life threaten your existence and fulfilment, pause and give the rest of your life to God; in due time He will make the rest of your life beautiful for you".
RELAXATION :
"I relax by listening to different genres of music; gospel songs , Bongo and selection of Yoruba music."
The Clergyman says he relishes
Ofe Owerri in its native form, and is always
comfortable in elegantly tailored materials.
The Scholar and prolific public speaker is not a car freak, but will always go for a
BMW, Mercedes Benz or Honda any time and any day.
Dr. Reginald U. Nwankwo Joseph whose hobbies are traveling, reading and listening to music is married to a beautiful wife and they are blessed with lovely Children.