IF YOU HAVE MONEY AND DON'T IMPACT LIVES, AND NOBODY CELEBRATES YOU, YOU ARE MISERABLY POOR
—- HAJIA BOLA MUSE
SHE is talked about and celebrated in different quarters by both those who know her so well and those who have heard about her prowess in humanitarian services via BOMARAH FOUNDATION, which she is the Founder. It is indeed amazing to see some women go out of their ways to reach out to others despite family demands, not only that, there is no important event she is invited within the maritime industry that the CEO, BOMARAH Group, Hajia Idayat Bola Muse does not honour and support either in cash or physical presence, that goes a long way to show that she is not after her wellbeing alone or that of the organizations she belongs but is concerned about the overall development of the maritime sector.
Delectable of skin, alluringly beautiful and very hospitable, Hajia Bola Muse's philanthropy is neither tied to ethnicity nor limited by religious affiliation. She is highly detribalised and open hearted to everyone irrespective of status. What makes Hajia Bola Muse a very unique personality is neither her profession as a freight forwarder nor her social status but what she means to different people. She has created employment for over 100 people through her many ventures, and has continued to touch many lives via BOMARAH FOUNDATION.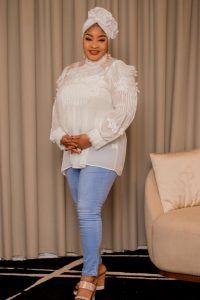 WHO IS HAJIA IDAYAT BOLANLE MUSE ?
I am a very simple woman by nature, very calm and hard- working but a no nonsense person. I am God-fearing, everybody knows me in the industry, l am the CEO, BOMARAH GROUP, l operate in the maritime sector. Founder, BOMARAH FOUNDATION and to the glory of God Almighty, l am a mother of lovely children.
SOCIAL STATUS
I am a titled Chief, the Iyalaje Yoruba Kano, l am a member of Association of Nigerian Licensed Customs Agents- ANLCA, l am the National Financial Secretary of the Association , the first female to be elected into its National Executive Committee-NECOM since it was established in 1954. I am the immediate past President of Women in ANLCA, and an Executive member of Barge Operators Association of Nigeria-BOAN. I am also a member of Women in Logistics and Transport, and a member of WINSTA, Treasurer, Women Entrepreneurs, member, Common Wealth Business Women in Nigeria and so many others.
ON SERVICE TO HUMANITY
I came from the grassroots, despite the fact that I am from a Royal Family, a Princess from Oyo State, l know what it takes for one to fend for him or herself, that is why when l see a youth that needs assistance and is ready for self realization, l pick interest in assisting such person, though no matter how you try to assist, some of them still behave very funny because they expect to wake up one morning and see loads of money heaped before them without working for it; Rome was not built in a day. My Foundation sets aside certain funds, items and materials to take care of the needy in the society, and the youths are part of it. We have a slogan, " SAY YES TO YEP", it is our Youth Enhancement Programme under which we have a vocational section, we have a scholarship programme as well as a department that takes care of people living with disabilities. We make sure that those who are ready to go to school are assisted to enroll. We also assist adults who want to acquire education. And we have what we call "FROM GRASS TO GRACE", this is for men and women who can not fund small projects that can guarantee their livelihood and financial stability, we assist them in such projects through international grants that come our way; we use such grants to empower the needy amongst us.
AT WHAT POINT DID YOU VENTURE INTO THE MARITIME INDUSTRY ?
I keep telling people that l am a lioness, l like hunting for my own prey. I don't want someone to beat his or her chest and say that, "if not me, you wouldn't have been where you are today", l wanted to experience it myself, and then decided to face the world on my own so that l can look back someday and write the story of my life, l don't want anyone to write it for me. I believe in challenges, when l am challenged, it brings out the best in me. I am a go-getter and when you challenge me l face you frontally. I see myself as someone that is ordained by God, where l came from, where l am today and where l am going tomorrow have already been ordained by God Almighty. And l don't want people to take the glory for my success but God alone, I want to see the picture of myself not one telling me how l look, that is why l like doing my things myself. I choose my friends, friends don't choose me, and my lifestyle was formed while l was in school. I recall that teachers used to ask children what they would like to be in future, actually my dream was to be a lawyer, it was my earnest desire, it was an ambition l nursed dearly, and what inspired that ambition is the way lawyers dress. I was always thrilled each time l saw them in their gowns back then, even till today, l still have the ambition though l still think of the way some of them twist the truth and pervert justice just because of money even though l know it's brainwork, for someone to sit and think how to convince the judge and the audience that something in square form is round in shape and not in square form involves brainwork, you see red and someone tells you why it is not red but blue.
After my secondary school, l didn't go straight to the university because l needed to assist my younger ones, but later on, l got admission into Polytechnic, and it was when l went for my Industrial Training that l picked interest in freight forwarding. I worked with a freight Forwarding outfit which was dominated by the male folks, my boss then, picked interest in me because of the way l carried out my duties, l handled our Customer Care unit and assisted in documentation. Even at the job, l noticed that a lot of lies were told to our clients, oftentimes customers that were expecting their jobs would be given wrong information, while their jobs awaited release they were told to expect them in the evening; and when it was evening, they came up with a different story. So, l saw that both freight forwarders and lawyers tell the same lies to earn a living, clearing agents can talk to customers 100 times and give them different information, contradicting themselves. But when l saw the prospect of making it as a freight forwarder,l decided to give it a try and to God be the glory, this is where l am today.
AT WHAT POINT DID YOU DECIDE TO ESTABLISH A HUMANITARIAN FOUNDATION?
That was the moment l discovered myself. You know that it is only when you eat and get satisfied that you begin to think of the next person, that is human nature. When you gain a ground and become a bit financially stable, you begin to think of assisting the needy and that is if you are God fearing, it takes courage. If God does not give you the wisdom and grace you can never have the mind of assisting others. That very prayer, "God bless you",is not just from the lips, it goes a long way in everyone's life. I am a natural giver, even while l was in school, the little l was having, l assisted people out of it. My friends used to beseech my room to take whatever they needed that l had, and l never felt bad about it. Maybe it is because of my background, l grew up in the North, and while in the North l used to make some give aways to the needy out of the little l was having then. Besides, l receive calls from a lot of people asking for assistance on daily basis, but the ones l can assist from my personal purse, l do assist, and those l can not attend to, l commit them in the hands of God, asking Him to provide for them through some other people. I am not that rich to attend to everyone, even Dangote does not attend to everyone that calls him for financial assistance.
WHAT IS YOUR DEFINITION OF A REAL WOMAN ?
A real woman is that woman that positively inspires other women. That woman that is ready to let go, that woman that has the passion to see others improve in life. A real woman is strong, vibrant and thoughtful, a role model to others.
Freight forwarding is a male dominated field but you ventured into it and carved a niche for yourself not only as a professional but as a role model to other women, TELL US ABOUT IT :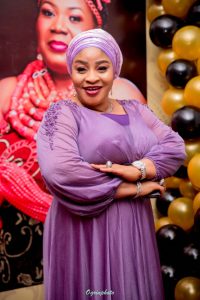 Money is good but money can not buy you good name. If you don't have integrity and self respect with all your money people won't value you. Some people have made money but don't know how to behave themselves in public . A woman should always be content with the little she has. For the fact that God gave you life and the grace to live your dream, that alone is something to be grateful for. That is what it means to be rich; not the amount of money in your account. If you have money and you don't impact lives and nobody celebrates you, you are not rich but miserably poor, that is it. When you talk to people, they tell you to go and have a sit became you don't render help to anybody, it is not about me, it is about my philosophy of life. Anywhere l step my feet l try to leave those l meet there with a memory so that when they are in their best of moods they would want to see Hajia Bola Muse again. I believe that it is God that gives both money and position and if God gives you that your heart desire or surprises you with either of them, you give him the glory, why must you make a noise when a lot of people have been there before you, why are you showing off when you can not put smile on someone's face.
ADVISE FOR WOMEN IN MARITIME
They should always support one another. Since they found themselves in a male dominated field they should unite as women and assist one another to succeed, there is nothing like unity, it inspires development, it brings peace and progress.
STAFF CAPACITY
I have 50 people directly in my employ, l have office Kano, Lagos, Abuja and making preparation for our Portharcourt office, all my offices are functional. Apart from freight forwarding, we are into Travel and Tour as well.
FAVOURITE COLOUR
Blue or white, both of them symbolize peace. But l prefer blue, it is also the colour of my company.
FAVOURITE FOOD
Rice
FAVOURITE AUTO COMPANY
Mercedes
FAVOURITE ATTIRE
Any thing that suits me.
HOBBY
Putting smiles on faces