ANLCA PAYS VISIT TO LATE ALOY ANOKWURU'S FAMILY
**As Farinto, Mukaila, Oyeniyi, Igbaroola and others pay tribute
Association of Nigerian Licensed Customs Agents- ANLCA, on Monday, 1st of May, 2023, visited the home of its late Chieftain, Comrade Aloy Ejiagadike Anokwuru who died few weeks ago after a brief illness.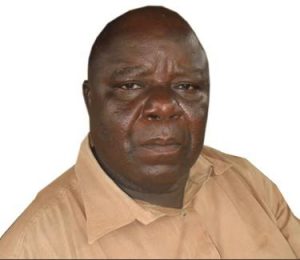 LATE COMRD. ALOY ANOKWURU
Acting National President of ANLCA, Kayode Collins Farinto, PhD., led a delegation of ANLCA members to visit the widow and family of the late Chairman of the Association's Electoral Commission (ASECO), Comrd. Aloy Anokwuru.
The delegates who were in Late Anokwuru's house in the Iba area of Lagos at 10: 30 am on May day took their turn as they signed the Condolence Register before settling down to condole with the family.
DR. COLLINS KAYODE FARINTO, ACTING NATIONAL PRESIDENT OF ANLCA, SIGNING THE CONDOLENCE REGISTER
Prince  Taye Oyeniyi led the delegates in prayers prayed God to repose late Aloy's soul and grant his family the fortitude to bear the irreparable loss.
In his speech, Dr. Farinto said that "Comrd Anokwuru's sudden demise threw me, the Executive and the entire membership of ANLCA off balance but we have no choice than to accept it." While consoling his family, he advised them to be closer to God and also trust in Him because what happenned was irreversible and that no human being can question God.
The Patron of ANLCA, Prince Taye Oyeniyi, in his speech, said that Comrade Aloy was a great man who lived, worked and died for ANLCA, and that's why a grateful ANLCA family has come to pay homage. He added that he was happy that passed on after ANLCA has achieved total peace. He described late Aloy as a stubborn, courageous and no nonsense man who never indulged in idle gossip because what he could not tell somebody to his face, he won't say at his back. He turned to his son, a 24 year old graduate and admonished him to be strong like his father and take the bull by the horn and that ANLCA would be beside him, his mother and his siblings at this period of greatest need.
Other speakers were the National Secretary Alh Abdulazeez Babatunde Mukaila, Member BoT, Mr. Eniola Igbaroola, Chairman KLT, Toyin Oyeleke, Otunba Sunday Oyekola of PTML Chapter, Chijioke Daniel and Dr. Obicee Okonkwo. Their speeches centered on words of comfort and promise to stand beside Aloy's family at this time.
Meanwhile, Chijioke Nkwazema reiterated his earlier promise to take care of the education of one of Aloy's children.
In his response, Aloy's first son Kosisochukwu Anokwuru thanked ANLCA members for the visit saying that nothing can be more gratifying than seeing the National EXCO, Patron, BoT members and Chapter Chairmen converge on his late father's compound to console them. He said that it was an indication that his father was a great man of honour who was also highly respected by members of his Association. He pleaded that ANLCA should help his family to pull themselves together to give his father a beffitting burial.
Also present at the visit were Chairman of Seme Chapter, Onyekachi Ojinma, Chairman of MMIA Chapter, Prince Adewusi, Head of Protocol, Chief Francis Maduekwe, Emmanuel Onyeme of Tincan, Secretary of Audit Committee, Elder Adelaja, Ruth Chukwukezirim of MMIA, among others.
After the visit, the patron Prince Taye Oyeniyi took the entire ANLCA contingents to an exclusive Eatery in Egbeda part of Lagos State where they were treated to a banquet of continental dishes and assorted drinks.