ASIMPIN LEADERSHIP TENURE DURATION : SETTING THE RECORDS STRAIGHT
There has been an urgent need to clear the air of the dust raised by a group of five who came out boldly to revolt against the leadership of Association of Igbo Maritime Practitioners in Nigeria- ASIMPIN which has His Royal Majesty, Eze Amb. Damian Emeka Obianigwe, JP, as President General. These men, on the platform of Elders In Council of ASIMPIN, purportedly conducted an election where the substantive Chairman of the so called Council, Chief Dike Kelly was said to have been removed and Chief Boniface Okoye announced as his replacement.
The Editor in Chief of The Prestige Blended Magazine Online and print, Mcanthony Udochukwu Onuoha, took time to engage the Special Assistant to the President General of ASIMPIN on Media, Comrade Godfrey Emeka Nwosu, the Chairman, ASIMPIN Elders Committee, Chief Dike Austin Kelly and Committee Secretary, Dr.Ben Nwokeka in a crucial interview to clear the air around ASIMPIN leadership tenure duration and "elongation" as well as the stance of the PG on the action taken by the five aggrieved elders.
The account of EMEKA NWOSU, Special Assistant to the President General of ASIMPIN on Media :
" Recently, a group of men gathered at a particular spot to evaluate the leadership of Association of Igbo Maritime Practitioners in Nigeria- ASIMPIN under the management of Eze Damian Emeka Obianigwe, JP., whom we all agreed years ago at Mobil Pegasus, Apapa, to take up the mantle of leadership of ASIMPIN world-wide.
Before the election, which had myself and Dr.Basil Nwolisa among the contestants, of which every other person stepped down for Eze Obianigwe, the group was not registered as at then. After that election, about 12 years ago, it was discovered that the body was not duly registered with the Corporate Affairs Commission (CAC), so the process of registration commenced, but the name, Igbo Maritime Forum, which it was founded as, could not fly, then arose the need for a different nomenclature, and Association of Igbo Maritime Practitioners in Nigeria with the acronym ASIMPIN was submitted and approval given for registration. It really took time and several attempts, as well as efforts by its leadership to get the body registered. Between the period of election to its registration with the CAC, the association had not constitution, the leadership on its own assembled documents that were used for the registration as no legal document was in place. As all these were being done years passed by, and it is instructive to note that the association had no working document up until 2021 when His Royal Majesty set up a committee to look into it and come up with a befitting constitution for the group. Dr. Eugene Nweke and his Committee were given the mandate , they completed the assignment and submitted their report but due to so many reasons, the Constitution was not officially adopted up until this year 2023.
THE PG OF ASIMPIN, EZE AMB. DAMIAN EMEKA OBIANIGWE, FLANKED BY MEMBERS OF ASIMPIN ELDERS COMMITTEE
And if you go by what the statutory book provides, the substantive date of commencement of tenure of His Royal Majesty should be from the moment we rose from Santiago Milan Hotel, Amuwo Odofin. But His Royal Majesty is not seeing it from that legal perspective, rather he is looking at the period of time he has been addressed as President General of ASIMPIN while as he is supposed to be looking at the year the Constitution was formally adopted as a working document. All the while he was trying to set the ball rolling, nobody queried his tenure and suddenly, some disgruntled individuals came up to query his tenure duration to the extent of threatening to remove him from office. What do they know about leadership tenure of ASIMPIN. And if l may ask, which of the chapters do these persons challenging his tenure belong to, which of the chapters do they identify with as theirs, and has the chapters confirmed them as their bonafide members, do they pay their dues and other obligatory levies. You come out to query the tenure duration of His Royal Majesty as who? You must have a constituency that you are coming from, okay let's say the person is a member of Elders in Council, which is not recognized by the Constitution, out of the PG's magnanimity, he created a platform where members that are 60 years and above meet as an advisory body and called them ASIMPIN Elders Committee, that's what the PG created abinitio and not Elders In Council, none of such is provided in the constitution of ASIMPIN, again, what the PG created and recognised was Elders Committee but they misconstrued it to mean Council, do they even know the meaning of Council, the PG gave approval for Elders Committee, and what are their functions, to make suggestions and play advisory role to the PG on observations and what may be termed to be misnomer. They are chiefly to play advisory role and not to detect to the President General. If any of them sees what is not going well in the association, he draws the PG's attention to it, that is their role and not to query the constitutional provision or the tenure of His Majesty. Above all, note that most of these men and women that are today raising their voices, and wagging their tongues about tenure duration are 90% direct beneficiaries of the benevolence of the PG either in social life or time of need. His Royal Majesty has maintained his charitable disposition to all and sundry without any limitation or discrimination. He treats every maritime Practitioner of Igbo extraction equally, he is a listening PG; a man of higher profile, if you want to assess him you don't assess him with an ethnic or sectional association like ASIMPIN, he is an industrialist, an employer of labour, a manufacturer who contributes to national economy. So for him to even condescend to the level of presiding over an ethnic association is the height of humility on his part. Today, he has made a statement, "ASIMPIN ELDERS COMMITTEE" is the recognized name, and has also used the opportunity to collapse every other sub structure or sub unit as Elders in Council, either here in Nigeria or in diaspora, they have been collapsed into Elders Committee of ASIMPIN. When the Committee on Biometrics and Registration is done, he and the National Executive Committee will give direction concerning the election. Whoever that is eligible and ready to take over the mantle of ASIMPIN leadership will be encouraged to pick a form, he has assured that if the person does not have money, he would sponsor him , he has given that window. And l ask those querying his tenure, who among them is ready, who do they have in mind to take over from the PG. It's not about cutting the head, what happens to the body when the head is off, these are issues we need to look into .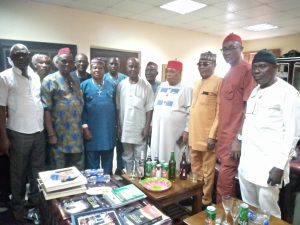 Today, God intervened by touching the heart of some of the elders to come and meet with the PG and dissociate themselves from those plotting to desecrate the office of the PG, they have made a statement that they are not part of the plot, otherwise the PG had already decided to proscribe them and at the same time order legal and security actions against them. But he doesn't want to use a sledge hammer to kill a fly, he has given them instructions on what to do, but primarily, a statement has been made. They should use their money and train their children rather than trying to flex muscles with the President General who is putting everything in line to make sure ASIMPIN succeeds."
DR BEN NWOKEKA is Chairman/ CEO, Maritime Dragon LTD., as well as the General Secretary of ASIMPIN Elders Committee :
"I am one of the elders of ASIMPIN and substantive Secretary of Elders Committee as approved by the President General, His Royal Majesty, Eze Amb. Damian Emeka Obianigwe, JP, in our meeting today, 3rd of August, 2023.
SECRETARY OF ASIMPIN ELDERS COMMITTEE, DR. BEN NWOKEKA
On the imbroglio fueled by some of our members, ordinarily, l wouldn't have loved to amplify their action, we have been operating as Elders in Council until five persons out of pecuniary interest, went on their own and apportioned positions to themselves and now claim that they are in charge, and even went further to issue malicious statements against the person of the President General of ASIMPIN. Not only that, they also went as far as drawing public attention by going to the media to say that they have expelled the Chairman, Chief Dike Austin Kelly and myself , Dr. Ben Nwokeka, what an insult !
Come to think of it, these people that are making a noise about tenure duration of the PG are ignorant of how leadership works and how an organization like this functions. You don't build on nothing . The PG of ASIMPIN was elected on the platform of Igbo Maritime Forum which as at then was not registered and had no constitution. So when the gentleman came on board, he found out that the association was yet to be registered with the CAC and subsequently, the process of registration commenced, in the cause of that, they were told that the name, Igbo Maritime Forum was not getting approval, then an alternative name, Association of Igbo Maritime Practitioners in Nigeria – with ASIMPIN as acronym, was resubmitted and fortunately, it was approved and registered by the Commission. There can not be vacuum in power, and as we all know, nature abhors vacuum, so he had to remain there throughout the period things were being put in the right shape. The Constitution was put together in 2021, but thereafter was reviewed and subsequently, officially adopted as working document this year, 2023. Before its adoption and unveiling their was no working document in place, technically, from my analysis, the day the working document was made available to the leadership and members, should also be the day the PG's tenure commenced if we look at it from the legal perspective. All the noise being made by some people does not make any sense to me, l don't want to be insultive to anyone, with all modesty, we know the levels of those causing this confusion, intellectually, financially and otherwise, l don't have to go into that, but nothing has spoiled yet. If you ask me, the PG has never breached any law, you can see that the Constitution has just been made available, and it is not out of place to assert that his tenure commenced the very moment the Constitution officially came into effect, anything aside that will be an aberration. I am warning these paid agents to be very mindful of their actions and comments, they should apply wisdom in all they do and not diminish their personalities because of pecuniary gains."
CHIEF DIKE AUSTIN KELLY, Chairman, ASIMPIN Elders Committee:
"My name is Chief Dike Austin Kelly; Chairman ASIMPIN Elders Committee, a standing Committee formed to play advisory role to the President General of ASIMPIN.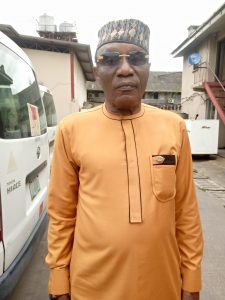 CHIEF DIKE AUSTIN KELLY, CHAIRMAN, ASIMPIN ELDERS COMMITTEE
On my purported removal as chairman of the committee, l will not give much attention to empty threats and propaganda by detractors and dissidents, these people are my men and contemporaries in the association, they were also good officers l accorded much respect to till late. I want to let you know that there is no action without equal reaction, what you sow is what you reap. What these men are trying to achieve is to create division because of the election coming up at chapters and all that, we are elders and we need to handle issues with wisdom. If you call me at this age to take over as President General of ASIMPIN l won't accept it because l will not function effectively at this age, but l can boldly say that what is driving the actions of these few elders is pecuniary interest, some of them are broke, no job.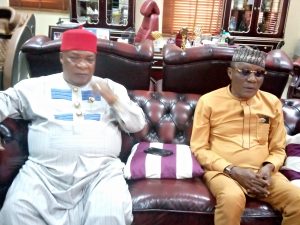 Dr Kayode Farinto came the other time and made known his ambition to become the National President of Association of Nigerian Licensed Customs Agents-ANLCA to us, and we blessed him. After about two months, another candidate , Emenike Nwokeoji came to see us, and we also blessed him, and that is how it should be. But l can tell you for free that scavengers in out mixed are hovering around trying to pitch their tent with any camp they consider more favourable than the other, which is politics, but l can't see only four people on a platform of over 70 members connive to change its leadership. We have our policy which states that before anyone becomes a member of ASIMPIN Elders Committee, he or she must have attained the age of 60 , that is the criterion, we don't pay any money and we don't ask any body for registration or any other fee. And whatever comes into our purse, we share it amongst the elders, some as transport fare, some as welfare package. We don't keep money in the bank. When they saw how good the whole thing was looking, Chief Boniface Okoye and Co, who had already given his license to Kayode Farinto before Emenike Nwokeoji came, even when we had lobbied to have some of our members fixed on some of the committees where they can work and put food on their tables, but eventually some of them decided to withdraw their support from him and crossed over to the other camp without any solid agreement because l know they had none. They are doing what they are doing because of personal interest and not collective interest. They are seriously broke and that's why you see them want to flex muscles with everyone. Unfortunately for them, they are dealing with those that are not their match. His Royal Majesty, Eze Amb. Damian Emeka Obianigwe JP, who happens to be the President General of ASIMPIN which we all are members, created the standing Committee out of his wisdom, and myself being an old warrior in the industry, was given the privilege to be their head and there has not been any rancour, even the day the announcement of my purported removal as chairman was made, they were calling me to know my position, and before long, they called again to say they held a meeting and that l have been voted out as chairman because l am always on the side of the PG. But unfortunately those that took that action are very close allies of the PG, the four of them if l may say.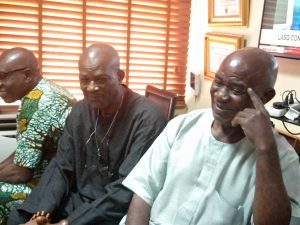 One, out of the many good sides of the PG is that once an elder of ASIMPIN dies, he plays a very big role, from seeing that the body is moved to the deceased home town to putting in place other arrangements, he works close with the family from the wake to even sending representatives to the burial proper and singlehandedly foots the bills, now tell me, who else can do that ?
Even as they make a noise about tenure expiration, there was no constitution in place abinitio, everything, from the registration to putting the Constitution in place was made possible by the PG and Chief Peter Obi (Ogbuagu), who is another person that has contributed a lot to the growth of the association. He was instrumental to the registration and whatever height the association has attained today. There was no constitution in place, it was Ogbuagu that hurriedly assembled all the documents that were used for the registration. It was until last year December at Villa Park Hotel that it was resolved that the Constitution be reviewed of which Chief Eugene Nweke and members of his Committee embarked on and subsequently, unveiled this year at Santiago Milan Hotel Amuwo Odofin. And all those years of formation and perfection are being counted as 12 years spent by the PG.
It is now that we have a constitution in place that we know that ASIMPIN is in existence. They have been going about saying all sorts of things, clamouring for change of leadership citing tenure expiration, what is their headache, what have they got against the PG, they should allow him to drink water and drop cup. And l want to assure you that the committee is happy with my leadership, you can see they are here with me and that is why l am not disturbed about the detractors and their shenanigans. We are intact, there is nothing like change of leadership and nothing like faction.
Today, the PG of ASIMPIN, has approved the name, Elders Committee, it is no longer Elders in Council and l, Chief Dike Austin Kelly, still remain the substantive Chairman of Elders Committee while Dr. Ben Nwokeka remains the Secretary of the Committee. And we, the elders of ASIMPIN, strongly reaffirm that His Royal Majesty, Eze Amb. Damian Emeka Obianigwe JP, is the authentic and substantive President General, and whenever he calls for elections we shall abide by it. Presently, we await biometrics to ensure that members bio-data are properly documented. How can we go into elections without having accurate membership data. Believe me, once the biometric cards are ready, elections will commence because they will equally serve as Voter's cards."