ASIMPIN CELEBRATES MEMBERS, LAUNCHES HARD COPIES OF ITS CONSTITUTION
By Mcanthony Onuoha
Association of Igbo Maritime Practitioners in Nigeria- ASIMPIN, on Saturday (yesterday) the 22nd of April, 2023, hosted its members to a lavish party at the instance of its President General, HRM, Eze Amb. Damian Emeka Obianigwe, KSM.
The event which took place at Santiago Milan Hotel and Suites, Amuwo Odofin, Lagos State, attracted quite a good number of Igbo Maritime Practitioners and revered Igbo professionals from different fields of endeavour.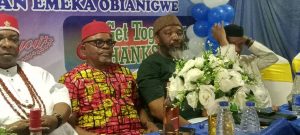 The occasion which was chaired by the President General of ASIMPIN, HRM, Eze Amb. Damian Emeka Obianigwe KSM, was not only for dining and wining but provided another opportunity for Ndi Igbo in the Ports Industry to rub minds on how to maximize their God given trading skills for their collective good and for the betterment of the country in general.
As it were, the Constitution Review SubCommittee led by its Chairman   Chief Pius Ujubuoñu, presented the reviewed version of the Constitution to the President General who officially unveiled it for launch.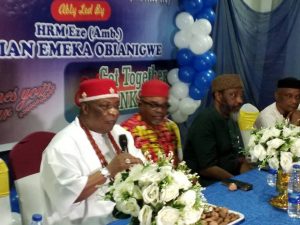 Before the event proper, special recognition was accorded to the Constitution Review Committee (CRC) for a job well done. the Constitution Review SubCommittee Chairman, Chief Pius Ujubuoñu, High Chief Donatus Agbim, Comrade Emeka Nwosu KSM, Barr. Ada Akpunonu, and Ezinwa Louis Eze were all given special recognition.
The event assumed crescendo when the Constitution was officially unveiled for launch, Individuals trooped to the stand to pick their copies while chapter chairmen collected sizeable quantities to distribute for members at chapter level.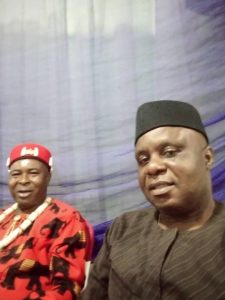 Some of the dignitaries who spoke at the event include the BoT Chairman of ASIMPIN, Chief Dom Obi ( Ochiagha), Chairman, ASIMPIN, Muritala Muhammed International Airport (MMIA) Chapter,Nze Aloy Igwe, Former National President of National Association of Government Approved Freight Forwarders and Secretary, ASIMPIN Board of Trustees, Chief Dr. Eugene Nweke, Chief Pius Ujubuoñu, SSA to the President General of ASIMPIN, Chief Lawrence Uba (Ugwu Ndi Igbo) and others.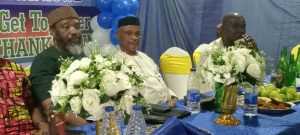 Addressing members, the President General of ASIMPIN, HRM, Eze Amb. Damian Emeka Obianigwe KSM, Ezeoha Obi of Isi Ihitte- Owerri, urged everyone to always represent the association responsibly and not to cast it in bad light. He also stressed the need for Ndi Igbo to be their brothers keepers wherever they find themselves and shun divisiveness within their fold.
In his speech, Chief Dr. Eugene Nweke admonished Ndi Igbo in Maritime to always be law abiding and shun the temptation of circumventing trade rules in other not to endanger their livelihood and progress. He was optimistic that the amended Constitution would cause the National Executive of the Association, the chapter chairmen and the entire membership of the Apex Igbo Maritime Umbrella to sit up as it would no longer be business as usual, prompting officials to rise to their respective responsibilities.
Nevertheless, the President General of ASIMPIN, HRM Eze Amb. Damian Emeka Obianigwe KSM, was honoured with The Prestige Blended Magazine GREAT ACHIEVER'S AWARD by the Publisher of the Magazine and CEO of the media outfit, Mcanthony Udochukwu Onuoha, as OUTSTANDING MARITIME PERSONALITY, in recognition of his leadership ingenuity and outstanding achievements as a Maritime Practitioner and his contributions to the growth of the industry and to national economy.