ASIMPIN PG PLAYS HOST TO ANLCA LEADERSHIP
…Cautions against divisiveness and vendetta
By Mcanthony Onuoha
The President General of Association of Igbo Maritime Practitioners in Nigeria- ASIMPIN, HRM, Eze Amb. Damian Emeka Obianigwe KSM, JP., on Thursday 21st of September, 2023, played host to the National President of Association of Nigerian Licensed Customs Agents-ANLCA in his Lagos office.
The ANLCA National President, Mr. Emenike Kingsley Nwokeoji, was accompanied by his Vice, Prince Segun Odutan, the National Publicity Secretary, Mr. Emma Onyeme, the Coordinator Western Zone, Alhaji Femi Anifowose, the National Secretary, Mr. Olumide Fakanlu, Western Zone Secretary, Alhaji Idowu Owoade, Barr. Raymond Onyimba, ANLCA Chieftain, Elder Chukwudi Ike, Mr. Charles Uba and Mr. Ayo Suleiman among others.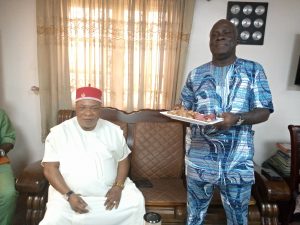 NATIONAL PRESIDENT OF ANLCA RECIEVES KOLANUTS FROM ASIMPIN PRESIDENT GENERAL
Nwokeoji's courtesy call on the President General of ASIMPIN was to thank him and formally identify with ASIMPIN not only as the President of the foremost maritime association but as a maritime practitioner of Igbo extraction.
Recall that the new leadership of ANLCA, prior to the National Executive Committee election that produced them, had paid a courtesy call on the President General of ASIMPIN, to seek his fatherly blessings and support; making the courtesy call on the Royal Father, the second of such visit.
THE PRESIDENT GENERAL OF ASIMPIN, EZE AMB. DAMIAN EMEKA OBIANIGWE, JP. CHAIRMAN, FANO GROUP OF COMPANIES.
Chief Emenike Nwokeoji few weeks ago, emerged as National President of ANLCA in a keenly contested NECOM election, stopping the Former Acting President, Dr. Kayode Collins Farinto.
The moderator of the event, Former National Publicity Secretary of ANLCA and National Spokesperson of ASIMPIN, Dr. Obicee Okonkwo, described Nwokeoji's second visit to the PG of ASIMPIN as a tremendous display of humility which he said, was a unique leadership quality.
NATIONAL PRESIDENT OF ANLCA, MR. EMENIKE KINGSLEY NWOKEOJI
HRM, Eze Amb. Damian Emeka Obianigwe, JP. Ezeoha 1 of Isiobi Ihitte Owerre, Orlu, Imo State, The President General of ASIMPIN World Wide and Chairman, Fano Group of Companies, in his speech, traced his close relationship with Chief Nwokeoji back to three decades in Portharcourt.
Extolling the virtues of Nwokeoji, the PG of ASIMPIN described him as a perfect gentleman and seasoned professional whose moderate lifestyle, comportment and total commitment to every cause he believes in, is not only exemplary but worthy of emulation.
The PG tasked the new ANLCA NECOM led by Mr. Nwokeoji of total commitment to reconcilation, peace and unity of members of ANLCA as he cautioned against divisiveness as well as leadership of vendetta. He went further and expressed strong confidence in Nwokeoji's capacity to reposition ANLCA in its place as the foremost umbrella body for maritime practitioners as well as regaining its pride of place in the comity of world maritime associations.
In his words, "l have no doubt in my mind that Emenike Nwokeoji and Prince Segun Odutan will be committed to the unity and progress of ANLCA. They have the capacity to reposition ANLCA for greater glory. Nwokeoji and l have come a long way, we have known each other for three decades, right from Portharcourt, he is a very splendid character, moderate in all aspects and a seasoned professional. Honestly speaking, Nwokeoji is exceptional. I won't be surprised if he beats the records of his predecessors as National President of ANLCA."
However, Mr. Nwokeoji indicated interest to be part of ASIMPIN and to be involved in all its activities. His indication of interest made the PG to order immediate formalization of his biometrics registration as number one member of the Premier Port, Apapa Chapter of ASIMPIN.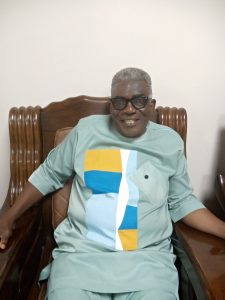 NATIONAL SPOKESMAN OF ASIMPIN, DR. OBICEE OKONKWO
Chief Pius Ujubuoñu, Dr. Obicee Okonkwo, the National Secretary of ASIMPIN, Comrade Okey Egbuchulam, the National Financial Secretary, Mazi Isaac Ndukwe ( Okwadike) and SSA to the President General of ASIMPIN on Media, Comrade Godfrey Emeka Nwosu, were physically present at the event.
The PG, HRM Eze Amb. Damian Emeka Obianigwe, in his usual fashion, treated his guests to assorted types of wine and sumptuous meal in an ambience of true hospitality .
Responding, the National President of ANLCA solicited the support of the PG, maritime stakeholders and every member of ANLCA as he assured that his door would remain open for all. He expressed willingness to listen to diverse opinions and views in the cause of leadership, stressing that "no one has the monopoly of knowledge."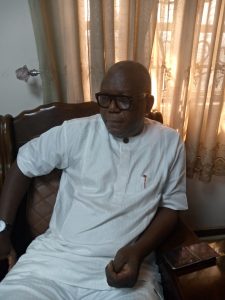 NATIONAL VICE PRESIDENT OF ANLCA, PRINCE SEGUN ODUTAN
The PG prayed God Almighty to grant the new leadership wisdom and knowledge to succeed. He thanked Nwokeoji and his team for the honour they accorded him and the apex Igbo maritime body.