CONMMEP HAILS ADEYANJU'S ELECTION, DESCRIBES HIM AS A TRUE LEADER
By Mcanthony Onuoha
Congress of Nigerian Maritime Media Practitioners(CONMMEP) has hailed the election of the President General of Maritime Workers Union of Nigeria ( MWUN) as Deputy National President of Nigerian Labour Congress ( NLC).
COMRD. ADEWALE ADEYANJU , PRESIDENT GENERAL, MARITIME WORKERS UNION OF NIGERIA( MWUN) AND DEPUTY NATIONAL PRESIDENT NLC.
Comrade  Adewale Adeyanju was elected  NLC's Deputy National President at its 13th National Delegates Conference in Abuja recently.
However, the new National President of the Apex workers union Comrade Joe Ajaero, also emerged at the conference replacing Comrade Ayuba Waba who served between 2015 and 2023.
In a congratulatory message to MWUN, CONMMEP through its National President, Alhaji Tunde Umar- Daniah, eulogized Adeyanju for his unique leadership qualities, describing him as a go- getter and true leader.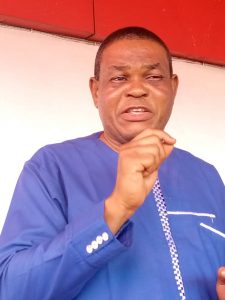 ALHAJI TUNDE UMAH-DANIAR, NATIONAL PRESIDENT, CONGRESS OF NIGERIAN MARITIME MEDIA PRACTITIONERS, CONMMEP.
In his words," Comrade Adewale Adeyanju has distinguished himself as a unionist, his leadership qualities stand him out at every forum, he belongs to the class of leaders who do not occupy leadership positions for self aggrandizement but for the core essence of leadership".
" With Comrade Adeyanju as Deputy National President of Nigerian Labour Congress (NLC), the apex labour organization should expect radical inputs and contributions that will reposition it for unprecedented accomplishments in the area of workers welfare and the good of the generality of millions of Nigerian masses."
" We hope that Comrade Adeyanju will work closely with the NLC's new President, Comrade Joe Ajaero, to ameliorate the sufferings of Nigerian workers by holding the Federal and state Governments accountable in policy review and implementation, we strongly believe that governance should be about the people and the overall progress of every nation."
" Adeyanju has made a significant impact in the Maritime industry and we hope that he will leverage this greater opportunity to add his name in the compendium of very revered citizens."
Elected alongside Adeyanju at the Conference are, Audu Amber as 2nd Deputy National President, Kabiru Sani, National Deputy President, Ambali Olatunji, National Treasurer; Benjamin Anthony, Vice President; Steve Okoro, Vice President; Olawole Sunday, Vice President, and Marwan Adamu, Financial Secretary.
Others are Williams Akporeha, National Trustee, and three Internal Auditors, Babatunde Olatunji, Mohammed Ibrahim and Haruna Ibrahim; as well as two ex-Officio members.
The new officers will run the affairs of the union for the next four years.