BOAN URGES NSC TO PRESS FOR UNIFORMITY IN BARGE HANDLING CHARGES
*** As NSC tasks Operators on standard equipment
By Mcanthony Onuoha
The Nigerian Shipper's Council (NSC, has received an appeal by Barge Operators Association of Nigeria- BOAN, to intervene in the issue of barge handling charges so as to ensure uniformity of the charges by terminal operators which it said was grossly affecting its business.
President of Barge Operators Association of Nigeria( BOAN), HON. Bunmi Olumekun, made the appeal during a courtesy visit alongside his executives, to the NSC Headquarters in Lagos, on Wednesday, the 24th of February, 2022.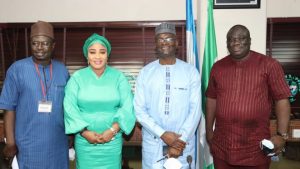 (Left – right ) – Alhaji Nura Wagami, Head of Enforcement, Barge Operators Association of Nigeria, Mrs. Bola Muse, Executive member, Barge Operators Association of Nigeria,Hon. Emmanuel Jime Executive Secretary/CEO, Nigerian Shippers' Council and Hon. Bunmi Olumekun, Acting President, Barge Operators Association of Nigeria
Addressing the Association, The Executive Secretary and Chief Executive Officer of the Council, Hon.Emmanuel Jime, tasked the Barge Operators Association of Nigeria (BOAN), on efficiency in barge operations in Nigeria. In a statement through the Head of Public Relations,NSC, Rakiya Dhikru- Yagboyanju, he herped on the need for operators of barges to digitize their processes, saying that would reduce human interface and also aid their operations.
Hon. Jime assured the operators of the Council's willingness to partner with them to address infractions and circumvention of standards of operations, while urging the barge operators to take advantage of the ongoing stakeholders' registration at the Council.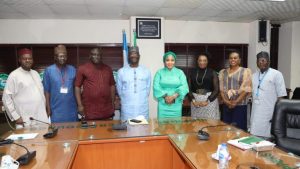 However, The President of BOAN, during the visit, disclosed that the imposition of double charges was detrimental to their business, adding that the engagement of barges for cargo movement to and from the ports has drastically reduced congestion, and has also aided in reducing gridlock on port access roads.
Lending her voice, Hajia Bola Muse, an executive member of BOAN, regretted a lack of attention to barge operations in the country unlike other modes of transportation. She called on NSC to convene a Stakeholders' meeting with terminal operators in order to brainstorm on issues bordering on barge operations in the country.
Meanwhile, Head of enforcement, Barge Operators Association of Nigeria -BOAN, Alhaji Nura Wagani, harped on the need for legislation guiding the volumes and tonnages trucks are to carry on the roads. Wagani said that the roads are death traps and movement of cargoes via road should be regulated to limit volume size, adding that by law, barges are to carry goods weighing more than 40 tonnes, but truckers go ahead carrying goods that weigh up to 100 tonnes.
Before their departure, the ES/CEO NSC, assured the association of the council's readiness to collaborate with relevant Stakeholders to address various challenges confronting them.