CRFFN ELECTION: APFFLON APPLAUDS AMAECHI FOR HIS COMMITMENT
***Hails approval for independent candidacy
***Constitutes election monitoring team
By Mcanthony Onuoha
As preparations for the next election into the Governing Board of Council for the Regulation of Freight Forwarding in Nigeria- CRFFN, are on top gear, Africa Association of Professional Freight Forwarders and Logistics of Nigeria- APFFLON, has commended the Hon.Minister of Transport for his commitment to the entire exercise.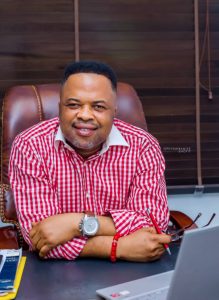 NATIONAL PRESIDENT OF APFFLON, OTUNBA FRANK OGUNOJEMITE
In a letter addressed to the Hon. Minister of Transportation, signed by the National President of APFFLON, Otunba Frank Ogunojemite, and copied to the Prestige Blended Magazine, the Maritime Advocacy group applauded the timely decision to address the lacuna that has existed at the Council since the expiration of the last Governing Council in November, 2020.
RT.HON. CHIBUIKE ROTIMI AMAECHI, HON. MINISTER FOR TRANSPORTATION
Inthe letter, APFFLON commended the decision to have the process open to independent members of CRFFN, saying it would give more qualified individuals opportunities, curb practice of godfatherism and high gimmicks of some freight forwarding groups.
However, as part of efforts to collaborate with the Transport Ministry, to ensure that the election is organized in a very free, fair and credible manner. To achieve that feat, APFFLON, in partnership with other freight forwarding associations, has constituted an Election Monitoring Team to help forestall intended malpractices.
APFFLON, maintained that the group of like- minded people across the various associations coming together to form a monitoring team demonstrates unity of purpose among practitioners, as all they desire is achieving a singular goal, and that is having a credible and hitch-free Governing Council election that would pave way for a more productive CRFFN.
Part of the letter reads " As advocates of ease of doing business, we will protect the interest of freight forwarders and collaborate the Transport Ministry's effort towards organizing a credible  election as we are ready to expose plans to hijack or disrupt the polls".
Despite the agitation from different quarters against the choice of Abuja as venue for the forthcoming election, APFFLON said it fully endorsed the Abuja venue because it would limit the influx of miscreants that are suspected to have been mobilized to disrupt the process in Lagos.
The group however, suggested that subsequent elections be electronically organized in line with global best standards, adding that utilizing automation for the polls would also reduce human interface amid the ravaging COVID-19 pandemic, as well as display the level of innovation the Council and the Transport Ministry can attain.