­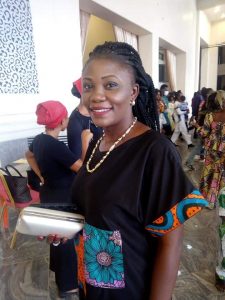 MYRIADS OF FACTORS MILITATING AGAINST POLITICAL ASPIRATIONS OF WOMEN —-Happiness Odochi Steven
COMRADE HAPPINESS ODOCHI STEVEN IS A PATRIOTIC NIGERIAN WHOSE POLITICAL FUTURE SHINES SO BRIGHT. SHE CONTESTED FOR IMO STATE HOUSE OF ASSEMBLY TO REPRESENT NGOR OKPALA STATE CONSTITUENCY UNDER ALL GRAND ALLIANCE PARTY(AGAP),IN 2019 IMO STATE HOUSE OF ASSEMBLY ELECTION BUT GALLANTLY LOST TO THE PEOPLE'S DEMOCRATIC PARTY CANDIDATE. COMRADE STEVEN HAPPINESS; A GRADUATE OF MASS COMMUNICATION FROM FEDERAL POLYTECHNIC NAKEDE OWERRI, lMO STATE, IN THIS EXCLUSIVE INTERVIEW WITH THE EDITOR-IN- CHIEF OF THE PRESTIGE BLENDED MAGAZINE, MCANTHONY UDOCHUKWU ONUOHA,HAD A SWELL TIME TO NARRATE HER EXPERIENCE AS A FEMALE POLITICIAN WHO DARED ALL ODDS AND STEPPED INTO THE MURKY WATERS OF NIGERIAN POLITICS, HER EXPECTATIONS FOR HER CONSTITUENCY, NGOR OKPALA LGA,CHALLENGES,AS WELL AS AGENDA FOR THOSE ASPIRING FOR POLITICAL OFFICES. ENJOY !
WHAT FUELED YOUR INTEREST IN ACTIVE POLITICS ?
I became sick and tired of how good governance is actually fading away,l was like,it is no longer people oriented kind of government, it is now their own thing, they don't even think about the masses,and l am also feeling it as a matter of fact ,so,l felt like there was no need for me to sit down and complain that the government is doing this or that ; it is time for me to go there, it is high time l qustioned the status quo,and bring the good governance which the people earnestly yearn for.
DO YOU THINK THAT THE NOT TOO YOUNG TO RUN CAMPAIGN HAS CHANGED THE NIGERIAN POLITICAL SCENE ?
Absolutely, at least,the movement is the reason why a lot of youths under 28 years are coming out to vie for elective positions, and also clamour for free and fair elections devoid of fraudulent practices.l think it has brought a great change in the Nigerian political scene.
YOU CONTESTED FOR STATE HOUSE OF ASSEMBLY IN IMO STATE IN THE LAST GENERAL ELECTION, COULD YOU KINDLY TELL US YOUR EXPERIENCE ?
My experience was both fun and horrifying, it was fun in the sense that,this is what l have longed to do,this is what l have always nurtured in my mind that someday in life,l will grow up to the level where l will vie for elective position, and give good governance to my people.It is just like a dream come through, it was fun ;and l think l really faced gender challenges, questions like ," you are a single woman, why venturing into politics, you can't get acceptance, how can we support you?" So many people were not even willing to listen to me ,mainly because l am single,not married yet,as well as my not having a godfather, but to me,knowing full well that I have the competence as well as the capability to bring sustainable development to my constituents, why should l serve someone first before actualizing my political dreams. Of cause l have served one or two heavy weights anyways,l worked with the last administration for a long period of time, in the office of Chief of Staff,l was the students mobilizer then,they didn't even give me the opportunity to come too close,they said nobody knows my party,that it is a mushroom party. Some were saying that l didn't have money,as a matter of fact,a lot of people l drew near to myself sold me out,l could remember my woman leader whom l trusted so much ,l confided in her but she told my party chairman that she can't work with me any longer ;that she had actually been working for me thinking that I had money but she just got to realize that l didn't have enough money to give to her ,and for that reason, she had nothing more to do with me and that she was shifting her loyalty to someone that had the money to throw around. And painful enough, l trusted the woman with all my heart; l was doing the little l could do to make her happy while working for me,but in the end,she betrayed me.
Even on the day of the election, the youths who were with me from the onset had to withdraw their support suddenly on seeing N1000 and N500 notes being shared;they really went and queued up for peanuts. They preferred the immediate gratification to a vibrant young person that has the capability to bring the sustainable development they all desire. A person who won't be a rubber stamp representative, a person who will always be their for them, a person that will really channel her energy to making sure that the attention of the state government is drawn to Ngor Okpala,indeed,to my amazement they felt unconcerned, they were only after the money they got on the spot.
I witnessed a lot of irregularities, a lot of things went wrong, on the day of the election, it was really something else ,the snatching of ballot boxes,the helplessness of the polling agents,insecurity, and a whole lot,everything was horrific l can say.
Those l was looking upto,even some party members betrayed my trust, some never picked my calls,you go looking for them,they tell someone to tell you that they are not around, infact,stuffs like that,it wasn't really what l expected, though it had the good part also.At the same time l felt that these people really need time to let them know that they really need a systemic change ,change of selfish leaders.
THE NIGERIAN POLITICAL LANDSCAPE IS DOMINATED BY MALES,WHAT FACTORS WOULD YOU SAY ARE MILITATING AGAINST THE POLITICAL ASPIRATIONS OF THEIR FEMALE COUNTERPARTS ?
Many factors are really militating against the political aspirations of women. Sexual harassment is number one,another is gender inequality, as well as financial constraint, political parties, etc.all these have really made the women folk not to step out fully for elective positions.
A lot of women go through sexual harrasment,l knew l was going to face that as a lady,but l had to fashion out a self defense mechanism which l cannot make open ,l can tell you that l was sexually harassed but l handled it intelligently, now tell me ,a lot of females out there who are desiring to make a difference in politics on hearing such weird stories, will they summon the courage to step in for elective positions?
Sexual harassment has eaten deep into the fabrics of Nigerians,and in most cases no one is punished at the end of the day. Men will always want to take advantage of you as a female, asking you to give them your body in exchange of every little favour they grant you.There is that assumption that politics is not for women, that women should only be confined as housewives, that should cook in the kitchen and also attend to them in "the other room",apologies to Mr.President, l think all that have really affected women negatively.
Check out what happened in Lagos State during 2019 elections, where non indegines were not given the opportunity to exercise their fanchise ,while some were denied of their victory at the poll,Hon.Rita Orji's case is one example of such victimizations."Why not go to your place and contest for elective positions,why here?" I can't even say them all,the truth is that women don't get financial support like their male counterparts, and in most cases,if you are not all that financially okay before venturing into politics, those giving you the support will actually ask you to give them something in return, and what is that,your body, nothing else. So long as you are not willing to give your body ,you won't get that needed assistance; so, getting support as a woman is very difficult.
And secondly, political parties. Once the excos are not getting enough money from you,they abandon you to your fate,that also happened to me,l went out on my own mobilizing people to vote for me while as l had these party members, l really faced it as an independent candidate, all these and many more have succeeded in keeping women away from vying for elective positions.
NGOR OKPALA STATE CONSTITUENCY HAS REALLY LAGGED BEHIND AS AN LGA,WHAT WOULD YOU SAY ARE THE MAJOR CHALLENGES.
The major challenge is godfatherism,l am saying this because l really contested for an elective position, l saw all that happened in the process, l saw some of these political gladiators carrying their candidates up and down,telling them what to say or do at any point in time.Some were being pushed around like cartes,now tell me, if the person emerges what will he achieve, someone who is not fit to address his constituents, you just front the person because you have got the money, the influence and connection, but once the person goes in there, he becomes a puppet or a rubber stamp legislator and won't be able to speak on behalf of his constituents, and tell the government of the day the things his people are in desparate need of .
Actually, we are lacking in the area of infrastructural development, not only that, we lack in almost all ramifications and at same time,we have people who go there just to carter for themselves and their political godfathers.
Frankly speaking, politcal godfatherism is an issue,and until it is tackled frontally in Ngor Okpala,it won't attract development ,as a matter of fact, Ngor Okpala is one of the largest local governments, about 511 square kilometers, with a massive population and at the same time,we have intellectuals both males and females,we have entrepreneurs and vibrant youths,we are very rich in human capital, so what else do we want aside good representation, but then,godfatherism has blindfolded and held down those occupying political offices. They want someone who can actually do their biddings; once they can manipulate him to their own advantage,okay. Not a person that can deliver, this, l make bold to say,has done Ngor Okpala more harm than good.
THE LAST GENERAL ELECTIONS WERE SAID TO BE MARRED BY IRREGULARITIES IN MOST STATES,DO YOU THINK THAT ELECTORAL PROCESS WILL ACTUALLY IMPROVE IN THE NEAREST FUTURE !
Actually,the only authority to answer this question remains the INEC,but frankly speaking, the electoral process really need to be thoroughly reformed; if it is reformed, there will definitely be an improvement in the nearest future. But if it is the kind of things l saw in the 2019 elections, from the distribution of electoral materials to the collation of votes and the announcement of results, every part of the exercise was marred by irregularities.
l tell you sincerely that it could rather get worse, with the vote buying, the postponements as well as inconclusive elections, we can only expect worse situations in future elections. The process must be reformed to an acceptable standard, then ,l can assure you of improvement.
WOULD YOU MAKE ANY APPRAISAL ON BOTH LOCAL AND INTERNATIONAL OBSERVERS THAT PARTICIPATED IN THE LAST GENERAL ELECTIONS, IN YOUR VIEW,DID THEY GIVE UNBIASED REPORTS ?
They really did their best,l give them kudos,they observed the elections and reported that the conduct was marred by irregularities in most places,especially snatching of ballot boxes and vote buying; and Nigeria didn't do anything with the reports. They risked their lives going to various areas to monitor elections, even the international observers reported the violence and vote buying here and there,what did anybody do about it,we are lawless, we don't expect anything different. What of the man who said he announced results under duress,even youth corpers made horrible revelations, what has happened since then,nothing.
In a normal circumstances, l thought that elections in those places should have been canceled for fresh elections to take place but l was totally wrong, they really tried their best,kudos to them.
IF GIVEN THE OPPORTUNITY NEXT TIME TO REPRESENT YOUR CONSTITUENCY ,WHAT WOULD BE YOUR AREAS OF PRIORITY ?
My number one priority will be lobbying for the creation of one more local government out of Ngor Okpala,Ngor Okpala is not supposed to be only one local government.If we can have more representatives,development will be at its peak,but as far as we have just a local government, it will keep delaying development.
Mbaishi Court Area alone is even bigger than some local government areas here in lmo State,and some other states,we need one more LGA out of Ngor Okpala, l will really lobby in that area,l will actually legislate in that area,l will also push for youth and women empowerment, it is very vital,if you empower women, you empower a nation, if Ngor Okpala youths and women are empowered, development will come rapidly,besides,l will also be a voice for aged people, especially pensioners who don't get their money as at when due. l will really serve as their voice and also make sure they are treated with respect and care. Care for the sick will also be one of my priorities ;some sick ones cannot go to hospitals for medical care,l will make sure l put that structure in place to enable people live healthy lives.
I also have my own personal pet projects that will really benefit Ngor Okpala indigenes. I will also run a scholarship package whereby students of Ngor Okpala extraction will be picked indiscriminately for scholarship, and the project will be really supervised so that who merits it is selected for it. All these and more l will really introduce if given the opportunity.
YOUR AGENDA FOR POLITICAL OFFICE HOLDERS IN THE NEW DISPENSATION
They should do the right thing;we don't want fake roads that won't last ,we want roads that are properly constructed,we want them to pay workers as at when due. l want them to initiate people oriented programs that will empower women and youths.
They should endeavor to make their words their bond,they should desist from making fake and empty promises which will not be fulfilled at the end of the day. They should be real and accountable and open and above all, accessible.
They should not utilize our money in things that won't be of any benefit to us ,let them build industries that will give employments to the youth and also attract foreign investments. If you come to lmo State,what you see are hotels littered everywhere,no industries, indeed,it is quite appalling.Until the youths are properly engaged, violence and crimes will continue to be on the increase, so elected office holders should be innovative and also have listening ears,there should always be town hall meetings so as to ascertain what the people actually want,and not to give them anything based on assumption.
ADVICE TO YOUTHS
They should remain focused, resilient and determined. They should pursue personal goals and development, and essentially, shun all forms of violence. They should also be constructive in their criticisms. Let them go out there and make an impact. They should always support and encourage good leaders so that they can do more.
FAVORITE FOOD : Rice and chicken stew
FAVORITE COLORS: Sky blue,white and red(multiple colours)
FAVORITE ATTIRE : As occasion demands
FAVORITE AUTO COMPANY :BMW
HOBBIES :Traveling & reading, cooking and volunteering
TURN ON: Honesty
TURN OFF :lies and deciet
MARITAL STATUS : Single.