SOUTH WEST JOINT BORDER PATROL OPERATIONS RECORDS IMPRESSIVE SEIZURES
By Mcanthony Onuoha
The Joint Border Patrol Operations, Sector 2, South West Zone, Lagos between the 1st of February and 28th of February, 2023, recorded more seizures of various smuggled and means of carriages and conveyances totalling about Six Thousand, Eight hundred and Nineteen (6819) items with a Duty Paid Value of One hundred and seventy -Six Million, Four hundred and three thousand (N176,403,000) only.
At a Press briefing on Thursday, 2nd of March 2023 in Badagry, the Coordinator, Sector 2, South West Zone, Lagos, Comptroller M.N. Hassan, stated that as an interventionist unit saddled with the huge responsibility of National security and suppression of cross border crimes and criminalities, the Joint Border Patrol (JBP) Sector 2 Operation was round the clock and in all nooks and crannies of the South West Borders of Nigeria, adding that despite the very impressive scorecard shared his team shared last week in Abeokuta, the activities of the JBP Operations between the 1st of February to 28th of February, 2023, have further translated into very impressive results.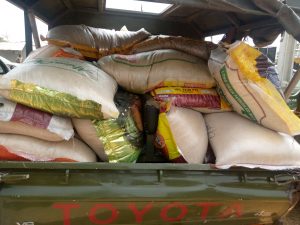 According to the Coordinator, "Some of the seizures within the period under review and which have been deposited in various Government Warehouses (GWII) within the Area of Responsibilities (AOR) include; Two thousand, Six hundred and Ninety – six (2,696) plastic kegs of 30 litres of Premium Motor Spirit (Petrol); Three Thousand, Six hundred and four (3,604) bags of 50kg foreign parboiled rice with Twenty (20) means of conveyances."
"Other  seized items include Four hundred and ninety seven ( 497 ) parcels of Cannabis Sativa valued at about Twenty seven Million, Three hundred and thirty – five thousand (N27,335.000) only."
"This  has since been handed over to the National Drug Law Enforcement Agency (NDLEA) and more, : However, it is important to state here that since 2019 to date, we have made overwhelming seizures of petroleum products thus:
1). 1,485,000,000 litres of PMS
2).A tanker truck loaded with AGO
3). A tanker truck loaded with kerosene
4) 32,076 Kegs x 30 litres of PMS each
5).1,757 drums x 200 litres of PMS
(6) 280, 050 litres of PMS evacuated from various filling stations involved in anti – bunkering activities."
"All have since been auctioned to members of the public at a cumulative amount of Six hundred million, One hundred and seventy – five thousand, Eight hundred and fourteen naira, twelve kobo(N600,175,814.12k)."
"It is in appreciation of the highly remarkable feats of these dedicated, pragmatic and purposeful officers that we are gathered here today. And we want to congratulate them on behalf of the Customs Service and the Office of the National Security Adviser(ONSA) for their selfless sacrifices and resounding gallantry".
"I hope that this gesture will further boost their adrenaline and equally propel other officers and team leaders in the JBT Operations to up their ante to meet up with the exigencies of this onerous assignment."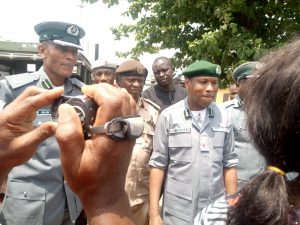 "It is important to reiterate that The Joint Border Patrol (JBP) Operation is a coalition under the umbrella of the Office of the National Security Adviser (ONSA). It's made up of components from the military, paramilitary and intelligence agencies inclusive of the Army, Navy, "Customs Immigration, the Police Force, State Security and the National Intelligence Services, which all combined to operate under the lead role of the Nigeria Customs Service (NCS ) ."
"The invaluable influence of that symbiotic relationship between the
security agencies to the success of these operations can't be underestimated."
While appreciating the Federal Government for the foresight in creating the JBT Operations, the Coordinator equally thanked the Management of the Nigeria Customs Service ably led by the Comptroller General of Customs, Col. Hameed Ibrahim Ali (Rtd) CFR, for the logistical support and encouragement.