ROTN. INNOCENT ABU, LOGISTICS EXPERT AND MD/CEO, INNOSTAR VENTURES
His accent when engaged in a conversation can make you ask for time elongation because his eloquence and communication skill gives him away as a professional mass communicator instead of his real speciality, Business Administration, in which he bagged a BSc. Degree from Lagos State University.
Rotarian Innocent Abu, aka Famous Fada, is also a Master's Degree holder in Public and International Affairs, University of Lagos. He also has quite a number of professional certificates of different courses in his kitty.
The MD/CEO of Innostar Ventures and Secretary of National Association of Government Approved Freight Forwarders -NAGAFF, Murtala Muhammed International Airport (MMIA)Chapter, is Member, Nigerian Institute of Management, MNIM, Member, Institute of Professional Managers(IPMA), as well as Fellow, chartered Institute of Logistics and Supply Chain Management (FCILSCM).
In the words of Sam Snead," Shallow minds think of luck but wise and strong men believe in effect. Every course has to be diligently pursued for it to be effective, and there can never be an accidental success in any field of human endeavour."
The above quote is exactly the very strong plank on which the foundation of INNOSTAR VENTURES is laid, and that is why the company has continued to build a formidable clientele network across board. The company is in association with Orange, Spider and WIFFA, these are international Logistics Organizations in China via which prestigious Logistics Experts around the globe exchange and cross feterlize business ideas.
The Logistics Expert and immediate past President of Rotary Club of Gowon Estate, Ipaja, Lagos State, narrates how he ventured into freight forwarding business
MY VENTURE INTO FREIGHT FORWARDING INDUSTRY
I started with Alraine Shipping Line in 1998 as a Long-room Officer. As a Long-room Clark my duty was to process documents, machine and despatch them to the shade.
In the year 2000, l joined Gamali Nigeria Limited as Operations Director, Air and Seaports. I worked with the company for 10 productive years and was in charge of Logistics. We worked in Apapa, Tincan and Border Stations. I also worked at Seme Border for three years, then Tincan and Airport. In 2008, l tendered a resignation letter and started my own company same year, INNOSTAR VENTURES which was registered on the 18th of July ,2008.
Growing up as a teenager, l discovered a lot of challenges in the field , Inland Logistics, Practical Logistics and Cargo Logistics, there were challenges in the above mentioned areas. I went to Nigerian Institute of Shipping where we were taught Logistics Practice and l loved it so much, after the training l was sent to Alraine to serve for a year, that was how l started working at Sea Freight, and when l came to Air Freight, l started working in the Long-room where my job description was documentation. I discovered that it is the most sensitive area to work in logistics business because once you get your documentation wrong you face serious difficulties all through. My company as at the time was compliant following the COMET laid down policy being a big organization. I discovered that the industry was flexible, easy entry and easy exit especially when you don't have clients who can sustain you for a long period of time. When l started, it was not easy winning over some clients. I have this policy that was handed to me by my father, he advised me never to talk to clients directly while working under someone, that l must always refer them to my Boss. Even when l left Gamali, some of the company clients were calling me for one deal or the other, and when l told my Boss that some of his clients were calling me directly for one assignment or the other, he told me to go ahead and attend to them. I remain grateful to him till today. When they came to me, l tried so much to establish that trust, and today, God has blessed me in the industry. I discover that when some people leave a particular organization, they begin to woo some of its clients, it is very common here. To everyone who wants to live long and enjoy the fruits of his labour, l advise the person to stop doing that. It was very difficult for me to do because of where l come from, my family background, and today, l enjoy peace of mind.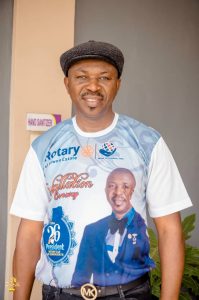 I have 16 staff presently, and our head office is located at 7B, Asa- Afaraogun Street- Ajao Estate, Isolo, Lagos State and our branch office is at 28,Rhodes Crescent and NACHO Office Complex, opposite Stanbic Bank PLC.
We work mainly for Corporate Organizations, they are more reliable than individuals.
ADVISE FOR YOUNG ENTREPRENEURS:
They need to be truthful, they don't have to circumvent the rules , they should not cut corners because once you work hard and remain honest, connections will come with money.
DEFINITION OF A REAL MAN :
It depends on individual concept, for me, a real man is that man that takes responsibilities, that man that cares for his household, meeting day to day need of the family. If you help the needy you are a real man, if you are a man of your words you are a real man.
HOBBY:
I love watching football and wrestling, traveling and having fun with my family, l also love humanitarian services.
FAVOURITE FOOD: Pounded yam and Ogbono soup.
FAVOURITE COLOUR:
I like cool colours.
FAVOURITE ATTIRE: Because of the nature of our job, l like T-shirts and Jeans but on a good day l like well tailored native dress.
FAVOURITE AUTO COMPANY:
Toyota
BEST MOMENT:
When l had my first child, that joy was inestimable. The second time was when l landed in America for the first time,l was so excited to the extent of asking myself whether it was a dream, but it was real. When l was given Visa l never believed it was a reality, honestly l was very excited the very moment our flight landed and l saw myself in the United States ( Laughter)
RELAXATION:
As a Rotarian, l love fun, sometimes l do take my family to the pool side to catch fun and that is mostly on weekends.
Fwdr. Rotn. Innocent Abu is happily married to a very pretty wife, Mrs.Pauline Abu, and they are blessed with lovely children.