ALHAJI ABDULAZEEZ BABATUNDE MUKAILA HONOURED BY THE PRESTIGE BLENDED MAGAZINE
** Says lessons learned during ANLCA crises will not be forgotten in a hurry
Recently, the immediate past Secretary of Association of Nigerian Licensed Customs Agents-ANLCA and MD/CEO, Mikky Excellency Nigeria Limited, Alhaji Abdulazeez Babatunde Mukaila, was honoured with Great Achievers Award by The Prestige Blended Magazine as PRESTIGIOUS MARITIME PERSONALITY. The honour which was in recognition of his immense contributions to the maritime industry, his accomplishments as a sole proprietor and outstanding maritime practitioner and unionist.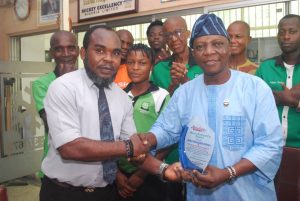 At the event, the maritime guru and versatile Customs Broker had a swell time with the Publisher of The Prestige Blended Magazine Online and print, Mcanthony Udochukwu Onuoha, to speak on the recent increment in Terminal Charges, ANLCA Peace Pact and his expectations of the new Comptroller General Of Customs.
Enjoy the excerpt !
ALHAJI MUKAILA:
Mikky Excellency Nigeria Limited is one of the foremost Customs Brokers in Nigeria presently.
I came into the industry in 1987 while Mikky Excellency was registered as a company in 1999. I am a chieftain of Association of Nigerian Licensed Customs Agents- ANLCA. I got strongly involved in 2010, that was when l became the Chairman of the Association's Electoral Committee ( ASECO). I held that office for seven years making me the longest serving chairman of that committee till date . I also served as National Secretary of the Association, having previously served as Secretary, Apapa Premier Port Chapter. I still remain a staunch member of ANLCA.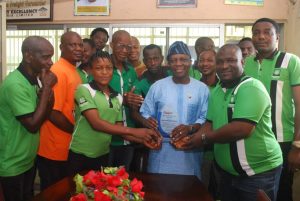 On The Recent Increase In Terminal Charges?
The economic indices is very glaring, everything has come to a grinding halt. The investors as it were, are humans. If the government has concessioned the ports to private outfits which we all know that what drives private ventures is profit, and there is no doubt that they are spending more and gaining less; cargo throughput has dropped drastically. So as business outfits, they needed to do something to remain in business, besides, what was very strange was the 600 % increment they came up with but thank God for the proactive approach of the new leadership of ANLCA and other maritime stakeholders. Their agitation compelled them to come down to 400 percent. We have to be very practical, businesses are being grinded to a halt, the input is huge but what is being returned is very minimal; I can say that the 400 percent is fair.
On ANLCA Peace Pact ?
I thank God for bringing back peace to ANLCA; I so much appreciate everyone involved because it was not a tea party. I see myself as pivotal to the return of peace in ANLCA. When two brothers engage in a dispute and destroys themselves, strangers end up taking over their common wealth. That was exactly what we avoided that made us return on the part of peace. If you cast your mind back, you can not say exactly what prompted the fight, nothing but mere misunderstanding that people took to the next level. We thank God we are back together again. I must confess that it was not an easy experience. My solace is that there was no loss of life. We got it so badly when Wale Cole was attacked but God's willing, he is alive to tell the story. In all, l give glory to God, we are all back together as brothers and sisters. It was a lesson that there is no reason that justifies fighting. That has really taught me that when two brothers are in dispute ,no matter what the Nigerian Police Force claim, they can not broker any amicable settlement or resolution; even the Law Court. Under my watch we had about 18 Court cases; you know what it costs to litigate. All the 18 cases were before me and l had to sacrifice my time and resources going about those cases until 15 of them were quashed while 3 is still remaining; hopefully, as we move on peacefully the other three will be dropped.
What did we achieve, nothing. We expended valuable time. Most of the days l appeared in court before going to office, so also the litigants. You lose your time as the lawyers keep billing you. At a time we were seriously indepted and had to tax members to pay off some of the bills. Thank God we had a free and fair election. I wish the new leadership well, the task of rebuilding ANLCA has commenced, and l believe the lesson learned will not be forgotten in a hurry.
ANLCA is back to provide leadership to the industry and that is what we are doing as the new leaders have hit the ground running. If not for ANLCA, l am sure the 400% would not have been gotten. Today in the picture, l can't find Manufacturers Association of Nigeria (MAN) who supposed to bear the bront, where were they when we were struggling to get the reduction, what did they do from the time of the increment to the point of reduction, nothing ! I use to hear about Importers Association of Nigeria, where are they, if really they exist are they not supposed to be the ones in the forefront, why do agents stay at the background, take it or leave it, procedurally the money should come from them for payment. We thank God ANLCA is back on her feet and l can assure you, we have better days ahead of us.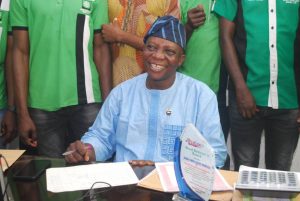 Your Expectations Of The New Comptroller General Of Customs ?
I have found reasons to discuss about the new CGC , Wale Adeniyi- MFR. I can say l am having a roller coaster experience already. All my years as a professional Customs Broker, I have never seen any CGC practice core professionalism as we have witnessed the few days we have him as CGC. He has deployed certain trade tools well known globally. Tools that whenever we travelled abroad and were lectured on how they worked we began to wonder why they could not be deployed back home. I have been to World Customs Organization (WCO) conferences severally, l began to ask, why were they not applicable in Nigeria. l make bold to say l was present in a classroom where a Deputy Comptroller of Customs in the same class with me said that all those tools were not feasible in Nigeria. But today, the new CGC has deployed all of them confidently to show that they are feasible, they can work here. And he is saying come for advanced ruling before going for import, so that if a Customs officer from the headquarters says that a computer is a certain percentage under a certain HS code and a certain value, he issues you a document, they call it Advanced Rulling. What that means is that Customs is saying "we are going to be liable by issuing you a feasibility study report before you place import." Gone are the days when you finish importation and somebody is somewhere classifying your cargo. So, for a Customs officer to come up and say, use these tools, hold us accountable, it takes will power to do that.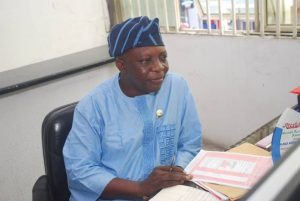 He has recently signed an agreement for the establishment of Customs laboratory. Someone that read Marketing and finds himself in Customs will sit down and query chemicals and when you present the chemical analysis to him and ask him how he came about the query he orders you out of his office. In other climes, the chemical is sent to Customs laboratory. We were in Uganda some time ago where l discovered that the Ugandan Customs has a laboratory where issues of that nature are resolved. Issues of non trade barrier can be resolved without shouting or being high-handed because what Customs has been doing is groping in the dark. And they hold people down where they either do their biddings or suffer humiliation. We are being blackmailed, we are stampeded to part with money even by an officer who doesn't know what he is talking about. So with all these tools that are being deployed we can get it right.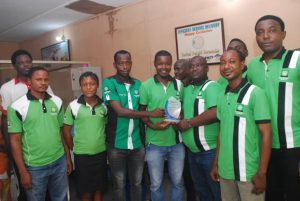 Presently, they are talking about economic operators, once identified as a compliant agent, as a compliant declarant/importer, you will automatically be given that status, what that implies is that you take your cargo to your factory and Customs will come and do post clearance auditing. Auditing is being mismanaged in Nigeria. I am sure with this new tools, they will get it right. Customs are supposed to facilitate trade, if you have any issue, alert the process and forward it to Post Clearance Audit (PCA) . If you find out that a computer is not 14 inches as declared but 14.5 inches, let the container go but this is our observation , Post Clearance Audit please follow up. But when the importer  argues that it is 14 inches and the Customs Officer is saying it's 14.5 inches and there is no room for the importer to take the container first while the argument continues, then you stampede the importer to give you bribe because after 4-5 days, it's either he continues with the argument while the demurrage is accumulating or he parts with what the officer is demanding for the reduction of the contested penalty. With these tools that the CGC is deploying we hope and fully believe that better days are ahead of us the real practitioners not charlatans hanging around the industry.