SONNIEL ONOCHIE HONOURED WITH CHIEFTAINCY TITLE
…Now Ogbueshi Agbalusia Ngene 1 of Okpanam Kingdom
By Mcanthony Onuoha
A Chieftain of Association of Nigerian Licensed Customs Agents-ANLCA and MD/CEO, Real Passion Nigeria Limited, Sonniel Ebonyem Onochie has been honoured with a chieftaincy title by his Community.
The title of Ogbueshi Agbalusia Ngene 1 of Okpanam Kingdom was conferred on Onochie by Chief Nobert Mokwenyei, Diokpa Isi of Ogbeosadi at an event which took place on Saturday, 28th of October, 2023, in Okpanam, Delta State.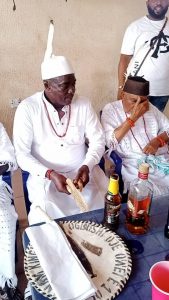 According to the Traditional Ruler, the title was conferred on Onochie, an illustrious son of Okpanam Kingdom in recognition of his immense contributions to the progress and development of the community.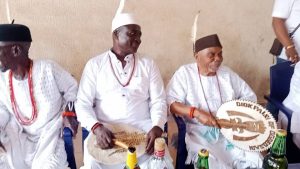 Expressing his appreciation to the people of Okpanam Kingdom, Chief Onochie said that the title meant a lot to him and his family, and promised to always contribute to the progress and development of the kingdom.
Chief Onochie admonished those who are far away from their ancestral home and communities to have a rethink, he emphasized the importance of people especially the youths to always look back home. In his words, " there is no place like home, everyone must always look back home, take your investment home and contribute to the growth and development of your community. Some people leave their communities for big cities and live all their lives in those cities without looking back home. I think it is rather a curse and never a blessing. We can not get all the accolades abroad while as we worth nothing back home. With this recognition l promise to always be part of my community development," he stated.