NJIKO Ndi Anioma Worldwide Holds In Grand Style
By Mcanthony Onuoha
It was a convergence of illustrious Sons and Daughters of Anioma extraction of Delta State, as NJIKO Ndi Anioma Worldwide, an Annual General Assembly of Anioma people was held on the 24th of September, 2023, in grand style.
The remarkable event which took place at Association of Nigerian Licensed Customs Agents, Murital Muhammed International Airport(MMIA) Chapter Secretariat, on Sunday, featured an Annual General Lecture, Coronation/ investitures.
The History And Philosophy Of Anioma People was the theme of the event where Anioma Socio- cultural & Economic Development Strides were highlighted.
At the event, the President General of Njiko Ndi Anioma, Chief Obuzor Chuks Smith, in his welcome address, explained the significance of the gathering, saying that the epoch making event was in three segments as it had three events woven around it, targeted at killing three birds with one stone.
The three segments were , its General Assembly, Lectures and Coronation/investiture.
The President General disclosed that Njiko Ndi Anioma, which was founded on 16th of November, 2009, was a non- partisan, but a socio- cultural organization with formidable presence across Nigeria and the diaspora. He pointed out that it was the umbrella body set up by well- meaning sons and daughters of Anioma extraction of Delta State, to unite, harmonize and articulate their cultural values as well as harvest their cogent and progressive vision and that of Anioma leaders. He said that it accommodates all Anioma elites, town unions, groups, clubs and organizations, and ensures the security and safety of every Anioma son and daughter.
The President General went ahead to highlight some of the core objectives of the group which includes and not limited to:
"Peace sensation at grass roots level in communities within Anioma and other places of importance."
"To sustain cultural and moral instructions, particularly among our teaming youths."
" Caring for widows and orphans as much as possible".
"To dialogue with respective groups within and out of our region."
"Peace mission across the world, including intervention of communal or civil suits and for peaceful resolutions".
" And to be a good ambassador of Anioma Kingdom wherever we find ourselves, etc".
Continuing, the President General listed some of the achievements recorded so far to include:
Empowering over 1,000 women with N100,000 cash, relief materials given out to over 300 women, job opportunities allocated to about 175 members of the group, the full recognition of Anioma presence in Ohaneze Ndi Igbo, and the group's presence in nearly all states of Nigeria and some parts of Africa including South Africa and other major countries of the world."
"I wish to happily announce that in our recent meeting with our Royal Father, the Asagba of Asaba, His Royal Majesty, Joseph Chike Edozien, the group has been mandated to organize a major socio-cultural fiesta whereby our tradition and culture will be highly exhibited come next year, 2024."
" We therefore use this medium to solicit your contributions and support in all measures, especially, honouring our invitations to meetings and programmes. Numerical strength matters a lot (Igwe bu ike)."
" Today, we are honouring our son and daughters for their commitment towards the welfare and development of Anioma Kingdom. They are the symbols of Anioma. We are honouring one of our illustrious sons, Hon. Ben Davies Chukwunenye, as Patron, Ohaneze Ndi Igbo Delta, Lagos State, and our daughters, Chief Mrs. Nneka Christy Orishafele, who has done so much in the areas of welfare and development, Chief Mrs. Lilian Amakor, as Matron of our Women's wing, and also our in-law, Chief Mrs. Chioma Mbama, as Ada Chimere Eze, Lagos State."
Reacting, Hon. Ben Davies Chukwunenye, expressed deep appreciation for his investiture as Patron, Ohaneze Ndi Igbo Delta, Lagos State. In his words, "l am highly delighted, my joy knows no bounds. This honour today came to me as a surprise; and l want to assure my people that l will always try my best to do whatever l can do to help move Anioma forward, l will always contribute to the growth and development of our people and Anioma in general, l appreciate them for honouring me".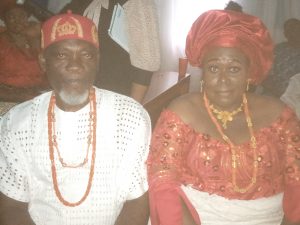 On the significance of the event, the Secretary General, Njiko Ndi Anioma Worldwide, Hon. Daniel Chukwuemeka Ejiofor, explained that, "Anioma people have gathered for another edition of our Annual General Assembly and would use the platform to honour some of our members who have shown commitments to the welfare and development of Anioma people. The climax of the event is the lecture going on, Anioma people are simple by nature, we are accommodating, we are everywhere, our people are across the States of Nigeria and in diaspora. By next year, we, the Anioma people are going to organize our biggest socio-cultural fiesta which will showcase the traditional values and culture of Anioma Kingdom.it promises to be big and memorable".
The Asagba of Asaba, His Royal Majesty, Joseph Chike Edozien, was ably represented at the event by the Palace Secretary.