JAFTJAY TAKES EARLY LEAD IN NIMA POPULARITY TEST CONTEST AS PHONIX, ROSSY, OTHERS MAKE TOP 10
David Mafimishebi Moses who goes with the stage name, JAFTJAY has taken early lead in the ongoing Popularity Test Contest, a pre-qualification voting process for selecting Housemates for Season 2 of the Nigerian Maritime Ambassadors (NIMA), a yearly maritime industry Reality TV Show.
JAFTJAY, a popular dancer based in Ajegunle area of Lagos state came top of the Popularity Test Contest in week one having scored 35% of votes according to the result released by the organizers, Platforms Communications on Monday.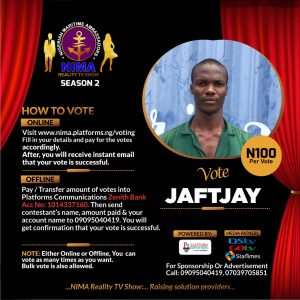 The 27 years old indigene of Ondo state beat several other contestants to clinch the top spot in the Voting table after the first week, with two more weeks to go.
In a press interview granted to newsman in Lagos after the result was released, Jaftjay said he was excited and feel great for taking the lead.
He disclosed that he went to his church to inform them about his participation in the NIMA Reality TV Show and also canvased for support and votes from his church members, which turned out good for him.
Speaking further, he thanked his supporters and fans, especially his church members for their maximum support, and equally appealed for their continuous support to enable him retain his first position in the remaining two weeks of the popularity contest in order to eventually qualify as NIMA Housemate.
Meanwhile, a 23 year old indigene of Cross River state, Edim Agam also known as PHONIX came 2nd with 30% of votes, while Rosemary Uchechi Adigwe, a 20 years old native of Anambra state, with the stage name, ROSSY emerged 3rd with 24% of votes respectively.
Other contestants who also made the top 10 list in the Week One result include: KKC, Romeofred, Dosman, Dtriggerson, Babawonder, Emmy and Oldboy.
As the ongoing Popularity Contest enters Week 2, other contestants are optimistic that the table would turn in their favour even as they promised to work harder to ensure they qualify as NIMA Housemates at the end of the 3 weeks exercise.
Recall that NIMA is a 30 day Reality TV Show for talent discovery and optimization aimed to empower talented young Nigerians, develop their talents, and bring them to limelight so they can live their dreams.
The Winner is entitled to 10 Million Naira worth of deals, comprising a car, cash prizes, media tours and promotions, sponsored luxury vacation and one year Endorsement Deal as the Nigerian Maritime Ambassador.