DOWNWARD REVIEW OF CUSTOMS DUTY ON ESSENTIAL COMMODITIES WILL CUSHION THE EFFECT OF SUBSIDY REMOVAL
—-OBINNA OBIDILE
The MD/CEO of SEA & AIR DIAMOND LOGISTICS NIG LIMITED, a Customs Licensed Agency, Fwdr. Obinna Austin Obidile, has said that a downward review of Customs duty paid on essential commodities would be the best way for the new administration to cushion the effect of fuel subsidy removal.
In a chat with the Prestige Blended Magazine Online, Obidile, who is also the National Public Relations Officer of Maritime Integrity Initiative (MII), a Maritime Advocacy group known for its strong aversion to circumvention of trade rules, congratulated Nigeria's new leader, His Excellency, Sen. Bola Ahmed Tinubu on his election and subsequent inauguration as President and Commander in Chief of the Armed Forces, Federal Republic of Nigeria, describing him as an achiever. He expressed optimism that his administration would bring prosperity to Nigeria and Nigerians.
Obidile, in the congratulory message, urged the President to always consider ordinary Nigerians in his policy and decision making in order not to subject the masses who are struggling so hard to survive to more hardships.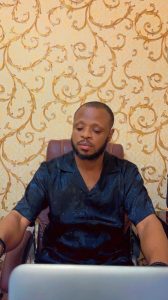 On the issue of subsidy removal, Obidile said, " while l am in support of fuel subsidy removal, l am against the hasty way it has been handled by the new administration. Subsidy has not been a good option for Nigeria's development, rather it has been a conduit through which a few individuals have continued to syphone our collective patrimony, and we can not continue that way because it is a road that has led to incessant borrowing and backwardness, subsidy has continually emasculate our economy as a nation . What everyone had expected was a gradual process of removal and not the sudden announcement that took people unawares, causing unexpected shock to many."
" As it is now, the administration of President Bola Ahmed Tinubu must consider waiver or downward review of essential commodities like food items, equipment for local manufacturing. There are some commodities that pay 20 percent with vat and some 30 percent. Rice had been on prohibition list even when our local production of rice has not made it affordable for all, the price of the commodity keeps skyrocketing likewise other food items. We need drastic reduction of import duties for essential commodities and if we must have a critical look at it, those bearing the brunt are end users and low income earners. If the Administration would review import duties it will go a long way to cushion the effect of subsidy removal because it will lower market prices."
"Those commodities that pay 20% with VAT and those of 35% with levy should be looked into. I would want to plead with the new administration to dutifully follow up activities of agencies of government and that of Shipping Companies and Terminal Operators to forestall further damage to the maritime industry. There are saboteurs who keep indulging in all forms of shenanigans to undermine governments efforts and make nonsense of policies originally intended to advance the economy, policies formed to foster maritime sector development. And l repeat without equivocation that shipping companies and Terminal Operators are on the list of economic saboteurs."
" Almost 80% of our products are imported , even the items distributed to Internally Displaced People (IDP) at their various camps are all imported, so when import duty is high the price of the commodity will be high as well it is simple economics. Equipment used in local manufacturing should be granted concession to boost production. Now, we are hearing about Naira devaluation by the Central Bank, though they have come out to debunk the news, what we need now are policies that can improve the economy and elicit hope. The new administration must be a total departure from what we have experienced in the last eight years."
"On Customs administration, the expectation of Freight Forwarders is to see a Career Customs Officer take over from Col. Hammed Ali, Rtd., for better management of the organization. In all honesty, the system is not being fair to Freight Forwarders, we hope to see things change for the better."
" All we hope and pray for is to have something better, the President owe Nigerians good governance, he must appoint capable hands, we expect to see round pegs in round holes, those that would help him deliver on his campaign promises.
" Freight Forwarders need leaders that lead from the front, we are tired of hypocrites and sycophants who are after their stomach and personal gain," Obidile said.