APFFLON CONGRATULATES PRESIDENT BOLA AHMED TINUBU, URGES HIM TO ACCORD PRIORITY ATTENTION TO KEY  SECTORS
By Mcanthony Onuoha
Africa Association of Professional Freight Forwarders and Logistics of Nigeria- APFFLON, has sent a congratulatory message to Nigeria's new leader, President Bola Ahmed Tinubu, GCFR.
Tinubu was inaugurated as the 16th Nigerian President on 29th of May, 2023.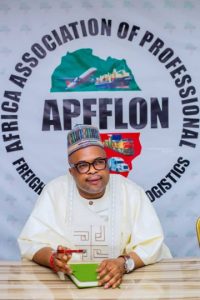 In a congratulatory message personally signed by the National President of APFFLON, Otunba Frank Ogunojemite, and made available to the media, the Advocacy group described Tinubu as a visionary leader who understands governance and knows how to manage diversity.
APFFLON, through its National President, expressed optimism that the Former Lagos State Governor would revamp the maritime industry and make positive impact in all sectors of the economy.
Ogunojemite urged the new administration to prioritize health, agriculture, housing, education and power sectors as they are very key to the overall development of the country.
In his words," the Government should give priority attention to the key sectors, health, agriculture, housing, education and power, I urge the President to encourage local manufacturers by creating an enabling environment for entrepreneurs to thrive; it is time to promote export so as to check continuous appreciation of the Dollar against the Naira. Our desire is to see Nigeria take its pride of place in the comity of prosperous Nations."
Continuing, Ogunojemite charged the new administration to come up with a blueprint that would strengthen the African Continental Free Trade Agreement (ACFTA) which is yet to take off fully due to obvious bottlenecks which one of them is insecurity.
" Again, APFFLON would want the new administration to review and amend the Council for Regulation of Freight Forwarding in Nigeria -CRFFN ACT for clarity and to align with international best practices, the CRFFN Reform should reconstitute the Governing Board to include only 10 percent of non Professionals who got involved by political appointment, and since it has been proven that they have nothing to offer the Council and only attend meetings whenever it is convenient for them, APFFLON is of the opinion that the CRFFN Governing Board be made up of core freight forwarders who are abreast with the challenges facing the industry, it should not be 50/50."
" While we congratulate the new President of the Federal Republic of Nigeria, President Ahmed Bola Tinubu,GCFR, we also want to express our disappointment with the past administrations for not finding any Freight Forwarder worthy of National Honour. While Nigerians and Foreigners from different walks of life had at one time or the other been honoured with National Awards of various categories, no Freight Forwarder has been considered for National Honour despite their enormous contributions to the National economy, l urge the new administration not to tow the path of its predecessors but distinguish itself in policies and decision making," Ogunojemite advised.