CRFFN MAKES INROAD INTO RESOLUTION OF ANLCA CRISES
** instructs Farinto to urgently convene an AGM
By Mcanthony Onuoha
If the latest resolution of the governing Board of Council for Regulation of Freight Forwarding in Nigeria , CRFFN, is to be taken seriously, it then means that light has been sighted at the end of the tunnel in the long quest for a lasting solution to the crises rocking the apex freight forwarding umbrella, Association of Nigerian Licensed Customs Agents (ANLCA).
Recall that the Association has been at daggers drawn within its fold resulting to high magnitude of implosion that has rendered it ungovernable for the past four years.
Meanwhile, a lot of efforts had been made before now by revered personalities and relevant industry stakeholders to resolve the matter but all yielded no positive results.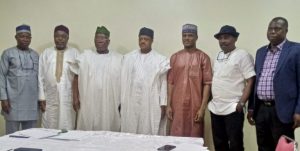 ALHAJI TSANNI ABUBAKAR, CHAIRMAN, GOVERNING BOARD OF CRFFN (MIDDLE), FLANKED BY MEMBERS OF CRISES RESOLUTION COMMITTEE ON ANLCA
In  a press release issued on Sunday 12th of February, 2023 by the Chairman of CRFFN Governing Board, Alhaji Tsanni Abubakar, signed by the Chairman, Committee on Media and Publicity of the Council, Mr.Muftahu Ya"u and made available to the media, the Council mandated the warring factions in ANLCA to set up a brand new Board of Trustees (BoT) to consist of nine members of which both factions will produce four persons each while the ninth person shall be nominated by the general house.
Nevertheless, it's an undisputed fact that the major plank of the crises has been the soul of the Board of Trustees which is in very strong grip of two gladiators that are parading themselves as Chairmen, Alhaji Taiwo Mustapha and Dr.Taiwo Afolabi.
Meanwhile the CRFFN in its resolution, mandated the Acting President of ANLCA, Dr. kayode Collins Farinto, to urgently convey an Annual General Meeting (AGM) at a venue chosen by the Council.
The statement reads in part, " pursuant to Section 4(d) of the CRFFN Act No.16 of 2007, which mandates the Council the general duty of "Regulating and Controlling all the Forwarding Agents", it became imperative for the Council to intervene in the affairs of any association at a time of crises where internal mechanisms to resolve the crises prove abortive".
" Prior to the last extra-ordinary emergency meeting held in Abuja on the 9th, February this year to resolve the crises, the Council had earlier applied and adopted many approaches and mechanisms, together with consultations with the aggrieved parties involved before arriving at the following resolutions;
1), That the Association's Annual General Meeting be convened immediately.
2), That the composition of the Board of Trustees of the Association be nine members.
3), That each of the two aggrieved parties shall nominate four(4) members to serve as their representative on the Board of Trustees.
4), That the ninth member of the Board of Trustees be elected at the Annual General Meeting.
5), That the Council Chairman and the Acting Registrar will attend the Annual General Meeting.
6), That it is hoped that the aforementioned measures would help resolve the lingering crises.
7),That the Annual General Meeting be convened at a venue to be provided by the Council."
" In light of the above, the Council Chairman Dr. Abubakar Tsanni, has directed the Acting President of the Association, Dr. kayode Farinto to convene an Annual General Meeting which should have in attendance all members of the Association on Thursday, 2nd March, 2023 by 11:am at Oriental Hotel Lagos."
" Finally, the Council once again, call on parties to eschew bitterness amongst each other and to embrace peace as the veritable tool for the attainment of the Association's goals."