APFFLON CONDEMNS ATTACK ON CUSTOMS PERSONNEL
By Mcanthony Onuoha
Africa Association of Professional Freight Forwarders and Logistics of Nigeria-APFFLON, has vihemently condemned the recent attack on Customs Officers which claimed one live and left others with bodily injuries.
The Joint Border Patrol Team (JBPT) Sector 3, of the Nigeria Customs Service, were ambushed by smugglers along Sinau-Kenu road in Baruten LGA of Kwara State on Friday the 21st of October, 2022.
It was reported that the hoodlums shot sporadically and pelted the personnel with lethal items while in transit having evacuated some abandoned thirty jerry cans of Premium Motor Spirit (PMS) and forty bags of rice.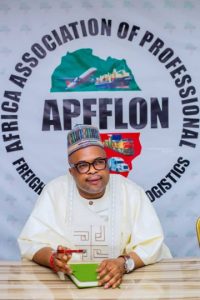 It was confirmed that one of the officers paid the supreme price while three others sustained varying degrees of injuries and are being treated in an undisclosed hospital.
According to the press release signed by the Nigeria Customs Service Public Relations Officer, Kwara Command, Chado Zakari, the deceased, ASCI Saheed Aweda, has been buried according to Islamic rites in his home town, Popogbona, in Ilorin West Local Government Area of Kwara State.
Reacting to the incident, the National President of APFFLON, Otunba Frank Ogunojemite, condemned in strong terms, incessant attacks on Operatives of the Nigeria Customs.
According to Ogunojemite, "APFFLON is shocked by persistent attacks on Customs Operatives, it is indeed regrettable that the organization keep losing its personnel to hoodlums who keep unleashing terror on its operatives manning our borders, so many lives have been lost overtime and many more are still falling victims. It is an ugly trend that requires a high level of intelligence to confront."
The Federal Government must adequately equip the Joint Border Patrol Team with all they need to carry out this onerous task, superior fire power, sound patrol vehicles, routine training and retraining and quality security gadgets as well as collaboration with border communites. Though smuggling is a crime that can not be outrightly eradicated but with a well equipped Joint Border Patrol Team, the activities of smugglers can be effectively checked."
" It is a fact that smuggling is on the increase due to very harsh import policies being churned out by the Federal Government, these policies have negatively affected international trade compelling people to seek alternatives by circumventing trade rules. The masses are passing through serious hardships that if something urgent is not done to cushion it, could result to unprecedented criminal activities across the country"
.
Furthermore, Ogunojemite urged the Federal Government to invest in modern technologies for effective border security and also put in place comprehensive and appropriate insurance and welfare schemes for all security personnel, not excluding stakeholders engagement in all border communities for prompt intelligence gathering.
In addition, Ogunojemite appealed to the Federal Government to review all duties to discourage smuggling.
" Government should consider downward review of all duties to discourage smuggling. Creation of employment for the youths and jobseekers should be one of the topmost priorities of the government".
" Assisting entrepreneurs, especially, small business owners with soft loans as well as imparting them with business skills via sponsored entrepreneurship programmes is also very important".
" Government policies should as well consider the well being of the citizenry while nationwide sensitization on the implications of engaging not only in smuggling activities alone but in all illegal businesses must be a daily routine by National Orientation Agency and other government owned media platforms."
" APFFLON hereby sincerely wish to convey her condolences to the Management of the Nigeria Customs and to the family of the deceased as well as wishing those injured in the incident a very quick recovery."
Meanwhile, the Coordinator, Joint Border Patrol Team (JBPT), Compt. Olugboyega Peters, has ordered a full- scale investigation to smoke out perpetrators of the dastardly act. According to him " this trend of unprovoked attacks by faceless cowards whose intention is to instill fear in the minds of law enforcement officers shall not go unpunished. Neither will it dampen the resolve of officers and men from carrying out their statutory functions," the Comptroller stated.