MARITIME EXPERTS LAUD MAJAN ON EFFORTS TO REINVIGORATE SECTOR
By Mcanthony ONUOHA
Maritime experts converged on Apapa Lagos, recently for the first quarter review of activities in the Maritime sector.
The event which was organized by Maritime Journalists Association of Nigeria (MAJAN), on Thursday, 20th May, 2021, paved way for Maritime experts and stakeholders to have a critical look at various departments of the sector and how they have faired in the first quarter.
Among the experts were the National President of Association of Nigerian Licensed Customs Agents, ANLCA, Honourable Iju Tony Nwabunike, the MD/CEO of NURWAGS INTEGRATED SERVICES LTD., and key member of Barge Operators Association of Nigeria, Alhaji Nura Wagani. Mr. Francis Uchechukwu Aniezechukwu, DG, Sea Empowerment Research Center, Chief Boniface Okoye, Chairman,CEO,Bontex Nigeria Limited, Mr.Francis Omotosho, Registrar, NAGAFF Academy and others.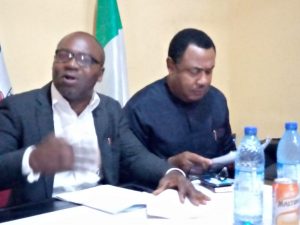 The DG, Sea Empowerment Research Center, Mr.Francis Aniezechukwu, who did an overview of the Blue Economy: Values and developments, stressed the need for the Continent to take further steps in strengthening its Maritime security to ensure coastal protection, develop blue economy strategies, accelerate training, and discovery of young Maritime talents which he said was one of the star projects of Sea Empowerment Research Center, having conducted a research and obtained data of some of the Coastal Communities in Nigeria. He also herped on building of data warehouse, funding of research organizations , raising private sector awareness of the Blue Economy opportunities,and sharing emerging new practices extensively, and collaborative actions among African Stakeholders in the Blue Economy.
He disclosed that Africa has about 38 coastal and inland States, 13million km2 of collective exclusive economic zones (EEZs) and a coastline of over 47,000km. Adding that there is an enormous untapped potentials for African countries and the African Continent as a whole, to develop the sectors typically associated with the blue economy. He listed the following sectors that needed to be expanded to include fisheries, aquaculture, tourism, transportation as well as Maritime and inland ports, which he said can all help to alleviate poverty and enhance food and energy security, employment, economic growth and exports as well as ocean health and sustainable use of ocean resources, saying that more than 12million people are employed in fishery alone which is the largest of the African Blue Economy sectors.
In his contribution, the MD/CEO, Nurwags Integrated Services, Alhaji Nura Wagani, emphasized on the need for Maritime Agencies to have workable data base for verifiable statistics so as to enable people get proper information about the happenings in the sector.
Assessing barge operations so far, Alhaji Wagani said that the three regulatory bodies, NIWA, NIMASA and NPA, have very important roles to play to ensure robust barge operations . He lamented a lack of sound and sofisticated barges, saying that most of the barges can not pass integrity test, disclosing that some of them are also operated by quacks who have very little knowledge of the technicalities involved.
Alhaji Wagani blamed lack of funds as the bane of robust barge operation, as money is needed to acquire real barges designed for movement of containers as what is mostly used as container barges are not designed for container movement but for oil bunkery, pointing out that the substandard barges are designed in a way that they cannot operate without tugboats, and that some of them are sometimes abandoned on the sea by their captains to float on water, posing great danger on waterways. He appealed to the Federal Government and industry regulators to chart a new course for the establishment of maritime bank or open up financial channels where barge operators can access loans at 1 or 0 digit interest to enable them acquire sophisticated barges like there foreign counterparts.
Meanwhile, the Registrar of NAGAFF Academy, Mr. Francis Omotosho, touched on so many challenges militating against Maritime operations, among which was a lack of education which he said has continued to lower the standard of operations as most practitioners find it very difficult to defend their jobs, literally giving themselves in for unwarranted extortion and humiliation due to ignorance and timidity, adding that Practitioners have the need to acquire adequate knowledge of the sector.
In his remarks, the National President of Association of Nigerian Licensed Customs Agents, ANLCA, Honourable Iju Tony Nwabunike, blamed government's inconsistency in policies as the bane of the maritime sector's progress, saying that policy somersault has not done any nation any good. Nwabunike pointed out that most advanced economies of the world have consistently progressed because they have lasting policies which enables their Nationals to come up with both immediate and futuristic plans that are not thwarted by sudden change of government policies.
Honourable Iju Tony Nwabunike commended MAJAN for providing the platform for such brilliant discourse, calling on other associations to borrow a leaf from MAJAN whose activities have become more of maritime sector's advancement advocacy, saying that the efforts of the association would go a long way to adding value to Maritime operations.
In his closing remarks, the President of Maritime Journalists Association of Nigeria, MAJAN, Comrade Ray Ugochukwu, appreciated the discussants for finding time to grace the important event, he promised the Maritime experts that MAJAN would not relent in her efforts to injecting a new vigor into the veins of the industry.