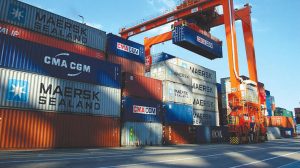 WHAT IS TICT HIDING ?
Mcanthony Onuoha
It is becoming clearer each day that the TinCan Island Container Terminal LTD. (TCIT), has a skeleton in its cupboard over a baffling instruction to its security personnel, not to allow Media practitioners access to its facility at TinCan 2nd Gate.
One would Wonder why the press is being vehemently restricted to access a facility where public officers like Nigeria Customs, NAFDAC and others carry out their official duties.
As it stands, no journalist is allowed to step into TICT premises to have a chat with a public officer or interact with agents not to talk of moving in to drop a questionnaire or for any form of enquiry so to to say.
The security personnel at the gate of TICT , TinCan 2nd Gate, told a media practitioner who properly identified himself to them and also disclosed his mission, that the management of the Terminal instructed them never to allow any journalist access the facility.
Besides, to also prove its readiness to stop and embarrass Media men who insist on gaining access to public officers within the premises, a female police officer, fair in complexion , very typical of a roadside urchin is stationed at the gate to always showcase a high level of unprofessionalism by rudely addressing and verbally attacking people especially the Media with reckless abandon.
Indeed, TICT can not exonorate itself from circumvention of import rules and gross underhandedness and that might have led to the vehement resistance being mounted against Media practitioners at its gates .
The female police officer planted at the gate of TICT that is being used by the management to embarrass and ward off media practitioners, oblivious of the implications, is not doing a disservice to the nation but is also busy heaping burning coal on her head and that of the management of the terminal who passed such instruction.
By this perceived level of apprehension, the staff and Management of TICT do not literally need to tell the general public that there are shady deals that are not only debilitating the economic strength of the nation but illegally enriching officers and personnel of agencies of government working at the examination bay, if not so, l wonder what a terminal operator in the status of TICT is avoiding that prompted such insensible instruction.
Time shall tell !