DEMIGOD WINS NIMA, SETS FOR ONE YEAR REIGN AS MARITIME AMBASSADOR
The Prestige Blended Magazine
Ogunyemi Oluwajoba Adebisi, a.k.a, DEMIGOD has emerged Season 2 Winner of the Nigerian Maritime Ambassadors (NIMA) a maritime industry-based Reality TV Show organized and promoted by Platforms Communications.
The 26 years old indigene of Inisha, Odo-Otin Local Govt Area of Osun state beat 32 other housemates to emerge Winner of the Talent Optima Edition of NIMA Reality TV Show at a glamorous Grand Finale held recently in Lagos.
At the Unveiling and Prize Presentation Ceremony held for the Winner and the Runners-Up yesterday in Lagos, DEMIGOD won Ten Million Naira worth of deals comprising a 2008 Toyota Camry Salon Car; Cash Prize; Luxury Vacation, Media Tours and Promotions; including One Year Endorsement Deal As Nigerian Maritime Ambassador 2023-2024.
Whereas the First Runner Up, Ojukwu Jennifer Princess, popularly known as IFESINACHI, a native of Umuezeala, Uga in Aguata LGA of Anambra state won the Sum of One Hundred and Fifty Thousand Naira as consolation prize.
Even as 24 year old native of Jikwoyi, AMAC in F.C.T Abuja, Judith Williams Shajabwa, a.k.a ZUDO who emerged as the Second Runner Up won the sum of One Hundred Thousand Naira.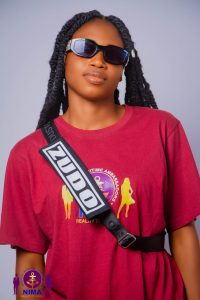 Speaking during the Prize Presentation to the Winners yesterday, the Director of NIMA Reality TV Show and Chief Executive of Platforms Communications, Mr Sylvanus Obasi revealed that the Winner would render one year service to the maritime sector during his one year reign within which he would execute three projects already earmarked for him as Nigerian Maritime Ambassador for 2023/2024.
According to Mr Obasi, "The office of NIMA winner is very crucial and strategic to the scheme of things in the overall vision and mission of NIMA Reality TV Show. As a result, to achieve the task ahead and sustain the growth of NIMA in line with its aims and objectives, the winner is to undertake the following specified pet-projects as functions and responsibilities statutory to the office as Nigerian Maritime Ambassador within a one year Service reign:
a. To champion (CYIBE) – Campaign for Youth Involvement in Blue Economy. This entails visiting tertiary institutions, hosting and attending youth enlightenment seminars or fora aimed at creating awareness for Nigerian youth to participate in blue economy.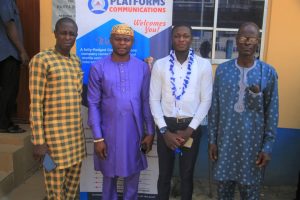 b. To collaborate relevant maritime government agencies and organisations such as NIMASA, NIWA, NPA, NIOMR and others to execute a pet project called Cleaner Ocean Campaign (COC) which aims to embark on regular cleaning of jetties, beaches and other marine environment while also creating awareness to riverine communities on the dangers of marine pollution and marine litter.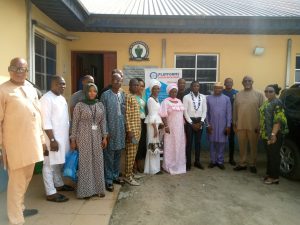 c. To champion Green Port Concept (GPC) aimed at promoting eco-friendly Ports environment through campaigns for reduction of noise, emissions and use of fossil fuel in ports and terminals as well as creating awareness to encourage planting of flower trees within ports and terminals which guarantees sustainable eco-friendly maritime work environment".
Also speaking at the occasion, the Former Director-General, Nigerian Maritime Adminstration and Safety Agency, (NIMASA); Barr Temisan Omatseye noted that the Nigerian maritime sector is vast with great potential, adding that the participation and contributions of the youth are truly needed to fully harness and maximize the potential and vast opportunities in the sector.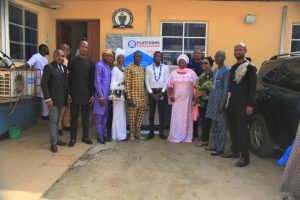 Earlier in their goodwill messages, the Former Port Manager, Lagos Port Complex, and Assist General Manager, Tarrif and Billing, Nigerian Ports Authority (NPA) Mrs Bolanle Funmilayo Olotu; the Head of Marine, Lagos Area Office of National Inland Waterways Authority (NIWA), Engr Mrs Egwuatu Elsie; the Head of Public Relations, NIMASA, Mr Edward Osagie and the Assistant General Manager, Corporate and Strategic Communications of NPA, Mrs Sarah Ballah who attended the occasion as Special Guests and Observers commended Platforms Communications for its unique grogram initiatives which they said have added great values to the Nigerian maritime sector.
They also congratulated the Winner and Maritime Ambassador, DEMIGOD for emerging victorious in the competition, even as they advised him to be a good Ambassador by playing his roles well and making the most use of the opportunities offered to him.
Also speaking while presenting the Car Key to the Winner, the Area Manager, Lagos Area Office of NIWA, Engr Mrs Sarat Braimoh congratulated DEMIGOD and prayed that God would guide him and grant him successful reign as Nigeria Maritime Ambassador.
The Maritime Amazon also pledged NIWA's continuous support for Platforms Communications and it's brands, which she described as veritable platforms for young Nigerians to gain exposure into the maritime sector.
Meanwhile, in his appreciation speech, the Winner of NIMA Reality TV Show Season 2, Amb Ogunyemi Adebisi Oluwajoba thanked the Management of NIMA Reality TV Show for giving him the platform; and the various organizations that supported the program. He promised to make the maritime sector proud by carrying out his pet project satisfactorily.
Highlights of the occasion included: Citation and Unveiling of the Winner; Signing of One Year Service Agreement by the Winner, Payment of Cash Prizes, Presentation of Car Key to the Winner, Goodwill Messages, amongst others.
The event which was anchored by the Publisher of The Prestige Blended Magazine and Maritime Journalist, Mcanthony Onuoha, took place at the Conference Hall of the Lagos Area Office of NIWA and had maritime dignitaries, Legal representatives, pressmen including parents of the Winner in attendance.