RORO POLICE DIVISION BIDS FAREWELL TO S.P NJOKU(RTD)
***As Stakeholders shower encomium on the Super Cop
By Mcanthony ONUOHA
It was indeed a moment of encomium and show of true love as RoRo Police Division , TinCan Island, on Wednesday , 29th of September, 2021, organized a farewell party in honour of its immediate past Divisional Police Officer (DPO), SP Micheal Njoku(Rtd.).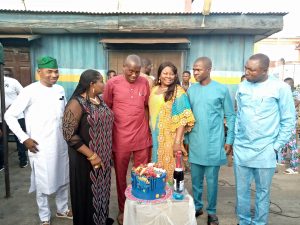 The honour marked Njoku's retirement from the police force after 35 years of meritorious service to his father land . A feat that roundly merited the celebration.
Stakeholders, including freight forwarders and terminal operators converged at RoRo Police Station, on TinCan Island, to shower praises on the former DPO, for his doggedness and professionalism. Some of them that were given opportunities to speak described SP Njoku as a super cop , as they chanted his nickname "Unbendable"! A name given to him by stakeholders because of his uncompromised principles while in service.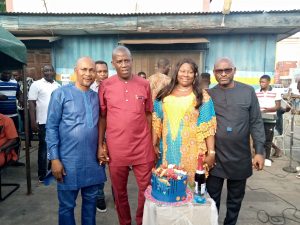 Speaking at the event, the present DPO, CSP Christiana Ohuei, described SP Micheal Njoku(Rtd), as a man of honour and a patriotic officer whose love for the job and country was amazing. She described some professional encounters she had with the retired officer in the past as worthwhile  The new DPO in her speech, said she was celebrating her predecessor for his brotherly love and respect for colleagues, his fatherly disposition and above all, his compassion for humanity. She  promised to continue on the same track in the discharge of her duties as well as pledged her loyalty to the force, and to be fair to all manner of people regardless of tribe while assuring all of professionalism and accessibility throughout her stay as head of RoRo  police division.
Furthermore, the New Divisional Police Officer, urged stakeholders to always conduct themselves in the most professional manner as they go about  their duties within the port environment. She went further to advise them to come up with information on criminal activities saying that her team would not condone criminality of any sort.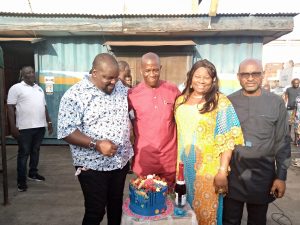 In his speech, SP Njoku (Rtd) expressed  gratitude to God Almighty for giving him the grace to serve the country for thirty five good years, alive and healthy, saying though he has retired from the force but he is  not yet tired, all to the glory of God.
He used the opportunity to shower praises on his lovely wife whom he described as an epitome of a true wife, adding that her prayers and encouragement kept him and the family very strong throughout his service years.
SP Njoku (Rtd.), advised his colleagues who are still in service to be upright and fair and always show due diligence while still in the force. He added that all the encomium showered on his person was a testimony of his commitment to the force and his meritorious service to the public and fatherland.