APFFLON TINCAN CHAPTER HOLDS FIRST TOWN HALL MEETING
** INAUGRUTES PORTS OPERATION CREW
**AS CHAPTER CHAIRMAN UNVEILS WELFARE PACKAGE FOR MEMBERS
By Mcanthony Onuoha
A good number of freight forwarders under the umbrella of Africa Association of Professional Freight Forwarders and Logistics of Nigeria- APFFLON, on Tuesday, the 30th of August,2022, converged at the association's Secretariat on Tincan Island for the first town hall meeting of the Chapter.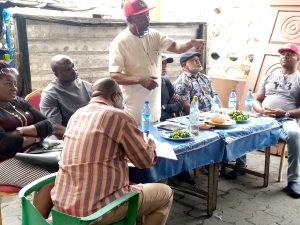 CHAIRMAN OF APFFLON, TINCAN CHAPTER, FWDR. GODFREY EMEKA NWOSU-KSM, ADDRESSING MEMBERS DURING THE MEETING
The crucial meeting which was graced by other Chapter Chairmen as well as new and intending members was presided over by the Chief Servant of APFFLON, Tincan Chapter, Fwdr Godfrey Emeka Nwosu – KSM.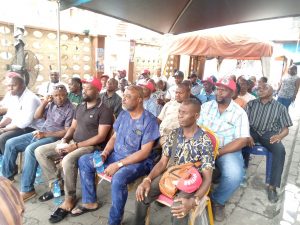 Present at the meeting were the National President of APFFLON, Otunba Frank Ogunojemite ably represented by the National Public Relations Officer (PRO), Alhaji Abdulrazaq Giwa, Apapa Chapter Chairman, Alhaji Ibrahim Hassan and his KLT Counterpart Fwdr. Chigozie Adindu, Tincan Chapter Treasurer, Fwdr. Sir Odera Onwudiwe, the entire executive of the Chapter and a host of others.
During the meeting, APFFLON Ports Operations Crew for Tincan Chapter was inaugurated, Fwdr. Chukwuka Louis Emenia is the crew Leader while Fwdr. Chikezie Anyanwu is the Assistant Crew Leader. Their job is to carry out delivery operations on behalf of the association within the Command.
In his opening remarks, the National President of APFFLON , Otunba Frank Ogunojemite commended members of the association for believing in his vision, assuring them of his commitment and zeal to give APFFLON its rightful place in the comity of African Professional Bodies. He siezed the opportunity to intimate members of some of the achievements recorded so far by his administration which includes establishing the presence of APFFLON in South Africa and Ethiopia while making inroads into a couple of other African Maritime Nations. Ogunojemite, through the National PRO, expressed delight for the tremendous progress recorded so far by the association, saying that APFFLON has contributed a lot to the industry as Maritime advocacy group and would continue to agitate for freight forwarders welfare and conducive business environment and cordial relationship between professional freight forwarders and other Maritime stakeholders.
FWDR. SIR ODERA ONWUDIWE, PRESENTING KOLANUT AT THE MEETING
Addressing members, the Chairman of APFFLON, Tincan Chapter, Fwdr. Godfrey Emeka Nwosu KSM, urged them to always stand shoulder to shoulder with sister associations in defense of APFFLON wherever they find themselves. He disclosed that over 90% of APFFLON members are registered with Council for Regulation of Freight Forwarding in Nigeria -CRFFN, and so are bonafide members of the Council.Fwdr Nwosu added that APFFLON was not just an association but a Maritime advocacy group as well as an organized professional body. Nwosu assured freight forwarders of the association's continuous efforts to restoring the dignity and respect they had been stripped of due to shady practices and dirty indulgence by some association leaders whom he described as sycophants and betrayers whose major concern was their personal welfare.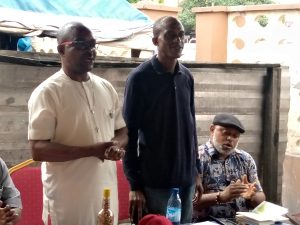 LEFT- FWDR GODFREY EMEKA NWOSU-KSM, CHAIRMAN APFFLON TINCAN CHAPTER, CENTER- ALHAJI GIWA ABDULRASAQ, NATIONAL PRO, APFFLON, RIGHT- FWDR CHIDOZIE ADINDU, KLT CHAPTER CHAIRMAN, APFFLON DURING THE TOWN HALL MEETING
Nwosu assured members of the association's support saying that his door is open for those intending to identify with the APFFLON as well as those who would at one point or the other need assistance especially in the cause of professional duties.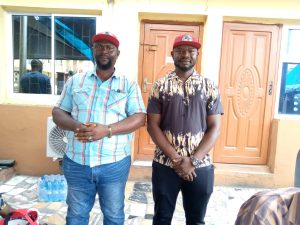 LEFT- FWDR CHIKEZIE ANYANWU, ASSISTANT PORTS OPERATIONS CREW LEADER AND THE CREW LEADER, FWDR. CHUKWUKA LOUIS EMENIA -LEFT DURING THEIR INAUGURATION
Addressing the gathering, the Chapter Treasurer, Fwdr Sir Odera Onwudiwe, told members that APFFLON represents grassroots freight forwarders, he disclosed that opportunity was available for anyone who would want to travel abroad for logistics and freight forwarding trainings, advising them to leverage the opportunity on ground for self realization and reinvention, saying that APFFLON members are highly revered because of their self comportment and professionalism.
According to Onwudiwe, " there is a unique advantage that APFFLON has in the industry, every officer at Tincan Command can attest to the fact that the association is known for its professional approach to issues bordering on ports operations and we will continue on that path.
However, members were sensitized on the importance of having an insurance policy so as to save up for their wards education or for other important projects and to also secure their comfort while on retirement,
Some members keyed into the policy right at the venue after the sensitization.
In his closing remarks, Fwdr Godfrey Emeka Nwosu advised members to be courageous, as he also advised those who were yet to get registered with the CRFFN to do that, he went ahead to stress the need for members to acquire professional training as freight forwarders as that would help enhance their chances in the industry.