Church Teaches Youths Business Development, Stresses Skill Acquisition For Self Reliance
By Uchenna Eletuo (07031241955)
Lagos, OCT. 1, 2023 (NAN) The Redeemed Christain Church of God (RCCG) Lagos State Provenance 36 on Sunday trained youths on business development initiatives, stressed skill acquisition as a requisite for self reliance.
The News Agency of Nigeria (NAN) in Lagos reports that, the programme with the theme "Stand Out" aimed at revamping the nation's economy through small holding cottage firms.
The training, held at the RCCG Power-link chapel Lekki Lagos, exposed people on business opportunity identification within ones community, fund sourcing, book keeping, structure maintenance, distribution networking and business relationship sustainability.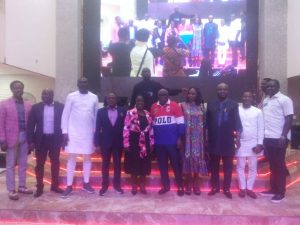 It reports that, the programme that drew no fewer than 150 participants from churches in the RCCG Lagos Provence 36, was to empower youths on methods to sow investment seeds that would grow and make people employers rather than employees.
It reports that, the Church, has been in the Vangard for youth reform with a view to arresting youth unemployment and it's attendant social disequilibrium that has been a concern to governments and organisations in the society of late.
It further reports that, the programme assembled reckoned business owners that trained participants on the regiments to grow investment seeds to stardom and sustainability; linked people with mentors to overcome subsisting barriers.
Speaking at the event, one of the resource persons for the session, Mr Edwin Eyewunmi-Agbodu, described business management as the ability to pull resources to achieve a goal.
Eyewunmi-Agbodu, who doubled as the CEO of Future House Properties, a real estate consultant, spoke on identifying business opportunities, said that, finding out what the society lacks and proffering it's solution could be turn into business idea.
According to him building a business credibility could aid one to get funding for an identified investment idea.
"Check around you what is that people consult you for that you offer them solution for, nothing say you cannot commercialise it, its your divine talent that cannot be wiped away.
"Learn a skill peculiar to that your business idea so that that will remain one of your enviable start-up capital to carry you through the needed competitive edge for the business.
"Don't be afrid of risk taking and don't be afrid to fail in Christinaity is called faith. To a bold step and surmount procrastination for if you attempt and fail the failure will make you to learn how not to fail again.
"As a person there is need for you to maintain good level of credibility in every community you find yourself to encourage others to bank on your capability to buy into your business idea as financial partners or lend you resources for support.
"In business you soar higher with people's goodwill in terms of aids to investment rather that borrowed capital with interest attached," he said.
He decried reckless life style of some youths, said that, some people mostly elderly ones have money laying fallow in banks that ones credibility deposition could attract to enable one start off in business.
In his presentation at the event, another resource person Mr Adeshina Adewunmi, said that, book keeping was essential to attract funding.
Adewunmi, Founder of Trade Lenders firm, spoke on funding for small businesses, frowned at the inability of business owners to keep financial records of business, said that no bank could disburse loan to businesses without a proper book keeping records.
Adewunmi, tasked the young potential business owners on structure, said that taxes should be paid, annual audit carried out, saperation of ones account and personal expenses from business one essential and to instil staff disciple and motivation.
He stressed good business proposal writing and presentation, saying deficiency in proposal writing has made many people's business dreams remain unachievable.
He said that a good proposal was one that the financier could read and understand from the beginning to the end flawless methods followed from investment to return on investment.
He regretted the dearth of bankable proposals that has made loan funds insolvent in some investment houses in the country, saying such stagnant funds could be accessed with realistic proposals and create job in the system instead of laying fallow.
He charged young Nigerians to see the nation's 200 million population as an asset with a view to focusing on an item that people would need and produce it.
Also speaking at the event, The CEO of Cycle Soft Solution, Mr Adetola Ayotunde, said that with the $3.3 trillion worth of the nation's fashion industry that opportunities abound for young investors into the sector.
The fashion designer, asked youths to acquire skills, adapt and readjust their model to enable them harness the vast potential in the dress making industry.
In her remark at the event, a participant, Ms Tolulope Ishola, said that, the programme was inspiring and an expository to latent business minds.
Ishola, a three hundred level undergraduate from the Lagos State University, said that with the knowledge she acquired from the session, she would begin bread making to aid her education and family.
NAN reports that people were introduced to an CAC administrator to enable them register their businesses.
In his message at the event, the cleric in charge of the Church, pastor Benjamin Ajayeoba, tasked the people to remain resolute in faith in God.
The priest said that putting on the armour of Christianity was what the young people needed to attract spiritual capital that would activate the physical wealth.
(NAN)