NIGERIANS CELEBRATE MOGO'S SHINING LIGHT AT WMU, UN
It was another big win for Nigeria and Nigerians as Dr Mrs Felicia Chinwe Mogo, a Marine Environment expert and Former NIMASA Director shines at the prestigious World Maritime University in Sweden.
Dr Mogo on Thursday wrote on her verified WhatsApp status saying, "It was yet another marvelous experience for me to have rang the bell of the World Maritime University to mark the successful outcome of the PhD defence that I acted as the opponent/critic/external examiner".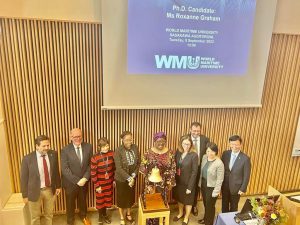 "The Nigerian students there were fantastic. They were at the event through out, gave me a gift and escorted me to the hotel".
When the news broke online on Thursday, Nigerians, especially maritime stakeholders took to their social media platforms to congratulate and celebrate Dr Mogo whom they said has become a shining light in the global maritime community, and still making Nigeria proud even after retiring from NIMASA 3 year's ago!
Some Nigerians and maritime stakeholders who saw the news online reacted by congratulating her as they wrote:
"Congratulations ma. Keep the flag flying high" – by Ms Gloria Adaugo, Deputy Director ISPS, NIMASA.
"Wishing her more wins in Jesus name" – by Dr Musa Akinyemi, Rector, Crown Maritime Academy.
'Congratulations to the Maritime Amazon; Dr Felicia Mogo!" – by Mr Ifeanyi, Staff of Marine Environment Management Department of NIMASA.
"Congratulations we are proud of you", by Mrs Eunice Ezeoke, President of WISTA Nigeria.
"Congratulations" – by Capt Tajudeen Alao, President of Nigerian Association of Master Mariners.
"Wow. That's laudable. Congratulations to her" – by Mrs Vivian Azubuike, Director General, Nigerian Chamber of Shipping.
"Congratulations once again mum, we at Platforms Communications love and cherish your impacts. Greater you we pray for God wins" – Mr Sylvanus Obasi, CEO Platforms Communications.
"May God Almighty continue to favour, empower, protect, guide, guard, promote and reposition you more and more to give glory to his name in JESUS Christ name Amen" – Emeka Obasinoke, a Nigerian youth.
You may recall that Dr Mogo is currently an appointed Expert on mission on the Regular process of reporting and assessment of the global oceans and socio- economics by the Division of Oceans and Law of the Seas, United Nations Head Quarters, New York, USA.
Also in 2019, Dr Felicia Mogo was honoured with the Maritime Amazons Award by the Face Of Maritime International (FOMI); and she was the Mother of the Day at the 2022 AMSAY Conference where she gave out copies of the book she authored on "Regulating the Marine Environment of Africa Towards a Sustainable Blue Economy: the Nigerian Scenario", free to some maritime schools and Best Graduated Maritime Students at the occasion.
She's also the Founder of African Marine Environment Sustainability Initiative
(AFMESI), a pan-African, non-governmental organization that has been boosting focus, knowledge and partnerships for cleaner, better protected and sustainably-used marine ecosystems across the African continent.