NIMA: Upset In Week 2 As Hugoboss Takes Distant Lead While Emmy, Embajuesoul, Others Follow
Week two voting result of the ongoing Popularity Contest, a preliminary activity in chosing Housemates for Season 2 of the Nigerian Maritime Ambassadors (NIMA) Reality TV Show has produced major upsets as Kanu Chibuike Peter who goes with the stage name, HUGOBOSS, upstaged JAFTJAY, the week 1 leader and all others to occupy the coveted first spot.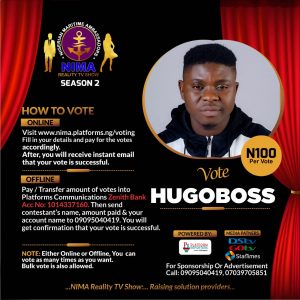 HUGOBOSS, a 27 year old indigene of Anambra state and graduate of Accountancy who didn't make top 10 List in week 1 beat all other contestants including week 1 top 10 candidates to emerge top of the voting table with a distant 64% of votes.
Whereas Emem Wilfred Roberts, popularly known as EMMY, a 25 year old indigene of Akwa Ibom state came second with 42% of votes, while Bature Emmanuella aka, EMBAJUESOUL, a 22 year old indigene of Niger state came third with 39% of votes respectively.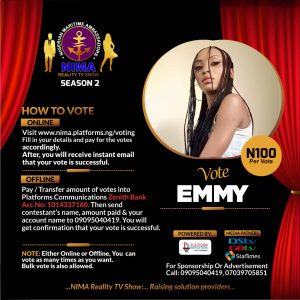 Speaking to newsmen on Monday after the release of Week Two Result by the organizers, Hugoboss said his joy was boundless as he couldn't believe his eyes when the result was released late Sunday night.
"My joy was boundless, I couldn't believe my eyes when the result came in. I was perturbed, when I got message from NIMA, that the table is changing. I wanted to doubt my capacity, but I became optimistic. I was left on euphoria ground, around 10.19pm when I got the result chart message, as the top qualifier. Am so elated that I made it".
Talking about his experience in canvassing for votes from his fans, HUGOBOSS has this to say, "It's not a spicy one at all, especially not being active in the first week. I felt left out, but I took courage when I saw the first week result. My friend MENC was a motivational factor too, after I discussed with him, one question he threw to me was, 'do you still want to do this'? That question alone raised the giant in me to come alive. I called family, friends and well-wishers and they answered me".
Although Hugoboss was not active in week one and didn't get a single vote then, his efforts in week 2 paid off and saw him occupy the very first spot in week two with a high margin of votes.
But whether the Anambra state indigene would maintain his lead in week 3 and emerge the overall winner of the Popularity Contest would be determined by coming Sunday when the cummulative result of the 3 weeks voting campaign will be released and top 30 candidates shortlisted as Housemates for Season 2 of NIMA Reality TV Show