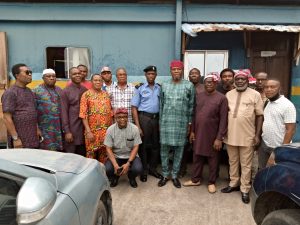 ASIMPIN TINCAN CHAPTER, WELCOMES NEW RORO PORT DPO.
BY MCANTHONY ONUOHA
Association of Igbo Maritime Practitioners in Nigeria (ASIMPIN), TinCan Chapter, paid a courtesy visit to the new Divisional Police Officer (DPO), RoRo Port Police Division, TinCan Island, SuPol. Njoku Michael Ikechukwu, in his office recently.
The group led by its TinCan Chapter Chairman, Chief Charles 'Taylor' Igbokei, expressed gratitude to the Police Authority for giving an Igbo indigene an opportunity that has overtime,eluded officers of Igbo extraction.
The group, which is made up of Igbo indigenes in the maritime industry said they were elated to have their own son occupy such strategic office, describing the opportunity as very rare in the history of the Division.
In his response, the Divisional Police Officer (DPO), SuPol. Njoku Michael Ikechukwu, expressed gratitude to the group for the solidarity and brotherly love, and went further to promise them that he would be of good conduct and will not indulge in any act capable of redicling his office and personality.
The visit, which had outstanding members of ASIMPIN, TinCan Chapter, present, including its National President General emeritus, Sir Isdore Martins, assured the New DPO of their corporation and support, promising that they will always pray for his success throughout his stay at the division.
The Chairman of TinCan Chapter of ASIMPIN, Chief Charles Igbokei, passionately asked God Almighty to endow the DPO with the needed wisdom and genuity to handle every case brought before him, urging the DPO to always carry out his duties with humility and honesty as that will distinguish him as a thorough officer not only to the glory of the lgbos in the maritme industry, but also to that of other Police Officers of Igbo extraction.
However, the new Divisional Police Officer, charged the group to remain law abiding and patriotic, warning them not to take laws into their hands but to always report any assault or aggression to the appropriate quarters, stressing the need for harmony among members.
SuPol. Njoku Michael Ikechukwu, commended ASIMPIN leadership for remaining strong and united; urging them to sustain the spirit of brotherhood.
Proudly MAJAN