BROCK LESNAR'S SUMMERSLAM LOSS LEADS TO EVEN MORE DEVASTATING NEWS!
Stephen Ecort
Brock Lesnar remains an undeniable magnet for attention in WWE, even after his extensive presence in the company for more than two decades. His showdown against Cody Rhodes at the recent SummerSlam event generated an electrifying buzz among fans and the wrestling community alike. While the conclusion of the match left fans astounded, the latest revelations from the wrestling circle are set to pack an even greater punch.
Lesnar's modus operandi within WWE has been characterized by sporadic appearances since his triumphant return. His appearances are strategically aligned with significant matches featured at marquee events. However, in the aftermath of his marquee match at SummerSlam, unsettling news about the Beast is circulating, potentially not sitting well with fans.

The Goliath-like Lesnar is projected to make his return to WWE's spotlight only around the cusp of WrestleMania 2024. This familiar pattern of intermittent appearances is emblematic of Lesnar's engagement with WWE since his comeback, marked by intermittent respites post momentous bouts or rivalries. The intense rivalry between Lesnar and Cody Rhodes commenced shortly after WrestleMania 39 earlier this year, culminating in an epic clash at SummerSlam. Rhodes achieved victory at Backlash, whereas Lesnar secured a win at Night of Champions. The concluding bout at SummerSlam saw Rhodes triumph after a grueling encounter, signaling the closure of this gripping chapter and marking a rare SummerSlam loss for Lesnar.
As the feud chapters close for Rhodes, the narrative shifts focus to 'The Beast.' According to insights shared by Dave Meltzer on Wrestling Observer Radio, Lesnar's enigmatic presence is anticipated to remain elusive until the Mania season. Meltzer indicated, "He's going to be gone for a while, no time soon as far as the next 4 months or something like that." This timeline implies that fans might have to wait until the proximity of WrestleMania 2024 to catch another glimpse of Lesnar inside the squared circle.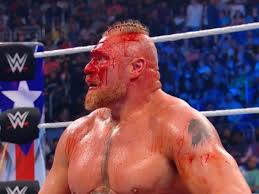 Meltzer also confirmed that Lesnar was initially slated to feature in one of the imminent pay-per-view (PPV) spectacles this year. However, it is now affirmed that he won't make an appearance during any of these forthcoming PPV events, which include Payback, Fastlane, Crown Jewel, and Survivor Series. The dawn of the following year, marked by the Royal Rumble, will usher in the build-up towards WrestleMania 40. In line with Lesnar's propensity to temporarily retreat from WWE programming following the culmination of a rivalry, a hiatus seems imminent, given his previous engagements leading up to this year's WrestleMania.