CUSTOMS INTERCEPT 31 FIREARMS CONCEALED IN SACKS OF CHARCOAL AT LAGOS PORTS
/The Prestige Magazine/
Thirty one (31) firearms of various types have been intercepted at the Tin Can port as well as Port and Terminal Multi-Purpose Limited (PTML) terminal in Lagos by operatives of Nigeria Customs Service(NCS).
Addressing Journalists on Monday in Lagos the Comptroller-General of Customs, Mr. Adewale Adeniyi, disclosed that two of the crime suspects have been apprehended and are currently aiding the authorities in their investigation.
ACTING  COMPTROLLER GENERAL OF CUSTOMS, ADEWALE ADENIYI
According to the CGC, a joint operation involving the Nigeria Customs, the Police, Department of State Security (DSS), National Drug Law Enforcement and Administration (NDLEA), and the Customs Intelligence Unit was conducted at the PTML terminal on the 5th of this month (July).
He disclosed that during a thorough physical examination of a 40ft container, 10 dangerous arms and various rounds of live ammunition were discovered concealed inside plastic drums.
Three units of new Pump Action rifles, one new unit of an armed rifle, six new different makes of pistols, including the Millennium G2, Sarsilmaz SAR-9X, Lugger Security-9, Taurus Banbridge G3C, SCCY CPX-2, and Taurus (63 pistol). Additionally, 14 empty magazines and 442 rounds of live ammunition were among the seizures.
Appreciating the officers for their dedication and diligence, Adeniyi emphasized that their actions were guided by a sense of purpose in line with the administration's vision for revenue generation and national security.
He as well, highlighted the role of the Nigeria Customs Service (NCS) towards the actualization of the overeaching goals of the President Bola Ahmed Tinubu -led administration as outlined in the Policy Advisory Council document.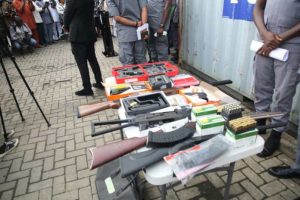 The Customs boss disclosed that two clearing agents, Mr. Shokunbi Olanrewaju of Shooler Global International Ltd and Mr. Joseph Nwadiodor, who was expected to take delivery of the container, are currently being detained as suspects in connection with the seizure.
He added that similar seizures were recorded at the Tin-Can Command of the service where significant discoveries were made during the same period.
The Customs boss said, acting on credible intelligence, a 40ft container was subjected to 100% physical examination in collaboration with relevant security agencies.
The physical examination revealed 18 arms, packets of cartridges, and rounds of live ammunition concealed in plastic drums. The seized items included six different makes of pistols (two Sar9 Sarsilmaz Pistols, one Ruger American Pistol, and three Taurus G3c – Bainbridge Pistols) as well as 12 different makes of rifles (five Rz17hd Rifles, one Gamo Rifle, five Pump Action Rifles, and one Rz17 Tactical Rifle). Additionally, 10 packets of cartridges, two packets of 9mm ammunition, 100 rounds of 9mm Winchester ammunition, and one carton of Frontier cartridges were confiscated.
The Customs Boss further revealed that on Wednesday, July 12, 2023, officers of the Joint Border Patrol Team Sector 2, intercepted an unregistered Toyota Camry during a routine patrol along the Owode/Ajilete Axis of Ogun State. The vehicle was loaded with six sacks of charcoal, within which three pump-action rifles and 174 live cartridges were concealed. The driver, aware of the implications of his actions, fled into the bush and evaded arrest.
He said the service intended to hand over the outcome of their investigations, along with the seized items, to the appropriate authorities for further investigation and prosecution.
The CG highlighted the connection between the proliferation of illicit arms and the increase in violent crimes such as kidnappings, robberies, and mass killings.
He however assured compliant traders and importers that the Nigeria Customs operations were aimed at facilitating legitimate trade, while also urging them to make sincere declarations and adhere strictly to the import/export prohibition lists.
In conclusion, Adeniyi emphasized that security was a collective responsibility, calling on the public to always provide information on illegal importation and cross-border movement of lethal weapons that pose a threat to the nation's safety, peace and stability.