EZEOBI IS PEAK PERFORMING WOMAN OF THE YEAR 2023 AWARD WINNER
The Group Features Editor, This Day Newspaper, Chiemelie Ezeobi has been awarded the Peak Performing Woman of The Year Award 2023 for her Exemplary leadership.
The Peak Performing Woman Of The Year is a special annual edition which features 100 remarkable women in Africa across multiple industries, multiple generations and multiple countries on the African continent.
Chiemelie Ezeobi is a prominent figure in the field of journalism, currently serving as the Group Features Editor for THISDAY NEWSPAPERS, a renowned daily newspaper in Nigeria that holds a significant national presence.
Reacting, Ezeobi who was awarded in this year's event, said she is honored to have been honoured with the prestigious awards amidst thousands of female journalist in the continent.
In her words, " I am honored and thrilled to receive the prestigious Peak Performing Woman of the Year 2023 Award. This recognition serves as a testament to the countless hours of hard work, dedication, and perseverance I have invested in my personal and professional growth.
Receiving this award is not only a personal achievement but also a celebration of the amazing women who have inspired and supported me throughout my journey. Their unwavering belief in my abilities has fueled my determination to reach new heights and push beyond perceived limitations.
I am grateful for the opportunities that have come my way, allowing me to make a positive impact in my field and empower others along the way. This award serves as a reminder that dreams can be turned into reality with the right mindset, passion, and commitment.
I would like to express my heartfelt gratitude to the organizers of this award for acknowledging the contributions and achievements of women in various spheres of life. This recognition not only highlights the exceptional accomplishments of women but also serves as an inspiration to countless others who aspire to excel in their chosen fields.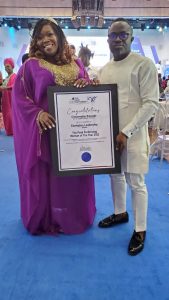 In her role as the Group Features Editor at THISDAY NEWSPAPER, Ezeobi assumes responsibility for various sub desks, including Defence, Crime, and Health. Additionally, she oversees the Weekly Pull-out Magazine called 'This Weekend,' showcasing her diverse editorial expertise.
Ezeobi's commitment to humanitarian causes and pursuit of excellence have garnered her numerous accolades throughout her career. Notably, she was nominated for the United States Fellowship on the International Visitors Leadership Program (IVLP) in Countering Insurgency: Media Messaging and Strategies.
With over a decade of experience in journalism, specifically in the realms of Defence and Security, Ezeobi has consistently demonstrated her prowess in the profession. Her passion extends beyond security reporting and encompasses a wide range of topics such as the Sustainable Development Goals (SDGs), Health, Climate Change, and issues concerning women and children.
Notably, Ezeobi attended the 2021 United Nations Framework Convention on Climate Change (UNFCCC) Conference of Parties (COP26) in Glasgow, Scotland, where she covered climate-related stories.
Ezeobi's educational background includes a Bachelor's and Master's degree in Mass Communication, complemented by her status as a Fellow at the Centre for Peace and Security Studies.
Recognized for her outstanding contributions, Ezeobi received an honorary mention as one of the 20 Most Powerful Women in Journalism in 2021. Furthermore, in 2023, she was honored as the 10th Most Powerful Woman in Journalism by Women in Journalism Africa (WIJAFRICA).
Ezeobi's extensive travels and professional experience across various beats have garnered her both local and international recognition, resulting in numerous prestigious awards. Her expertise as a source on security reporting and the activities of security forces is highly valued. Simultaneously, she remains dedicated to effecting change and influencing policies through her in-depth coverage of her aforementioned areas of interest.
In 2022, Ezeobi participated as a Bill and Melinda Gates Foundation Goalkeeper, attending an event in New York focused on reinforcing the 17 Global Goals for Sustainable Development (SDGs) to create a better world by 2030.
She has also served as a temporary stringer for renowned media outlets such as Times Magazine South Africa and BBC Nigeria. In 2018, she received the Chevron scholarship to attend the Advanced Writing Skills Awareness course at Pan Atlantic University.
Ezeobi's notable award wins include being a Finalist for the Future Awards Project 2012, receiving recognition for Excellence in Journalism. She was also the First Runner Up for Investigative Reporter of the Year at the Dame Awards 2016.
Her accomplishments further include winning the titles of Best Investigative Crime Reporter in Nigeria by Security Watch Africa in 2013 and 2015, in South Africa and Houston, Texas, respectively.
Ezeobi has also been awarded Most Investigative Crime Reporter by the City Pride Achievers Award in 2017 and Most Innovative Crime Reporter by the Crime Reporters Association of Nigeria in the same year. In 2017, she received the Security Watch Africa Golden Star Award for Investigative Journalism in West Africa, held in Ghana.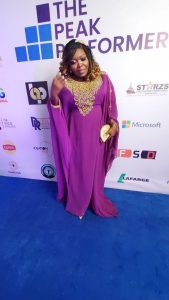 Acknowledging her dedication to developmental journalism, Ezeobi was recognized as a 2020 Silent Hero. She was honored as an Outstanding Journalist at the 2022 National Media Community Awards. In 2021, the Defence Headquarters commended her with an award for Outstanding Performance in the In-depth Coverage of Conflict/Insurgency in Nigeria.
Additionally, Ezeobi achieved the first runner-up position at the GYB Annual Award for Crime and Political Editors in 2022, which included a prize money of N1.25 million.
Since 2019, Ezeobi has served on the Security Watch Africa International Board of Jury. In 2022, she was appointed to the National Working Committee of the Centre for Black African Arts and Culture (CBAAC) Re-enactment of FESTAC'77. Furthermore, in 2012, she held the position of Head of Media for the Slum to School (S2S) Advocacy Group.