ANLCA ELECTIONS: NWOKOJI SEEKS ASIMPIN SUPPORT
** Pays courtesy call on the President General
— By Mcanthony Onuoha
The President General of Association of Igbo Maritime Practitioners in Nigeria -ASIMPIN, His Royal Majesty, Eze Demian Emeka Obianigwe, KSM, Ezeoha Obi of Isi Ihitte-Owerri, on Wednesday, 14th of June, 2023, played host to Chief Emenike Nwokoji and his team in his Lagos office.
Chief Nwokoji, who served the Association of Nigerian Licensed Customs Agents- ANLCA as Vice President to Prince Olayiwola Shittu, is recontesting for National President of the Association after losing to Hon. Iju Tony Nwabunike in his first attempt five years ago.
Nwokoji, who is slugging it out with the Former Vice President, now the Acting National President of ANLCA, Dr. Kayode Collins Farinto, visited the President General of ASIMPIN to seek his blessings and endorsement in company of Former Chairman of Tincan Chapter of ANLCA, Prince Segun Odutan, who is presently contesting for National Vice President of the Association.
Other notable personalities who accompanied Chief Nwokoji to the President General's office include the two time Chairman of Apapa Chapter of ANLCA and Former Coordinator, Western Zone, Chief John Ofobike, Chief Olamide Fakanlu, Contestants in his team and members of Emenike Campaign Organization (ECO).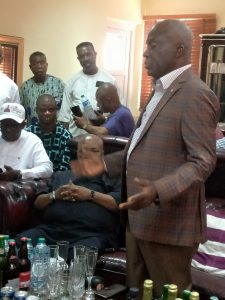 Addressing the President General, Chief Nwokoji expressed his appreciation for the warm welcome accorded to him and his team, stating that they were in his office to pay homage to him and also notify him of his candidacy for ANLCA top job. In his words, " His Royal Highness Sir, we are here to pay you a homage and also notify you of my candidacy for ANLCA top job. I have been in this journey before and l am repeating it again for the second time. I am stepping in as a concerned Practitioner; working with Prince Olayiwola Shittu as his Vice President was a wonderful experience for all of us then, and we in no doubt accomplished a whole lot for the Association. We registered ANLCA in many Professional Associations like IFBA, FIATA and many more, and took members outside the shores of this country to have first experience of what they do in their ports industry. We made Clearing an interesting profession, we synergized with people and shared experiences. I purposely delayed to pick form for this contest but when it was obvious that no one was coming out from my region and was looking like a bandwagon thing, l decided to throw my hat into the ring."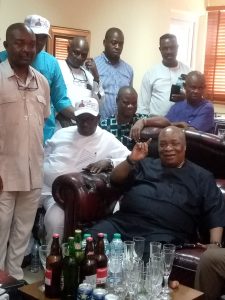 " I don't need any introduction in Customs business. Many successful traders and importers in Onitsha today had their breakthroughs when l was Chapter Chairman of Onne. His Royal Highness Sir, and revered President General of ASIMPIN, as well as my brothers in this gathering, l want assure all of you that l and Prince Segun Odutan will bring back peace and harmony in ANLCA and also reposition it for greater glory."
In his words, Former Coordinator, Western Zone, and leader of the group, Chief John Ofobike, described the President General of ASIMPIN, HRM, Eze Amb. Demian Emeka Obianigwe, KSM, as a man with a heart of baby, saying his openness and love for people, irrespective of status, has endeared him to many and also brought blessings to his doorstep. "His Royal Highness Sir, to say that you are a good man is an understatement, you have a heart of a baby. We have come to pay homage to you as the PG of ASIMPIN, and to also seek your blessings for Emenike Nwokoji and his team. You have given me your support both in cash and in kind when they were needed most. It is true that God gives power to whom he wishes to, and we can draw example from the Holy Bible, the story of David the son of Jessy, who was in the bush attending to his father's flock when God chose him to be king over Isreal to the amazement of his immediate family."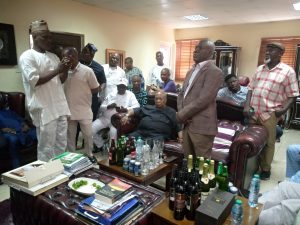 " When Tony Iju Nwabunike wanted to contest for National President of ANLCA, he came to me as a brother but l told him he would not serve well as ANLCA President, though he has the capacity, but because of those who was in his team. After everything, he won, and we embraced him, pledging support for his administration. When he went home to contest for Federal House of Representatives which he spent roughly a year and six months in the East, his Vice took over the Association and divided it, suspended all the Chairmen in the Western Zone and polarized the Southwest to create his own faction, and still made sure there was no peace in the Association. That was where the trouble started, and to add salt to the injury, they went to a hotel in Owerri and amended the Constitution without following due process. How can someone whose tenure was about to end amend the Constitution and also become the first beneficiary of the amendment, it is the height of lawlessness, it is only corrupt African leaders that have amended their country's constitution to suit their selfish interest, the Mugabes, the Paul Biyas, the Mobutus and the Musavenis, those are corrupt leaders who had sat in their homes to amend their Country's constitution for their selfish interest."
" I was sworn in alongside Tony Iju Nwabunike as Western Coordinator. I told some of you here sometime ago that grass would take over the National Secretariat with Tony Iju as President, today, what l said has happened."
Continuing, Chief Ofobike said, "The era of fighting and criticising Customs is gone, dialogue is the only way to go. Farinto and his team frustrated Tony Iju and at a point, he served him a query. With Emenike Nwokoji and Segun Odutan we shall establish very cordial relationships with all the agencies. Shittu and Emenike opened doors for us , we traveled to sixteen countries of the world under Shittu. Farinto's group ignited the fire that is raging at ANLCA and he will not be the one to quench it. Shittu did eight years and it is not out of place for the Southeast to do eight years as generally agreed. We must do our second term and the Yorubas are in support of it. That is why we are behind Chief Emenike Nwokoji."
Responding, the President General of ASIMPIN, His Royal Majesty, Eze Amb Damian Emeka Obianigwe, appreciated his guests for the honour and recognition stating that Chief Emenike Nwokoji did not pay him a courtesy call only because he was a Traditional Ruler and President General of ASIMPIN but because of their long standing relationship as well.
In his word, " it is only God that makes one a king, l have no such power, ANLCA is the mother of all maritime associations, once you get it right in ANLCA it trickles down to others. May God Almighty give us a leader that will lead the Association out of the woods, a leader that will work without selfish interest, a visionary leader who will carry everyone along for the betterment of the Association and that of all practitioners. My prayers is with all of you and as a father, l ask God Almighty to grant your heart desires one after the other. Emenike is my very close friend, we have a long standing relationship, and l know he did not pay me this courtesy call for the singular reason that l am a traditional ruler, neither because l am the President General of ASIMPIN, but because of our long standing relationship and the mutual respect we have for each other. Thank you so much for the honour", the PG said.