APFFLON WELCOMES COMPT. BOMAI AS NEW CAC OF PTML COMMAND
** Pledges support for his administration
** ACG Okun now  Zonal Coordinator in charge of Zone C, Portharcourt
By Mcanthony Onuoha
Following his appointment as Customs Area Controller, Ports Terminal Multiservices Limited (PTML) Command, the Chapter Chairman of Africa Association of Professional Freight Forwarders and Logistics of Nigeria(APFFLON), Fwdr. Darrick Jude Ige, has sent a congratulatory message to the Area Controller on behalf of the Association.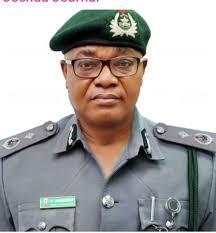 COMPT. SULEIMAN BOMAI
Compt. Suleiman Bomai, who takes over from now Acting ACG, Festus Oyedele Okun, he was in charge as the Command's CAC from February 2020 to August 2022.
The Chapter Chairman of APFFLON who expressed delight for the change of batton said he was optimistic that the new CAC would bring to bear his wealth of experience to retaining the status of the Command as a model and business friendly Port.
The Chairman, on behalf of APFFLON, pledged to work in synergy with the CAC and other Associations to see that PTML Command retains its pride of place as the best organized Port in Nigeria.
COMPT. SULEIMAN BOMAI TAKING OVER FROM ACTING ACG, FESTUS OYEDELE OKUN, AS CUSTOMS AREA CONTROLLER, PTML COMMAND
He conveyed the message of goodwill from the National President of APFFLON, Otunba Frank Ogunojemite (RFF), to the new CAC.
In the goodwill message, Otunba Ogunojemite expressed optimism that the Controller would make a significant difference at PTML Command, he went ahead to congratulate the outgoing CAC, now Acting ACG, Festus Oyedele Okun for a very successful administration, wishing him the best in his future endeavours.
The new CAC during the handover promised a very robust stakeholders' engagement throughout his tenure even as he assured that the 4-hour clearance of vehicles for compliant traders and seamless operation will be sustained at the Command while in charge .
Furthermore, Compt. Bomai urged Licensed Customs Agents and Freight Forwarders to always comply with trade rules as this would guarantee them full benefits of trade facilitation.
Compt. Bomai was born in Fika Local Government Area of present Yobe State. He holds a Bachelor of Science (BSc.) Degree in Banking and Finance from the University of Maiduguri, he joined the Nigeria Customs Service in 1990 and has served in many of its formations in different capacities since then.
Bomai was O/C Customs Intelligence Unit (CIU), Airport, Abuja; O/C Customs Intelligence Unit (CIU), Tincan Island Command. He earned special recognition and was promoted to the rank of Deputy Comptroller (DC) of Customs after which he served as Deputy Comptroller of Customs (DC), Customs Intelligence Unit (CIU) Headquarters, Abuja. Deputy Comptroller of Customs (DC),Customs Intelligence Unit (CIU),Apapa Command, Deputy Comptroller of Customs (DC),Post Clearance Audit (PCA), Onne, Zone C. Acting Customs Area Controller (CAC), Oil and Gas and later, Substantive Customs Area Controller (CAC),Oil and Gas Command.
He attended several courses in Nigeria and overseas, including Basic Intelligence Course in Customs Command and Staff College Gwagwalada, Abuja, Nigera; United Nations Education Scientific and Cultural Organization (UNESCO) Course on Illicit Trafficking of Cultural Objects at Center of Excellence Police Unit in Vicenza, Italy.
The new CAC of PTML is also a member of various professional bodies such as: Fellow of the Defense College, FDC; Nigerian Institute of Management, NIM, and Fellow, National Defense College Nigeria. He is also member, Institute of Corporate Business Affairs Management, ICBAM.
Compt. Sulaiman Bomai whose hobbies are watching football and traveling is happily married and blessed with children.