6th AMSAY CONFERENCE: SPEAKERS ADDRESS ISSUES FACING CADETS AND SEAFARERS
**Tip capacity building as critical factor for meeting up with technological advancement
By Mcanthony Onuoha
Maritime industry stakeholders have called for a renewed investment on human capacity building as Ocean has continued to be the World Focus for Development in the 21st century.
6th Annual Maritime Students and Youth(AMSAY) Conference was organized by Platform Communications on Friday May 27th, 2022, at Rockview Hotel, Apapa, Lagos.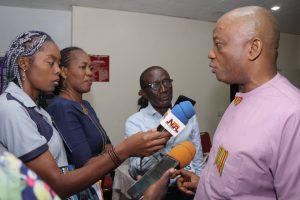 The 6th AMSAY Conference themed JOB CREATION FOR NIGERIAN YOUTHS THROUGH MARITIME SECTOR, drew a large number of Maritime Students from different Maritime Academies across the Country as speakers at the event used the platform to sensitize the students and the general public on contemporary issues and challenges facing Cadets & Seafarers in the 21st Century with Nigeria as Case Study.
Some of the dignitaries that graced the event were Chairman of the occasion, Prof. Capt. Abiodun Sule, Executive Director,Nigerian Institute For Oceanography and Maritime Research, Keynote Speaker, Capt. Sunday M. Umoren, Secretary- General, Abuja MOU, Father of the day, Prof. Callistus Ibe, Senior Lecturer, Federal University of Technology, Owerri, Dr. Mrs. Chinwe Felicia Mogo, Founder/President, African Maritime Environment Sustainable Initiative (AFMESI) as Mother of the day, Barr. Temisan Omatseye, Director General,NIMASA, Prof.Samuel Iyiola Oni, University of Lagos (UNILAG), and others.
However, Prof.C.C. Ibe, addressed the students as " future potentials that would occupy the various positions in the Maritime Industry in Nigeria," in his word, "the ship is now anchored, you are therefore welcome on board to a future safe destination where you would be indispensable actors and actresses because of your skills, inputs, service delivery and good will which you have what it takes to convert into marketable commodities and services for others to buy thereby creating wealth for yourselves."
" Today, the organizers of this Conference have selected seasoned technocrats in the Maritime Industry as your mentors, please tap into their wealth of experience and become the future experts of Maritime Industry".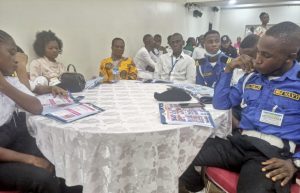 It was noted that Maritime transport Industry was central to the livelihood of billions of people and the Industry, in turn, relies on Seafarers for its operations, responsible for all aspects of Ship operations including Navigation, Cargo Handling, Maintenance and Safety Services as interphase and connection between the Ship and the Port.
Some of the challenges listed at the event were preponderance of Foreign Seafarers on The Nigeria's Waterways considering thousands of Nigerian Seafarers being churned out by the Maritime Academies, implementation of 2003 Cabotage Act as Maritime Infrastructural Deficit, Lack of Political Will, Commitment, Funding, Legislation and Legal Matters, Safety and Security, Human Resources Deficits and overlapping Inter- Governmental/ Institutional responsibilities.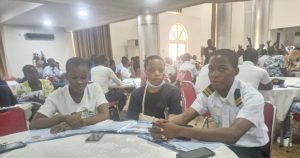 In his paper presentation, Capt.Ogunsakin Rotimi Williams, Seagoing Master Mariner and Maritime Safety and Security Specialist, as well as The Chief Admin, Concerned Seafarers Forum, listed lack of Marine qualified and seasoned Seafarers to train Cadets from their institution and inadequate training, Lack of Training Vessels in our institution, Lack of National Carrier Vessels, Exploitation of Cadets through by too many Training Institutions that lead to nowhere, over- crowded classes, Lack of Structure or policy to compel Shipping Companies operating in Nigeria territorial waters to accept Cadets on their vessels and many more as part of the challenges facing Cadets in Nigeria, and advised that the corresponding knowledge, experience and innovation must be developed to meet up with the technological advancement and challenges of the 21st century.
In his goodwill message, the President General of Maritime Workers Union of Nigeria(MWUN), Comrade Adewale Adeyanju, emphasised that the role of youths in the Maritime industry was crucial, according to Adeyanju," this becomes evident when we consider that Maritime operations are mostly tasking and therefore requires a lot of resilience and strength. The Maritime industry of any nation needs a large crop of trained and experienced Maritime personnel to fill a wide range of port and marine- related jobs. These are the personnel who operate seaport, terminals, shipyards, undertake administration and manage the basis of all Marine operations of the country. It is therefore our submission that if we must develop as a Maritime Nation, we must appreciate the necessity to train and support a crop of national youths to man Maritime operations and in time, filter to the broader aspects of Marine deliverables which include shipping, seafaring,dock labour, port management etc. All of these vocations are important assets because of their close links with trade and the promotion of export- oriented manufacturing industries and their subsequent impact on the Nation's economy."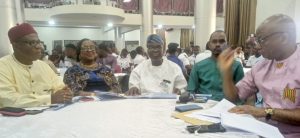 In the end, Maritime students who preformed pretty well in their individual areas of discipline were honoured with awards for academic excellence in various categories.