TUNDE UMAR DANIAH IS NOW MAJAN PRESIDENT
*** New officers elected for a single tenure of two years
*** President promises better leadership
By Mcanthony Onuoha
The Publisher of Mega Splash Magazine, Alhaji Tunde Umar Daniah, is now the President of Maritime Journalists Association of Nigeria-MAJAN.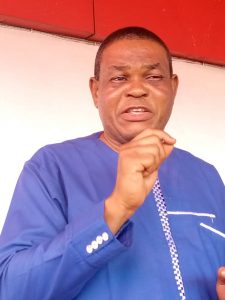 PRESIDENT OF MAJAN, ALHAJI TUNDE UMAR DANIAH
AlhajiUmar was unanimously elected President of the Association in an election held on Friday the 26th of November, at Presken Hotel, Airport Road, Isolo, Lagos, following the expiration of Ray Ugochukwu tenure since April, 2021.
Meanwhile, elections to fill the following offices also held simultaneously, producing Comrade Udochukwu Onyeka, as Vice President; Mr.Dili Nicholas Utomi, General Secretary; Mrs. Chinenye Anyatonwu, Financial Secretary; Mcanthony Onuoha, Public Relations Officer, Mr. Alfred Omenihu, Assistant General Secretary; Mrs. Victoria Silvanus, Treasurer; Mrs.Anne Ejuka, Welfare Officer and Mr.Azeez Itopa as Provost.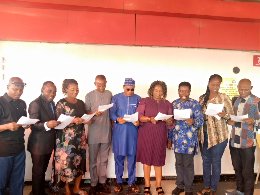 THE NEW EXECUTIVES TAKING OATH OF OFFICE AFTER THE ELECTION.
In his acceptance speech, Alhaji Umar assured that the era of recklessness and favoritism was gone saying that it is the dawn of a new era; the new President went ahead and pledged total commitment to strategically reposition  the Association for greater glory.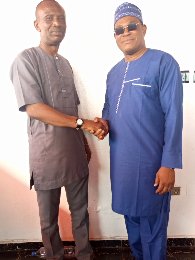 MAJAN PRESIDENT, ALHAJI TUNDE UMAR DANIAH,(RIGHT)AND THE VICE PRESIDENT OF MAJAN, COMRADE UDOCHUKWU ONYEKA, AFTER THE ELECTION .
In the words of the President of MAJAN, "let me state emphatically and on my honour that a single tenure of two years is enough for me. Within this period, with your collective support and grace of Allah, l must have been seen to have tried my best".
" To us, this isn't for vendetta, acrimony or witch-hunt, but to reposition MAJAN and speak out on the welfare of MAJAN members. These task is one that must be accomplished because we are committed to this vision".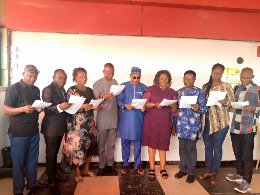 " The welfare and well- being of our members are of great importance to us so we promise the following: Thorough Medical Checkup at least twice in a year; life insurance policy, considering the Perculiar nature of our job; thrifty and cooperative; a befitting Secretariat in less than a year, and encouragement of productivity and support for members who desire academic advancement among others".
" We shall be willing at all times to coexist in harmony with other Sister Associations in the Industry, and engage/interface with Agencies of Government professionally."
Meanwhile, Maritime stakeholders including Media Practitioners have described Tunde Umar's election as the best thing that has happened to the Association very recently, saying that his leadership will open new doors of opportunities for the group.
The new officers took oath of office immediately after the election as they collectively pledged unalloyed support for the new President.