APFFLON CONGRATULATES NAGAFF NEW PRESIDENT, MAYOR EZISI
*** Expects a good working relationship
*** Tasks the new helmsman on unbiased leadership
By Mcanthony Onuoha
Africa Association of Professional Freight Forwarders and Logistics of Nigeria-APFFLON, has congratulated the National President of National Association of Government Approved Freight Forwarders, -NAGAFF, Mayor Tochukwu Ezisi(Akuyienwataegwu) on his emergence as its new helmsman.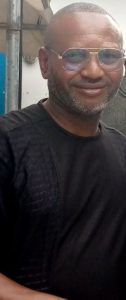 MAYOR TOCHUKWU EZISI, NATIONAL PRESIDENT OF NAGAFF
Mayor Ezisi, whose emergence triggered a thunderous ovation immediately his new position was announced by the Founder of NAGAFF, Dr.Boniface Aniebonam, midway into Ezisi's birthday party at NAGAFF Village, last Wednesday, being the 6th of October, 2021.
Mayor Ezisi, an astute businessman and philanthropist of note, is immediate past member, Council for Regulation of Freight Forwarding in Nigeria-CRFFN Governing Board, and a committed member of NAGAFF.
APFFLON NATIONAL PRESIDENT, OTUNBA FRANK OGUNOJEMITE
In a congratulatory message signed by the National President of APFFLON, Otunba Frank Ogunojemite, (RFF), and made available to the Prestige Blended Magazine, he said that the emergence of Mayor Ezisi would open doors for fresh ideas and positive development, not only at NAGAFF, but in the freight forwarding subsector; adding that as a foremost freight forwarding association, industry players anxiously expect to see it take the drivers seat in core advocacy against unfriendly policies militating against the welfarism of freight forwarders and the desired enabling business environment.
APFFLON, in the congratulatory message, expressed happiness on the choice of Ezisi, saying that he would bring his wealth of experience and contacts to bear in repositioning NAGAFF for greater glory. The advocacy group eulogized the Founder of NAGAFF, Dr.Boniface Aniebonam, describing him as "A True Iroko in the freight forwarding Sub-sector and an Administrator per- excellence, adding that he has stamped his feet in the sands of time.
Continuing, APFFLON enjoined members of NAGAFF to give the new president the maximum support he needs to carry out the onerous leadership task .
Finally, the group advised the new leader to be unbiased and shun sectionalism, as divisiveness has been proven to be a good brewer of disunity.