ASIMPIN, TINCAN CHAPTER CELEBRATES ONOCHIE.
By Mcanthony ONUOHA
Association of Igbo Maritime Practitioners In Nigeria (ASIMPIN), TinCan Chapter, on Friday, the 9th of July, 2021,joined The Vice Chairman of Association of Nigerian Licensed Customs Agents, TinCan Chapter, Mr. Sonniel Ebonyem Onochie, in celebration as he marked his birthday.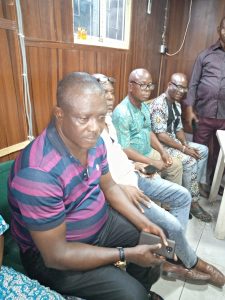 Mr. Onochie, who was in his best of moods, brought the party right to ASIMPIN, TinCan Chapter Secretariat, where members joined him in thanking God Almighty for adding yet another year to his years.
The event provided an opportunity for members to show genuine love to the celebrant who is a committed member of the association.
The Chairman of ASIMPIN, TinCan Chapter, Mr.Charles 'Taylor' Igbokei, was one of those who extolled the virtues of the Vice Chairman, TinCan Chapter of ANLCA, and also prayed God Almighty to keep him in good health.
At the event, Mr. Sonniel Onochie, expressed his profound gratitude to God Almighty who in HIS infinite mercies kept him and his family healthy and hearty as well as granted him the grace to celebrate another year with family, friends, and associates.
Onochie pledged more commitment to ASIMPIN, promising to always contribute to whatever that will promote peace and unity in the Association, adding that the progress of the group should be a major concern to every Igbo Maritime Practitioner.
He however, advised members to always stand by one another, stressing the need for one to be his brother's keeper.