UDEME CLEMENT EMERGES CHAIRMAN, THE POWERFUL PEN MEDIA CHAPEL OF THE NUJ,
BY Mcanthony ONUOHA
Seasoned Journalist and Publisher of Financial Business Online News, Mrs. Udeme Clement,was on Wednesday,the 7th of July, 2021, sworn in as the New Chairman of the Powerful Pen Media Chapel of the Nigeria Union of Journalists(NUJ), Lagos Council.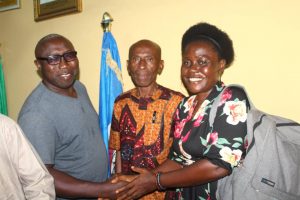 THE NEW CHAIRMAN,MRS.UDEME CLEMENT,(RIGHT),BEING CONGRATULATED BY HER CO-CONTESTANT, MR.LOD ONYEJI, (LEFT). MIDDLE, IS THE VICE CHAIRMAN OF THE CHAPEL,MR.ASUQUO NUWAK.
In the keenly contested chapel election, Mrs. Clement garnered 17 votes against 12 votes garnered by her very capable colleague, who presented himself as a worthy alternative, Mr.Lucky Onyeji.
The election, which was the very first to be held by the young Chapel was supervised by the Chairman of the NUJ, Lagos Council, Mr. Leye Ajayi, and his Executives.
Other officers produced by the Chapel election were Mr. Asuquo Nuwak, Vice Chairman,( unopposed); Mr.Silas Onuoha, Secretary; Mr. Patrick Onugbo, Financial Secretary,(unopposed); Mr.Dili Utomi, Assistant Secretary; Mr.Ossy Onyewuezi, Treasurer; and Mr.Joe Njoku, who emerged as the Internal Auditor of the Chapel.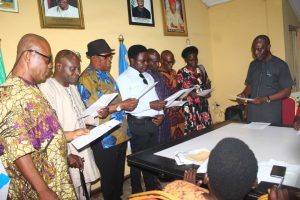 THE NEW OFFICERS BEING SWORN INTO OFFICES BY THE CHAIRMAN, NUJ, LAGOS COUNCIL, MR.LEYE AJAYI
In his remarks, the NUJ Chairman, Lagos Council, Mr.Leye Ajayi, tasked the new officers on performance and teamwork if at all they would love to be given a pat on the back at the end of their three years tenure.
Meanwhile in her acceptance speech, Mrs. Udeme Clement promised to carry every member of the Chapel along, urging members to give her team their unalloyed support to enable them move the Chapel to an enviable level.
Before her election, she was the Acting Secretary of the Chapel.