APFFLON COMMENDS ANLCA, FELICITATES NWOKEOJI ON HIS EMERGENCE AS NATIONAL PRESIDENT
By Mcanthony Onuoha
Africa Association of Professional Freight Forwarders and Logistics of Nigeria-APFFLON has commended Association of Nigerian Licensed Customs Agents-ANLCA following the orderly and successful conduct of its National Executive Committee elections.
ANLCA's NECOM elections which were conducted on Thursday at Federal Palace Hotel, Lagos, produced Mr. Emenike Nwokeoji as National President against Dr.Kayode Collins Farinto while Prince Segun Odutan clinched the mandate to serve as National Vice President stopping Chief Dennis Okwu.
Prior to the commencement of the election, the Chairman of the Association's Electoral Commission (ASECO), Nze Aloy Igwe, had announced that only 79 members were accredited for the election while a good number of people were disqualified for presenting non functional or expired Customs licenses.
In the congratulatory message personally signed by the National President of APFFLON, Otunba Frank Ogunojemite, and made available to The Prestige Blended Magazine Online, he expressed delight over the successful conduct of the elections describing it as a welcome development.
Otunba Ogunojemite felicitated Mr. Emenike Nwokeoji and Prince Segun Odutan, saying that he was strongly of the belief that their emergence as National President and National Vice President respectively, would engender lasting peace in the association and also reposition it in its place as the foremost umbrella body for maritime Practitioners.
Ogunojemite in the message, described the duo of Nwokeoji and Odutan as seasoned Customs Brokers, whom by dint of hard work and self descipline, have distinguished themselves in the profession.
In the message, he commended the efforts and contributions of the immediate past Acting National President of ANLCA, Dr. Kayode Collins Farinto, describing him as a man of courage. He said that Farinto's ability to stem the tide and brave all odds to the point of reconciliation to election, is worthy of ovation.
Ogunojemite urged the new National Executive Committee led by Nwokeoji to shun leadership of vendetta and extend their hands of fellowship to others who did not make the team.
According to him, " we can now heave a sigh of relief having come to a point where the baton of leadership has been peacefully handed over to another team by way of election. We solicit strong cooperation and support for the new team as we pray for their successful repositioning of the association for greater glory."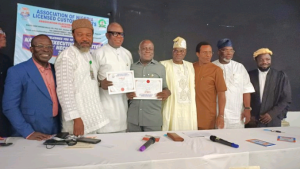 "I want to deeply appreciate the Customs Consultative Council, chaired by Alhaji Hakeem Olanrewaju, for the intervention and efforts made to see that peace and order returned to the association. We need a very enabling business environment , freight forwarders are anxiously eager to see a new crop of leaders who would speak and defend their interest and not those that would promulgate 6.6.1.1.1 , betray trust and confidence reposed in them," he emphasised.