TEDI RESIDENTS SEEK SANWO-OLU'S ATTENTION TO TEDI- MUWO ROAD
** Decry lack of government's presence in the area
By Mcanthony Onuoha
Tedi is one of the oldest communities in Ojo Local Government Council ; less than 10 minutes drive to Ojo Barracks, 20 minutes drive to Alaba International Market and less than 600 meters to Trade Fair Shopping Complex.
Tedi-Muwo Community has over 5 million residents most of whom are traders at Alaba International Market, Trade Fair Shopping Complex(ASPAMDA), Article Market and Navy Town. Tedi- Muwo road is supposed to be an alternative route for those coming from Badagri, Okokomaiko, Ojo Alaba and Iyana -Iba axis to access Abule Oshu, Alakija, Maza-Maza to Mile 2 in case of gridlock on Badagri- Mile 2 Express way.
The major challenge of Tedi-Muwo residents remains the sorry state of Tedi- Muwo road, a very wide road that if constructed, will not only address the gridlock within Volks – Barracks to Abule Oshu but will also open up the area for economic and Social development.
Tedi-Muwo road becomes a nightmare to residents during rainy season as plying the road amounts to heavy risk. The truth remains that Tedi-Muwo residents enjoy neither rainy season nor dry season because both affect the road negatively. High concentration of sharp sand on the road during dry season makes it very difficult for motorists to ply the road resulting in high cost of transportation.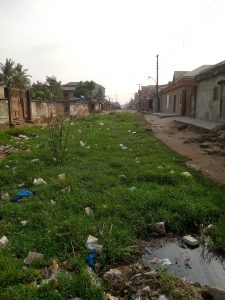 The saving grace of Tedi-Muwo residents is the presence of private primary and Secondary Schools, apart from that, there is no Government educational facility in the area, no Government Hospital, no modern market as every facility or structure is a private property.
According to one of the prominent Chiefs in Tedi Community, Chief Muka Komolafe Bajulaye, " Tedi, as a community, has been in existence for over 500 years, it is one of the oldest communities in Ojo Local Council, we are law abiding citizens, we pay our taxes to governments, we pay Land Use Charges as at when due and contribute to state and local government revenues, yet, there is no government presence here. If not for collective and individual efforts the community would have been a living hell , there is no motorable road. We had invited few Media houses a couple of times and briefed them on the pathetic state of Tedi- Muwo road so as to help us draw the attention of successive governments to the community, till today, we have got response from neither the State Government nor past and present Local Council Chairmen."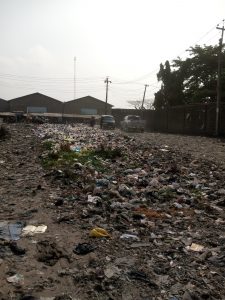 " The only time you see government representatives here in Tedi is during election periods, they come here to solicit votes and support, making all sorts of promises which they never fulfill. The worst time anyone can step into Tedi is during rainy season, the government deliberately abandoned the community. During Tinubu's administration, they came to Tedi to flag off the road, at the end of the day, they only succeeded in scrapping the road as the contractors concentrated on sales and evacuation of sharp sand after which they moved away their equipment. Vehicles are not freely driven in and out of Tedi during rainy season .
Tedi-Muwo road is a very important link road, you can access Alaba International Market or Volks from Abule-Oshu via Tedi-Muwo road coming from Mile-2 – Old Ojo Road. Those who know the road can attest to the fact that Tedi-Muwo road is an alternative route to Mile-2 in case of gridlock on Mile-2 – Badagri Corridor. There is no Government's presence here in Tedi".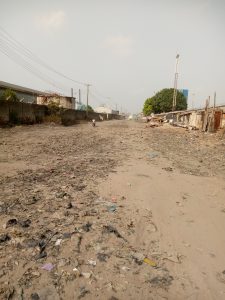 Before now, it had been alleged in various quarters that successive governments had at one time or the other approached the community heads, informing them of government's readiness to commence the construction of Tedi-Muwo road but instead of welcoming the development they opted for the money to be paid into individual accounts on a sharing formula agreed with the officials. But Chief Muka Komolafe Bajulaye refuted the allegation describing it as unfounded. He stated that the community heads were not animals and wouldn't have in any way traded their welfare and that of the community for money, saying that those who concocted such story were mischief makers. He decried the level of abandonment of the community by the Lagos State Government, doubting whether the government was in the know of the existence of Tedi- Community.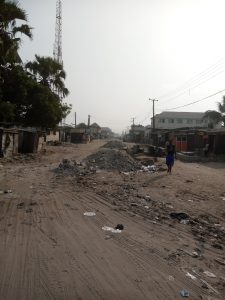 According to Chief Bajulaye, " Tedi is well positioned in terms of location. It is 10 minutes drive to Ojo Barracks through Onireke, and about 10 to 15 minutes drive from Volks through Mile 10, it has a very wide dilapidated road that connects the Muwo Bridge from Abule-Oshu through Dansa; a distance of less than 600meters to Trade Fair Shopping Complex ( ASPAMDA). Residents are subjected to serious hardship even in dry season as sharp sand take over the road making it difficult for both pedestrians and motorists. We don't feel government's presence here, we only see development in other areas but we don't see any in Tedi; we are totally shut out of development as the little we have here is provided by individual efforts. I can assure you that a motorable Tedi- Muwo Road is what is needed to have another viable town aside FESTAC and Satellite Towns because of its serene and aesthetic nature, beautiful structures raised as residential buildings by individuals added to make it a choice area regardless of the present state of its access road."
" We had in the past approached successive Ojo Local Council Chairmen and they only gave us assurances that they would do the road but in the end nothing happened, we no longer take their promises seriously, they keep making empty promises each time they come for electioneering campaign, they give us fake hope. Going to them with the same issue every time without results has become grossly discouraging."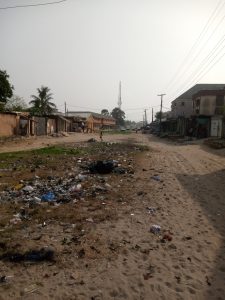 Another resident, Chief Boniface Okoye, described the deplorable state of Tedi-Muwo road as appalling, according to Chief Okoye, " it is a very sad situation, the only time we see those in government around here is during election periods, party candidates come to Tedi to make all sorts of promises which turn out to be mere deceits . Maybe it is because of the peaceful nature of the community, they don't carry placards to protest against the government , they come here to collect Land Use Charges, we have Bonded Terminals here, and revenues are generated here but there is no single government's presence in the area, no government hospital, no Government School apart from Local Council primary school that craves for attention. The only thing that is working against Tedi is the deplorable state of Tedi-Muwo road, if the road is in good condition , the community will attract massive development because individuals will come here to site their private businesses. "
Tedi has a large concentration of business people as residents, traders in Alaba International, Trade Fair Shopping Complex( ASPAMDA), Article Market, FESTAC and Navy Towns, it also has direct access to the sea."
" Fashola did a lot in Lagos, built schools and provided infrastructures but we didn't benefit anything from his administration here in Tedi-Muwo, a community of over five million people, we have enough land here for him to build school and hospital but he didn't do either of those. If anyone comes to Tedi to tell us that the government is working we will make bold to disagree with such person because there is no government presence here. It took Lagos State Government over nine years to build Muwo bridge that is not up to 300meters long. How much will it cost government to construct Tedi-Muwo road from Dansa to Muwo bridge for residents to heive a sigh of relief, the road is a nightmare especially during rainy season. And the truth is that there is no particular season that brings relief to the community as it is usually very difficult for both pedestrians and motorists to use the road because of massive sharp sand that covers the entire length and breath of the road making it difficult for all manner of vehicles to ply the road."
From Tedi to Abule Oshu (Mile-2 – Badagri Express way) which is about 600 meters, less than one kilometer, that is supposed to cost N100 by bus, is charged N200 while Okada riders charge N400 per passenger instead of N100 due to the deplorable state of the road.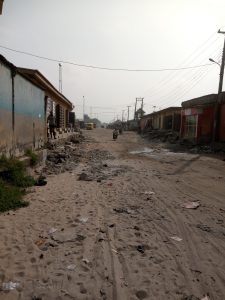 According to Chief Boniface Okoye, " if Sanwo- Olu claims he is working in Lagos State, Tedi-Muwo people will boldly rise to tell him to his face that he is not doing anything because we are not seeing any government's presence in this area. He is doing nothing, we don't have market, no hospital, no Government school, no road. Maybe because it has over 40% of Igbo population that is why no body is looking in this direction. Going forward, any politician canvassing for votes here will be held down to sign agreement with the community, they must tell us orally and in written documents what they will do for Tedi if we give them our votes so that if they don't do it, the document shall be used against them, enough of their deceits. "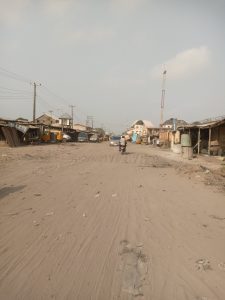 On behalf of Chief Mukaila Kareem, the Baale of Tedi town, Chief Muka Bajulaye appealed to the Lagos State Governor, His Excellency, Babajide Sanwo-Olu, to come to their aid, he said that Tedi-Muwo was very critical not only to residents but also to motorists as it remains the only alternative route to Alakija- Maza – Maza to Mile 2 via Old Ojo Road for those coming from Badagri, Ajangbadi, Okokomaiko, Ojo Alaba and Iyana- Iba axis. "We urge the Lagos State Governor to come to our aid by urgently approving the construction of Tedi-Muwo road". Chief Bajulaye pleaded .